6 Healing Essential Oils For Anyone With Inflamed, Dry, Itchy, or Patchy Skin
Hollywood movies would have us believe that the average woman has a flawless visage.
Perhaps it's time for a reality check?
Sensitive skin impacts millions of people, which means that the 'average' woman is actually far more likely to be experiencing some issues with her skin.
'Sensitive skin' can be broadly classified as having rosacea, acne, contact dermatitis, persistent burning and stinging sensations, psoriasis, excessive dryness or flakiness, ongoing redness and eczema.
While the symptoms of these conditions are all a bit different, there's one clear common denominator; inflammation.
Enter solution… Essential oils!
How Do Essential Oils Help Your Skin?
When you think of the word 'chemical', does your mind automatically flip to visions of test tubes and chemistry labs?
In one sense, you'd be absolutely right. Many chemicals are manmade and unnatural.
On the other hand, there are millions of chemicals that naturally occur in nature. These botanical chemicals give plants their unique scents, flavors and colors.
Natural chemicals can also offer therapeutic actions. On a biochemical and biological level, they interact with our bodies' cells to provide healing functions.
Some essential oils even contain chemicals that can cross the blood-brain barrier and influence your brain chemistry!
Here are 6 of the top essential oils that contain potent natural chemicals to help heal and calm your skin:
1. ROMAN CHAMOMILE (Chamomilla nobile)
Soothing & Relieving
This is a lovely light, floral essential oil that is particularly effective at treating irritated, itchy skin or rashes. Chamomile also is a great antidote for skin inflammation and can relieve eczema, dryness and stressed skin. Hot tip? Chamomile blends beautifully with rose, geranium or lavender.
2. GERANIUM (Pelargonium graveolens)
Uplifting & Strengthening
Geranium essential oil offers the balancing benefits of both calming inflammation and stimulating new skin growth. Furthermore, geranium can help to regulate sebum production, which is helpful for both oily and dry skin conditions. It is therefore wonderful for speeding up wound healing on your skin. Just go slowly and be careful not to overdose on this one!
3.

JUNIPER
Healing & Anti-inflammatory
Another beautiful, soothing essential oil that offers fantastic anti-inflammatory action. Famed for helping with eczema and psoriasis, juniper will clear up itchy, patchy skin in a flash!
4.

SANDALWOOD
Moisturizing & Protecting
Dry skin? Not a problem once you've found sandalwood!
This rich, aromatic, essential oil is effective for nourishing dry skin and can assist with some rashes.
Sandalwood also protects the skin against impurities, pollution and unwanted microbes, making it a handy resource for acne-prone skin types!
5. ROSE (Rose otto, rosa damascena and rosa centifola)
Hydrating & Divine!
Rose is an ancient symbol of love and I tell you what - there's plenty to love about this essential oil!
This versatile oil is most commonly touted as the gold star for dry, mature skin.
However, Rose is useful for all ages and offers strong antibacterial action to help fight acne. Rose oil can lower inflammation and may even help with eczema.
6.

LAVENDER
Calming and Cooling
In addition to its calming, de-stressing properties, lavender oil can offer a host of benefits to your skin. These range from reducing redness, soothing inflammation and assisting with dryness. Lavender also help to clear up eczema, acne, psoriasis and scarring. Also, it's one of only few essential oils that can be used directly on your skin!
What Are The Best Carrier Oils?
With only a very few exceptions, essential oils should never be applied directly to your skin. Therefore, you will need to blend most essential oils with a carrier oil before application. Here are some of my favorites:
Sweet almond oil: High in essential fatty acids and antioxidants to nourish your skin.
Jojoba oil: Beautiful nourishing and will moisturize your skin instantly.
Coconut oil: Containing potent fatty acids to replenish your skin, aim to buy an organic and fractionated version if you can. (Fractionated coconut oil penetrates more deeply through the dermal layers of your skin.) Coconut oil is naturally antibacterial, which can help prevent the spread of bacteria over your skin that contribute to skin conditions.
Avocado oil: Contains antioxidants and Vitamin E to boost your overall skin health and promote anti-aging.
Evening primrose oil: High in Vitamin E and beneficial for psoriasis and eczema.
How Should I Use Essential Oils?
While the precise dosage and application can change between essential oils, a good starting point can be to begin with 1 to 2 drops of essential oil per tablespoon of carrier oil.
Which Essential Oils Should I Buy?
There are a wide range of essential oils on the market and like most things, not all are made equal.
Many brands are filled with artificial fragrances and chemical fillers that may be harmful to your health. Ultimately, this also affects their potency and therapeutic action.
Search for essential oils that are pure, reputable and certified organic if possible. Some of my favorite brands include:
HOT TIP
Store essential oils in dark, glass bottles - many essential oils are photosensitive and will last longer without exposure to light.
One Final Note…
Remember that our skin is a barometer for what's happening internally. Inflamed, sensitive or irritated skin doesn't just 'happen' - there's always an underlying trigger.
Therefore, while essential oils are a beautiful natural therapy for treating minor skin complaints, I would kindly encourage you to be your own 'Health Detective' and seek the root cause of the issue.
There are many factors which affect your skin, ranging from hormonal imbalances to gut health issues.
Do you have a passion for nutrition & natural healing?. Learn more about the Food Matters Nutrition Certification  Program here.
ENROLLMENT & BONUSES CLOSE IN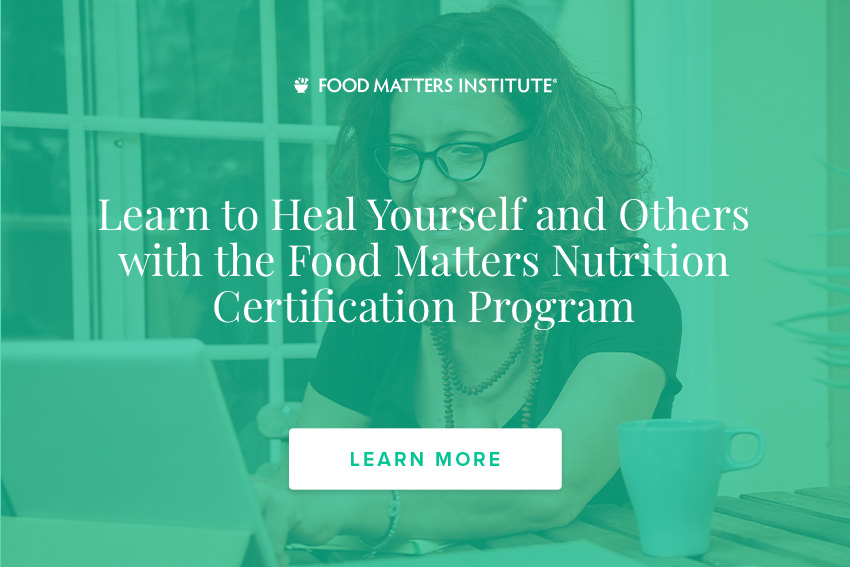 ---