7 Tips for Managing Menopause Naturally
There comes a time in every woman's life where the next stage of gracefully aging begins. Hot flushes meet clammy hands, and mood swings appear like when you first went through puberty. It's menopause of course, and many of us have come to know it as an unavoidable part of life, but whether you're going through it right now (and I'm sending you my love), or know that the day isn't too far off, there are some ways you can take the edge off.
Here are some of the best tips for managing menopause naturally, so you can gently ease your body into this next stage of womanhood.
1. Rely On Herbal Teas
The right kinds of teas can be such a powerful remedy for any kind of ailment, especially when it comes to balancing hormones. Because menopause is, simply put, the hormones trying to rebalance themselves, herbal blends that work in conjunction with your new cycle can be really helpful. Some great herbs to try include ginseng, chasteberry tree, and red raspberry leaf.
There are also other teas you can drink to help alleviate symptoms like peppermint for cramping. Where possible avoid caffeinated teas. And I know, a pot of hot tea is the last thing you might feel like… So brew yourself a big jug each night and pop it in the fridge to cool.
2. Prioritize Quality Sleep
Sleep is so important. This is the one time of the day where your body really gets the opportunity to take stock and replenish. I know that occasional night sweats may get in the way of that, so look to find solutions that help you sleep easier - this is one thing you shouldn't compromise on. Whether it's just sleeping with a top sheet, using yoga nidra guided meditations to ease you to sleep, or a cup of chamomile tea as you wind down with a book, these are all essential steps in making sure you keep your energy levels high.
3. Practice Joyful, Gentle Exercise
As your body adjusts to this new mode of hormone balance, weight gain can be a common experience, especially around the abdomen. Now this is all a natural part of life, and if you're a health-conscious person I know that this can be disconcerting. And with that uncomfortable feeling comes a burning desire to 'burn it all off'. But what you need to do for sustainable, healthy weight management is actually practice joyful, gentle exercise. Putting your body under too much stress and strain will only fuel the imbalance. If you're stuck for inspiration, here are some of my favorites.
4. Eat Hormone Balancing Foods (And Drink Plenty of Water)
Foods are medicine - that's one thing we know to be true. And the right foods with the right balance of nutrients are essential for looking after your overall health through this time. You should try to eat more of:
Foods rich in calcium and vitamin D
Fruits and vegetables
Protein-rich foods
Foods high in phytoestrogens
Be sure to limit sugar-rich foods and any foods you know to be triggers. With healthy foods come healthy habits, so make sure to eat regularly (don't skip meals) and drink plenty of water to keep your body hydrated.
5. Work With A Hormone-Specializing Naturopath
The thing about menopause is that while there are many common symptoms, the experiences differ hugely from individual to individual. Working alongside a naturopath who specializes in hormones and women's health is one of the best approaches you can take to support your body through this journey. A naturopath can prescribe a highly individualized treatment plan to gracefully move you through this stage.
6. Take Natural Supplements
Supplementation can be a very effective management tool when applied correctly. Additional to any individualized protocol from a naturopath, there are also some generalized supplements that should be considered:
Phytoestrogens: These can be consumed through natural food sources or supplements such as red clover extracts.
Black cohosh: Some studies found that black cohosh may effectively alleviate hot flashes.
Other supplements: There is evidence for the effectiveness of other commonly used supplements such as probiotics, prebiotics, kava, DHEA-S, dong quai, and evening primrose oil.
7. Track Your Cycle With Apps
While one of the key issues with menopause is inconsistency in your cycle, it can be a really useful tool to use a cycle-tracking app such as Flo to track your cycle and log any symptoms. This will help you to understand any patterns that may be occurring, and get you better in touch with your body throughout this time where you can feel quite disconnected.
Aging is a funny part of life, but what we don't often realize is that it is happening around us at every moment. Discovering the art of graceful aging is the key to living a blissful life.
Do you have a passion for nutrition & natural healing?. Learn more about the Food Matters Nutrition Certification  Program here.
ENROLLMENT & BONUSES CLOSE IN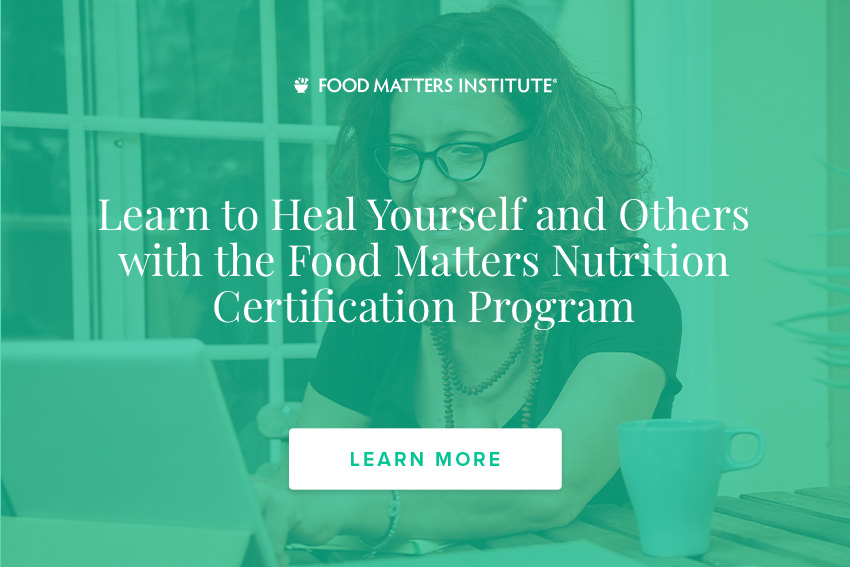 ---