Our Beauty Expert Shares the Do's & Don'ts of Inflammatory Skincare
Does endless inflammation and acne have you on your last hope? Maybe you're wondering if there's something in your skincare that's aggravating it? And what can you actually do to nourish your skin with natural skincare that really works?
It's a minefield of misinformation, made popular by influencers and social media, so it comes as no surprise that determining fact from fiction is challenging. This is why I wanted to dive into this topic a little deeper.
Inflammatory Ingredients in Skincare
One of the most common causes of inflammation on the skin is not through any fault of our own, but rather through some common ingredients in skincare that cause inflammation in the skin. Some of these include:
Sodium lauryl sulphate (SLS)
Preservatives
MIT (phytotoxin)
Dyes & Colorants
Mineral oils
Foods to Reduce Skin Inflammation
Just as certain ingredients can cause inflammation, there are a handful of dietary staples that help to reduce it - and support our overall health while doing so. I'll explain in more detail, but here's a quick summary of my top picks:
Polyphenols; berries, green tea.
Essential fatty acids & omegas; nuts, seeds, & avocadoes.
Probiotics; fermented foods like sauerkraut.
Aloe vera (use this topically).
Oatmeal (you can also use this topically too - just wait and see).
2 Ingredient Face Mask to Reduce Inflammation
Skincare doesn't need to be complicated, expensive, or packed with nasty ingredients. I find that you can actually make some of the best treatments with some simple kitchen staples. This mask, for instance, uses colloidal (finely ground into a flour) oats, and the flesh of a common plant. Together, they make one of the most nourishing treatments imaginable.
You'll Need:

Fresh aloe vera (or 100% pure aloe vera if using storebought)
Colloidal oatmeal (or oats finely ground into powder)
Water
Directions For Use:

Add equal parts to a bowl and mix. More water may be needed to achieve the desired consistency.
Apply to cleansed skin and leave until firm - about 20 minutes.
Rinse, and nourish your skin with your favorite oils.
Join me over on the Food Matters Youtube Channel to find out more about these common toxic skincare ingredients to steer clear of and why, why these are my favorite skin-loving foods, and the best natural remedies for skin inflammation. Plus, we'll take three simple natural ingredients to make the most nourishing face mask together!
There are also countless other holistic, natural ways to improve your skin microbiome and reduce inflammatory conditions. Discover the upcoming Eczema, Psoriasis & Skin Disease Summit to find out more!
Take the stress out of cooking with 21-days of guided meal plans, shopping lists, and nutrition support. You'll find all of this, and more, in our signature Clean Eating Program.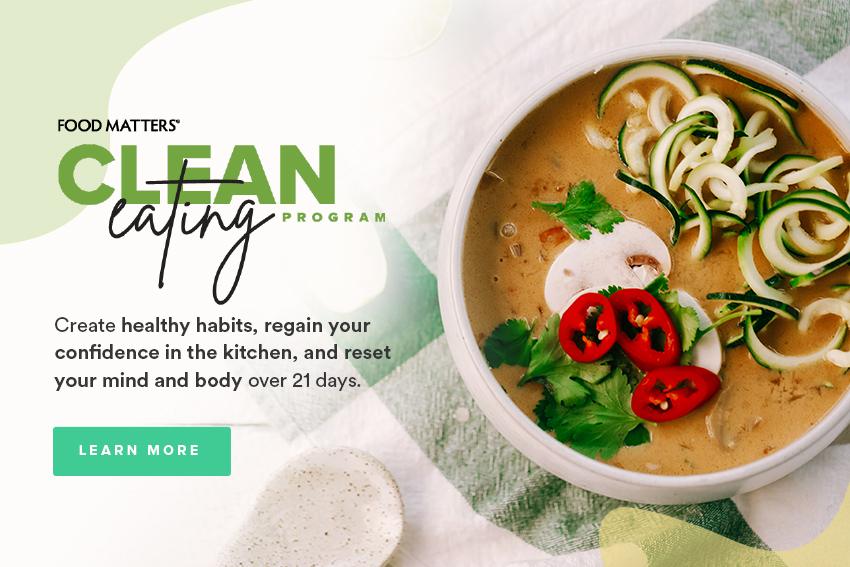 ---