Curious To Try A Plant-Based Diet?
If you've been considering making a change for your health with food options that give you more nutrients without sacrificing delicious flavors but aren't too keen on becoming a strict vegan, consider a plant-based diet.
Plant-based eating promotes the consumption of vegetables and fruits while excluding or minimizing the addition of meat products. This 'whole-hearted' approach to eating is more than just a fad, it's a lifestyle, and we're here to break down what it takes to change the way you think about your food, fruits and veg.
So What's The Fuss About?
Without being completely restrictive, the aim of going plant-based is to eat cleaner, eat more consciously, and live more sustainably - a triple-pronged approach that we could all get behind.
With the turn of the 21st century, manufacturers were forced to lift the lid on their ingredients list, compounding a pre-existing wariness about food and drink because of product recalls, scandals, and suspicion about large companies. This has placed further pressure on producers to offer thorough and honest disclosures about how, where, when and by whom food and drink is grown, harvested, made and sold. As a result, many consumers are making more of a conscious choice about what they are really putting in their mouths and going more for organic and naturally-made products.
This approach has seen more and more people opting for natural and nutritional ingredients such as fruits, vegetables, grains, herbs, spices and other plant-based ingredients that are now playing a center stage role in their daily diets. With plant-based offerings expanding rapidly, we are now seeing more and more quality plant-based milks and meat alternatives on our supermarket shelves.

What Are The Benefits of a Plant-Based Diet?
Plant-based diets have long been the topic of debate with vegans and carnivores alike, with many meat lovers debating that leafy greens don't offer the protein-packed complete proteins that animal-based diets do. As we've discovered in our article Going plant-based, there are many nutrient-rich ways to incorporate plant-based products into your daily diet, and we're excited to share the increased health and environmental benefits of going green.
It's not surprise that agricultural farming is fast becoming unsustainable with increasing reports estimating around 13% of Australia's original vegetation has been removed since European settlement. Furthermore, recent studies have concluded that our protein-rich diets are causing adverse health effects, with excessive amounts of omega-6 polyunsaturated fatty acids fast-tracking the pathogenesis of many diseases including cardiovascular disease, cancer and inflammatory autoimmune diseases.
What's more is our health can also be affected by pathogens and harmful substances transmitted by livestock, such as highly pathogenic avian influenza spreading its way through the globalized marketplace.
On the other side of the spectrum, plant-based diets are fast becoming a flattering alternative on both our waistlines and inner wellbeing. A recent study from the Journal of Geriatric Cardiology found that plant-based diets have a direct correlation in ameliorating insulin resistance, including promotion of a healthy body weight, increases in fiber and phytonutrients, food-microbiome interactions and decreases in saturated fat. This balance of nutrients can help stabilize our blood sugar, prevent diabetes, support healthy cholesterol levels and feed the good bacteria in our gut. And if that wasn't already enough, a plant-based diet can also prevent cataract and macular degeneration in addition to protecting your skin from sun damage and stimulating the production of collagen.
If this all sounds great to you but you aren't too keen on salads for every meal for the rest of your life, don't be concerned - we've got some great ways to get all this plant-based leafy green goodness into a meal!
5 Plant-Based Meals That Truly Satisfy:
1. The Best Ever Mac & Cheese
Enjoy Elizabeth's favorite healthy comfort food recipe of all time. After exhaustive research, Elizabeth creates a whole food alternative to vegan cheese, which is typically made with soy and full of processed ingredients. You've got to try this truly healthy and amazing way to make this traditional comfort food and relive some childhood memories! No guilt necessary. Get the recipe for free during our 10 Day Plant-Based Challenge.
2. Pasta Marinara
Loaded with vegetables, this recipe contains an abundance of fibre which is an natural agent in keeping you regular! The capsicum, zucchini and tomato also provide your body with a selection of antioxidants and phytochemicals that help fight against free radicals. Find the recipe tutorial here.
3. Mushroom Stroganoff
The comfort of noodles and hearty mushrooms served warm in a bowl you can practically snuggle with is something that most of us can relate to. A few very simple changes can make all the difference in the world to how your body views the meal - and therefore how much more benefit it can provide you with! Learn how to make this during day 5 of our 10 Day Plant-Based Challenge.
4. Easiest Ever Vegan Thai Peanut Noodles
Skip the take-away version and make your own vegan Thai noodles at home with whole-grain noodles and a plethora of shredded vegetables. It might not be traditional Thai, but this dish is so easy to create!
5. Desserts!
Decadent creamy cheesecakes, crumbles and chocolate are still on the menu and we've found the best ways to cut out the cream and eggs and keep all that deliciousness! See these 7 Plant-Based Desserts you don't have to be vegan to love!
For more great plant-based meal ideas, take a look at our 10 day Plant-Based Challenge. We'll be sharing video tutorials with the experts featuring all of these recipes and many more! Plus, we'll give you the meal plan and shopping list when you sign up for free.
Tell us your favorite plant-based meal or snack in the comments below!
Get access to the entire Food Matters Film Library. Start watching here.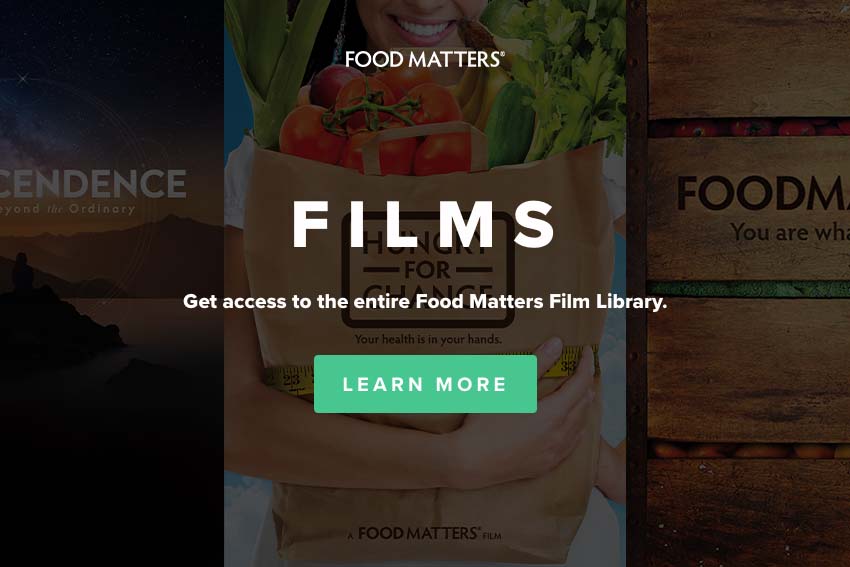 ---