11 Must Eat Foods to Slow Aging & Mobility Issues
Protecting your ability to move freely – without suffering and becoming dependent on drugs, devices, and other people – is mission-critical to protect your quality of life. The data shows mobility problems often begin at age 50 or younger. And for those 65 and older, mobility loss becomes the most common disability. However, you have immense power to avoid and even reverse this with very simple actions you can start taking right away. And one of the best places to start is by eating more anti-inflammatory foods, and foods that support muscle and bone health.
Eating a wide range of colorful, whole plant foods is a great way to lower inflammation levels in the body and reduce risk of many chronic diseases, including heart disease, that can negatively impact your mobility. More specifically, you can focus on foods that contain good amounts of antioxidants, fiber, vitamins, minerals, and omega-3 fatty acids — all of which combat inflammation.
Protein is the most critical nutrient needed to build and maintain muscle strength, but unfortunately, as much as half of older adults in the U.S. fall short on hitting their necessary daily protein targets. Plant-based protein sources can also help fight inflammation. To maintain bone density, your body especially needs calcium, magnesium, vitamin D, and vitamin K. These nutrients, combined with physical activity, help protect bone integrity as you age.
11 Foods to Eat More Of As You Age
1. Berries
Berries are rich in antioxidants, particularly anthocyanins.
2. Leafy Greens
Leafy greens are rich in carotenoid antioxidants and vitamins A, C, and E. Dark green veggies (kale, collards, Swiss chard, broccoli) include calcium as well as vitamin K - great for bone density.
3. Avocados
Avocados are full of healthy fats, soluble fiber, antioxidants, and vitamin E.
4. Beans and Lentils
Beans and lentils are great sources of fiber and plant-based protein - anti-inflammatory and great for builiding muscle strength. Tip - soak beans and lentils in filtered water to improve their digestibility.
5. Beets
Beets are rich in folate and antioxidants like betalains and beta-carotene. Nutritional powerhouses for healthy aging!
6. Citrus, Mangoes, and Other Vitamin C-Rich Foods
Vitamin C isn't just found in oranges! Try these different fruits to up your Vitamin C intake and flush your body with anti-aging nutrients.
7. Sweet Potatoes
Sweet potatoes are a good source of fiber and vitamin A. Plus, they're so versatile to use in meals!
8. Whole Grains
Whole grains like quinoa and oats are great sources of fiber, minerals, and B vitamins.
9. Nuts and Seeds
Walnuts, chia seeds, and hemp seeds are great sources of ALA omega 3s. Chia seeds and hemp seeds are also a complete protein, so work them into as many meals as you can!
10. Cacao/Cocoa
Cacao/cocoa has an outstanding antioxidant content and is rich in minerals like magnesium. Did we mention it's perfect for adding a healthy chocolate twist to your baking and desserts?
11. Green Tea
Green tea is full of polyphenols and the "super antioxidant" known as epigallocatechin gallate (EGCG). Relax with a mug of this tea and enjoy the health benefits!
How NOT to Lose Your Mobility as You Age (17 surprising secrets)
Our good friend Brian Vaszily shared this list of foods with us as part of his new 28-page report, "HOW NOT TO LOSE YOUR MOBILITY AS YOU AGE: The 17 Keys to Maintain Your Freedom of Movement". The report is crystal-clear, deeply researched, and provides you the exact steps you need to take to protect and improve your mobility – and your quality of life.
In this important new report, you'll discover:
The 4 key do-it-yourself exercises

The 7 posture essentials

4 types of everyday products you need to be cautious of

7 "musts" when it comes to choosing your shoes

And more!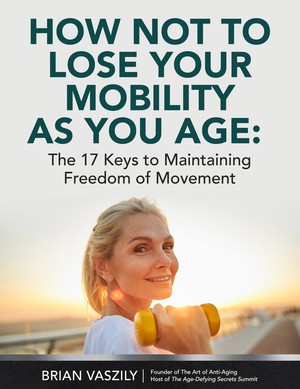 -------------------------------------------------------------------------------------------------------------------------------------------------------------------------
Brian has been a widely respected natural health advocate and researcher for over 20 years. And he's sharing this report with you for FREE today to celebrate The Age-Defying Secrets Summit his team have put together along with 21 world-renowned healthy aging and longevity MDs and researchers. (On the page right after the free and easy sign-up, be sure to find out what research showed was the "world's funniest joke" – and why it also has everything to do with your health and longevity!)
Get How NOT to Lose Your Mobility as You Age, and your ticket to The Age-Defying Secrets Summit for FREE right here.