4 Homemade Natural Deodorant Recipes That Work!
Recently, there has been a growing interest online and in daily conversation about switching conventional deodorants for a natural alternative.
Ew, natural deodorant? Yuck!
But wait. If this was your initial reaction upon reading the term "natural", hear me out.
Why Should We Be Concerned About "Normal" Deodorant?
Deodorants are jam-packed full of toxins!! Yes, toxins are everywhere, but the amount of nasty chemicals in conventional deodorant is scary! You wouldn't swallow a spoonful of toxic chemicals, therefore we encourage you not to smear them under your armpits, either. Chemicals can be absorbed via the skin and enter directly into the bloodstream and lymph nodes.
Here's how...
The chemicals in deodorant can also act as endocrine disruptors which essentially means these chemicals can disrupt the function of the body's developmental hormones and reproductive system.
Parabens such as methyl, ethyl, propyl, benzyl and butyl are commonly found in deodorant. These ingredients have been linked to an increased risk in breast cancer and reproductive toxicity.
Parabens essentially mimic estrogen by binding to estrogen receptors on cells. They also increase the expression of genes leading to increased growth of breast cancer cells.
According to Philip Harvey, Ph.D., editor in chief if the Journal of Applied Toxicology, some compounds used in common deodorant are absorbed and stored in fat cells within the body.
Here Is A List Of Ingredients In Conventional Deodorant That You Should Avoid
Parabens: (methyl, ethyl, propyl, benzyl and butyl)
Dangers for health: linked to breast cancer.
Aluminum compounds: (Aluminum chlorohydrate, aluminum zirconium tetrachlorohydrex gly)
Dangers for health: linked to breast cancer.
Silica
Dangers for health: cancer, allergies/immunotoxicity
Triclosan
Dangers for health: skin irritation, contact dermatitis, cancer.
Talc
Dangers for health: linked to cancer.
Propylene Glycol
Dangers for health: delayed allergic reactions, possible kidney and liver damage.
Steareth-n
Dangers for health: linked to cancer.
Fragrance – skin irritation, harmful to the environment, allergies and organ system toxicity.
Our Pick For The Best Natural Deodorant Recipes
INGREDIENTS
3/4 cup arrowroot powder/non-GMO cornstarch
1/4 cup baking soda
4-6 tbsp melted coconut oil
METHOD
Combine baking soda and arrowroot powder/cornstarch.
Add four tablespoons melted coconut oil and mix with a fork. Continue adding coconut oil until the deodorant reaches your preferred consistency.
Transfer mixture to a jar with a tight fitting lid.


INGREDIENTS
3 tbsp coconut oil
3 tbsp baking soda
2 tbsp Shea butter
2 tbsp arrowroot (optional) or organic cornstarch
Essential Oils (optional)
METHOD
Melt shea butter and coconut oil in a double boiler over medium heat until barely melted. OR you can combine the shea butter and coconut oil in a quart-size glass mason jar with a lid and place this in a small saucepan of water until melted, instead. This will save your bowl and you can just designate this jar for these types of projects and not even need to wash it out.
Remove from heat and add baking soda and arrowroot (If you don't have arrowroot, use more baking soda or just omit).
Mix well.
Add essential oils and pour into a glass container for storage. It does not need to be stored in the fridge.
If you prefer, you can let it cool completely and put into an old deodorant stick for easier use, though it may melt in the summer!
NOTE: It may take several hours to completely harden. This process can be sped up by putting it in the fridge for a few minutes.


INGREDIENTS
2 1/2 tbsp unrefined coconut oil
2 1/2 tbsp unrefined shea butter
1/4 cup arrowroot starch/flour
2 tbsp baking soda
6 drops lavender essential oil
6 drops grapefruit essential oil
2 drops tea tree essential oil (optional)*
METHOD
Place coconut oil and shea butter in a glass bowl or jar and place the bowl/jar inside a medium sauce pan.
Add water to the saucepan (enough to surround bowl/jar but not to overflow it) and bring to a boil.
As water is heating up, be sure to stir coconut oil and shea butter, and continue to do so until it melts.
Once melted, add in arrowroot starch, baking soda and essential oils.
Place in a 3 ounce jar and allow to cool at room temp or in fridge (will harden faster in fridge) until it's reached a solid state.
Cover with lid until use.
Directions for use:
Wet underarms slightly (this helps with even application)
Spoon out a pea-sized amount with a wooden scoop or with fingers and rub between fingers before applying directly to underarms.
For a regular day, one application in the morning should be fine. For hotter days, workouts or if you're particularly sweaty, feel free to reapply as needed.


INGREDIENTS
1¼ cup 80 proof vodka
¼ cup sage leaves
¼ cup thyme leaves
¼ cup lavender buds
Peel of 1 lime or lemon
Essential oils:
Sage (6 drops)
Lavender (4 drops)
Tea tree (3 drops)
Patchouli (3 drops), and either lemongrass or lime(3 drops) per quarter-cup spray bottle
½ tsp colloidal silver per quarter cup spray bottle, optional
METHOD
Measure out the herbs & citrus peels into a pint-sized mason jar.
Cover them with vodka and top with a lid.
Set the jar aside in a place where you'll remember to give it a shaking once a day for about a month.
When it's ready, strain the herbs from the tincture, funnel some into a spray bottle.
Add your essential oil blend and colloidal silver, if you're using it.
Place the remainder of the tincture in a cupboard until you're ready to use it.
Shake the spray bottle vigorously prior to each application to mix in the oils (otherwise they'll just uselessly sit at the top.)
Do You Have A Recipe For DIY Deodorant? Share It With Us In The Comments Below!
---
If you haven't already, join our free global challenge at www.GetOffTheGluten.com to receive daily recipes & health tips, access to our private group for support and inspiration, plus before and after testing to track your progress in key areas of your life such as weight, sleep, bloating, skin-conditions, mental health and more!
JOIN THE GROUP CHALLENGE STARTS IN: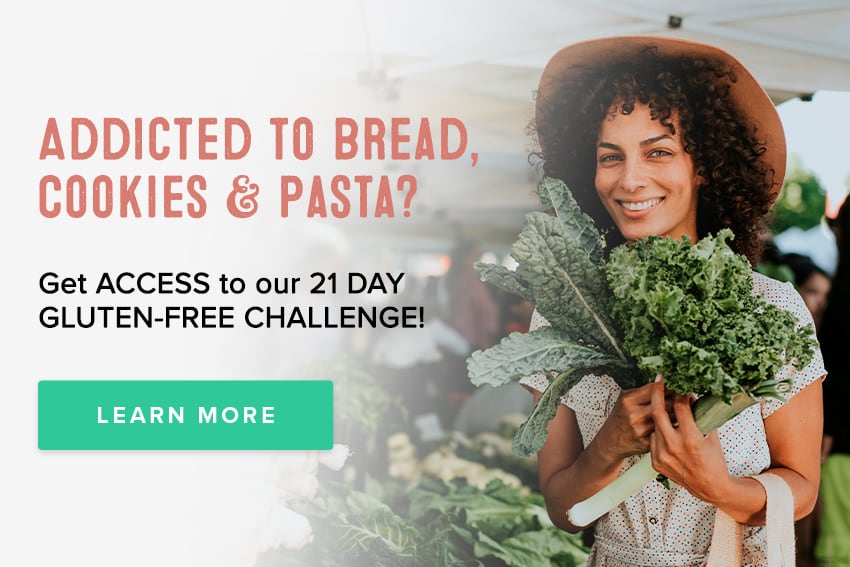 ---