How To Make The Perfect Green Smoothie

Are you ever guilty of posting photos of green smoothies to social media? We certainly are! To us, a green smoothie is something so beautiful however, not long after posting one of our green beauties one of the first questions we usually get is - What the heck is in that and why would you drink that?!

Firstly, let us tell you why we love green smoothies:

They are a great way to naturally boost your energy making them perfect in the morning or at that 3pm slump

Packed with disease-fighting nutrients

A fast and easy way to give your body what it needs when you're in a rush

Packed with phytonutrients from the greens, your immune system will get a nice boost to help it function optimally

Unlike juices, smoothies consist of the entire fruit or vegetable, skin and all, and contain all of the fiber from the fruits and vegetables.

However, the blending process breaks the fibre apart (which makes the fruit and vegetables easier to digest) but also helps create a slow, even release of nutrients into the blood stream and avoids blood sugar spikes.

Smoothies tend to be more filling, because of the fiber and generally, faster to make than juice, so they can be great to drink first thing in the morning as your breakfast or for snacks throughout the day.

We promise this isn't just some trendy fad, try adding in a green smoothie every day for a week and feel your life explode! They don't have to be complicated either, follow this simple formula, open your mind and soon you will be a green smoothie junkie too ;-)
---
OUR FOOL-PROOF FORMULA FOR A PERFECT GREEN SMOOTHIE
THE BASE (LIQUID)
Add 2 cups
filtered water

coconut water

coconut milk

cooled green tea

nut milk (almond, hemp, cashew)
EAT YOUR GREENS (LEAFY GREENS)
Add 2 cups
spinach

romaine

green leaf lettuce

kale

collards
BOOST YOUR ENERGY (FRUIT)
Add 1 cup of your favorite
pear

banana

pineapple

orange

berries

lemon

apple

mango

avocado
BONUS BOOSTERS (SUPERFOODS)
Add your 2-3 of your favorite superfoods
your favorite protein powder

maca powder

nut butter

vanilla
---
OUR FAVORITE GREEN SMOOTHIE RECIPE (At the moment...)
2 cups coconut water

2 cups spinach

1 frozen banana

1/2 tbsp FM Superfood Greens

1 tsp maca powder

1/2 tsp vanilla


What's Your Favorite Smoothie Combination?
Do you have a passion for nutrition & natural healing?. Learn more about the Food Matters Nutrition Certification  Program here.
ENROLLMENT & BONUSES CLOSE IN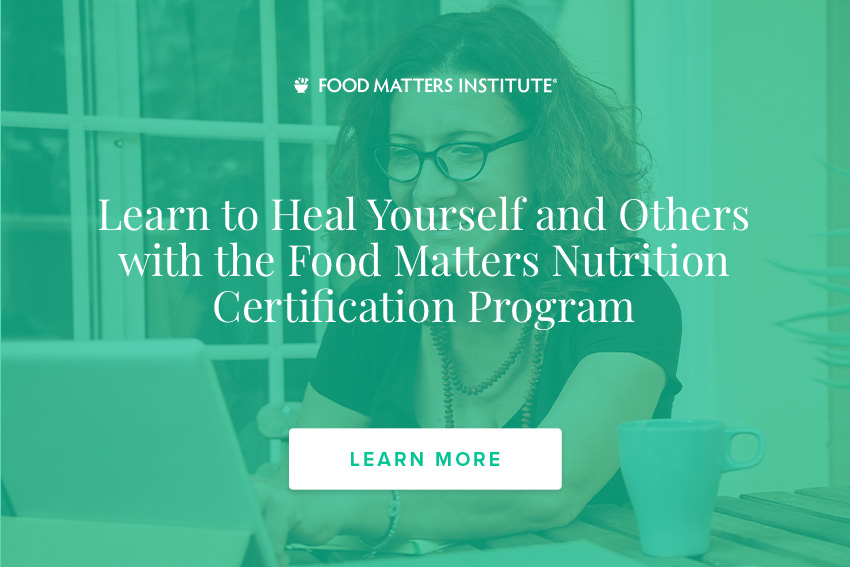 ---