Novak Djokovic Credits Diet For His Success
After the amazing news out of London that our good friend Novak Djokovic had won yet another Wimbledon title (who's counting at this point?!), we've seen a lot of people asking how he does it.
There's world-class training, a lifetime of hard work, and mindset of course, but one of the core pillars that Novak credits for his success is diet.
The 20-time Grand Slam tennis champion is of the familiar faces in TRANSCENDENCE. In Episode 1, titled 'What's In Our Food?', Novak shares how a change to his diet was the catalyst to his 2011 comeback.
In his deeply personal interview, Djokovic shares his struggles on and off the court, which lead him to go down to Jo-Wilfried Tsonga at the 2010 Australian Open. From respiratory problems, an inability to cope with the heat, endurance problems, blurry vision, and a slew of other performance issues, Djokovic was fighting a losing battle with himself.
"I've experienced, prior to 2010 Australian Open, many struggles on the court... even though I was training hard, I felt like I was losing that fuel in my tank," he shares.
Embarking on a life-changing journey with the help of fellow Serb, Dr. Igor Cetojevic, Djokovic found the best fuel for his body, and he hasn't looked back since. The results were swift and impactful, with the tennis star winning ten tournaments and being crowned world number 1 within the next 12 months. Since then, Djokovic has spent 223+ weeks at number 1 and amassed 16 Grand Slam titles. He's also the first person since 1969 to win all 4 major Grand Slams in one year, and win all 11 ATP 1000 masters events.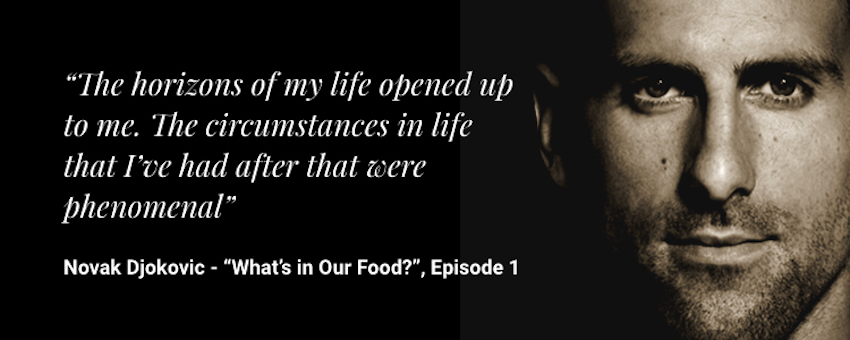 "I just needed that information about the change in diet and nutrition. With that change in 2010 and the years after that, I felt so strong as a tennis player… the horizons of my life opened up to me. The circumstances in life that I've had after that were phenomenal," he says.
Novak Djokovic's powerful story is just one of many in Episode 1, including experts like Bruce Lipton, Mark Hyman, Vani Hari, William Davis, and more. And don't forget, this is only the first episode of 5, there is so much more inspiration to come.
You can discover Transcendence Seasons 1 & 2, alongside our other life-changing feature film titles here!
---