4 Powerful Health Benefits of Turmeric
We love this root for its vibrant color and fragrant flavor. The way it adds a punch to curries, makes a beautifully creamy superfoods latte, or dyes our white clothes bright colors - even if we don't mean it to… But you've probably heard that turmeric punches well above its weight in health benefits too…
Curcumin is the compound found in turmeric that helps the spice work its magic. It's long been used in Ayurvedic practice for the healing properties, but out here in the Western world, we're just coming to terms with the powers. Curcumin, in its whole form, has been praised in studies for its anti-inflammatory, anti-tumour, and antioxidant properties. Its also what gives turmeric its gorgeous, burnt orange color. Adding black pepper may also help with absorption, as it contains the compound piperine, which is involved in the metabolic breakdown of turmeric in the gut and liver.
If it seems like turmeric is the answer to all of your health worries, that's probably because it is. Here are four of our favorite health benefits of this medicinal superfood…
1. Reduces Inflammation
Our favorite compound, curcumin, is an antiinflammatory that when in it's concentrated form, can deliver the same - if not better - anti-inflammatory benefits as pharmaceuticals. As many chronic diseases are aggravated or caused by inflammation, this compound may be the beginning of treating burdening conditions.
2. Supports Cognitive Function & Prevents Alzheimer's
Studies have also explored how turmeric may be a revolutionary treatment for Alzheimer's Disease. The anti-inflammatory effect of curcumin has been praised for reversing damage to chronic inflammation of the nerve cells. It may also help the macrophages of the brain to clear the amyloid plaques found in Alzheimer's disease, which play an important role in the immune system. Meta-analyses have looked at the collective evidence, and believe that the compounds of turmeric may be a natural way of suppressing Alzheimer's disease.
3. Can Improve Skin Health & Conditions
Due to the powerful antioxidant, anti-microbial, and anti-inflammatory properties found in curcumin, turmeric is becoming one of the next big things in skincare. Acne, eczema (atopic dermatitis), photoaging, and psoriasis are just some of the conditions the compound is believed to address. Potential has been recognized, so researchers globally are currently conducting further studies. However, due to the vibrant nature of the root, it is not recommended as a topical solution.
4. May Aid In Fighting Cancer
Inflammation in the body is linked to tumor development and growth, so taking steps to reduce inflammation within the body is vital for protecting ourselves from cancer. Research studies conducted with mice suggest that not only does curcumin slow the spread of tumor cells but may, in fact, prevent the tumors from forming in the first place. There are three ways in which the compounds act against cancerous cells; disrupting formation, interfering with pathways, and destroying. Further research is yet to be conducted in humans, but the evidence is compelling.
While you could just snack on the fresh root or mix a teaspoon of ground turmeric into some hot water, it's one of the best ingredients to get creative with in the kitchen. Our Bedtime Turmeric Tea is perfect for unwinding in the evening, just as this Turmeric Spiced Banana Cake is for whipping out when you're craving something sweet and soulful. For something a little more filling, try our Turmeric & Kale Falafels with Zoodles or a Green Gratitude Bowl with Turmeric & Tahini Dressing. If you're short on time, stock up on the spiced goodness with our famous Turmeric Ant-Inflammatory Juice. Whatever your poison, there's a way to add turmeric to it.
Do you have a passion for nutrition & natural healing?. Learn more about the Food Matters Nutrition Certification  Program here.
ENROLLMENT & BONUSES CLOSE IN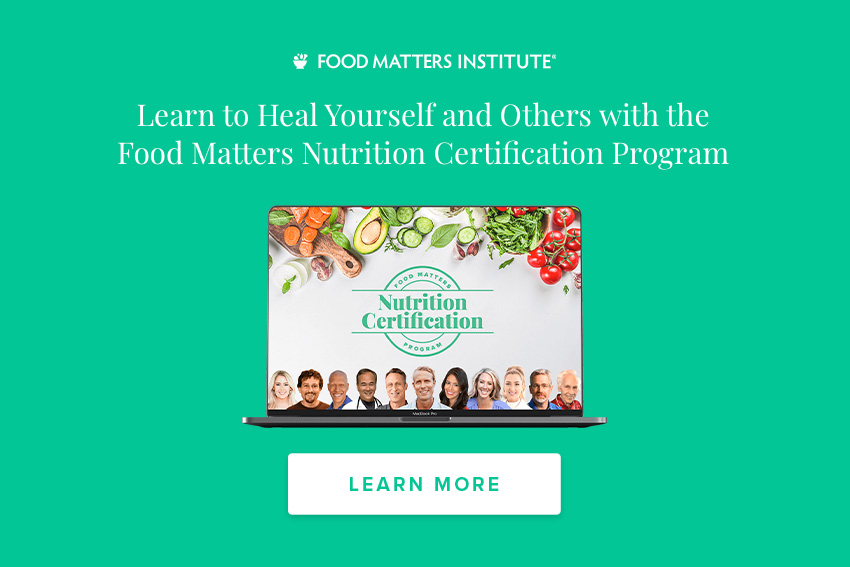 ---