Turmeric & Kale Falafels With Zoodles
ADD TO MY RECIPES
Falafels are a wonderful meal for vegetarians or vegans being rich in protein, easy to make and also incredibly delicious. They are great on their own dipped in hummus or tahini, stuffed into pita bread pockets with tabbouleh, or enjoyed on top of salad. These falafels have the added benefits of turmeric and kale and are also baked instead of fried, which is a healthier take on the original version, but equally as delicious.
Falafels
Ingredients
1½ cups of cooked chickpeas
2 tbsp pistachios
1 tsp turmeric
1 tsp curry powder
2 kale leaves, stalk removed
2 tbsp chopped coriander
2 tbsp chopped basil
1 tsp baking powder
2 tsp buckwheat flour
1 tsp lemon juice
1 tsp olive oil
½ tsp salt
2-3 tbsp sesame seeds
Method
Place all of the falafel ingredients into a food processor and process until the mixture is well combined but still retains a little texture. You may need to stop and scrape down the edges a couple of times to ensure everything is well mixed.
Cover a baking tray in baking paper and drizzle lightly with olive oil.
Roll the mixture into small balls around the size of a golf ball and pop the balls onto the baking paper. Use your palm to flatten them very slightly just so they cook through evenly.
Once you are done with the mixture, scatter the falafels with sesame seeds and bake in a moderate, preheated oven for around 15 or 20 minutes, flipping once around the halfway mark.
The falafels will be slightly golden when they are ready.
To Serve
Ingredients
1 zucchini, spiralized
1 small sweet potato peeled and spiralized
1 tsp sesame seeds
1 tsp lime juice
1 tsp olive oil
2 tbsp Beetroot Hummus (or your favorite regular hummus)
Method
Place the spiralized zucchini and sweet potato into a large bowl. Add the salt, lime and olive oil and massage the noodles to gently soften them.
Divide the vegetable noodles between two bowls and then top with falafels. Add a good dollop of your favorite hummus to each bowl.
Add fresh mint and lime and if you like, a drizzle of tahini for that authentic Middle Eastern flavor!
Kickstart your journey back to health with 21-days of gluten-free, dairy-free, and refined-sugar-free recipes. Explore the Food Matters Clean Eating Program today.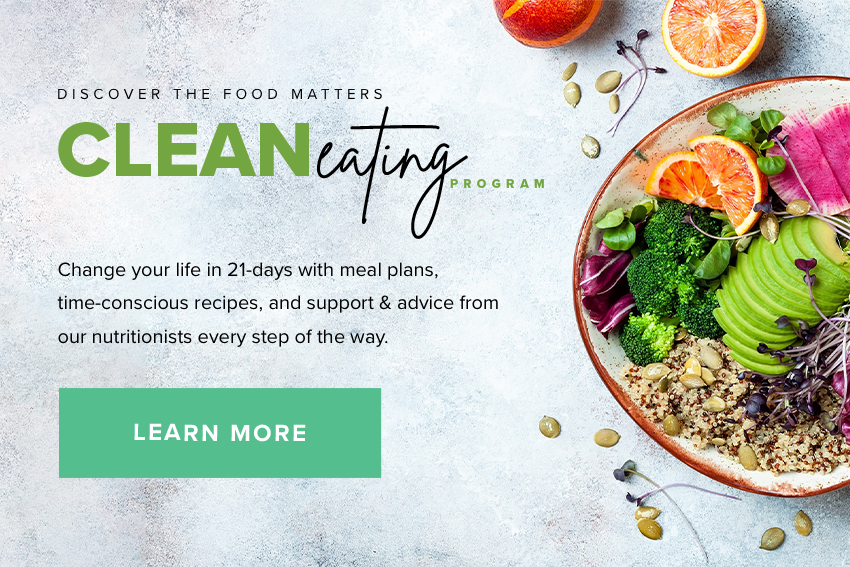 ---