Food Matters Breakfast Bread
ADD TO MY RECIPES
Transitioning to gluten-free principles doesn't mean you need to cut out bread. Our Food Matters Breakfast Bread is one of the most popular recipes on our website. It's versatile, freezes well, and is gluten free, and it is packed with nourishing fats, protein, and fiber. Top it with our favorite Toast Toppers for the perfect start to your day.
Serves: 4
Yield: 8 to 10 slices
Preparation time: 10 minutes
Cook time: 40 minutes
Ingredients
2 cups almond meal
2/3 cup tapioca starch or arrowroot flour
2 tablespoons flax meal
1 tablespoon chia seeds
1 teaspoon baking powder
1 pinch unrefi ned sea salt
3 organic free-range eggs
1/4 cup coconut milk
1 tablespoon pure maple syrup
1/4 cup coconut oil
1 teaspoon apple cider vinegar
Method
Preheat the oven to 350º F (180º C) and line a loaf tin with parchment paper.
Combine the almond meal, tapioca starch, fl ax meal, chia seeds, baking powder, and salt in one bowl. Whisk together the eggs, milk, maple syrup, coconut oil, and apple cider vinegar in another bowl.
Combine the wet and dry ingredients and pour into the loaf tin.
Bake for 30 to 40 minutes or until golden brown on top and cooked through. Place a skewer in the center of the bread, and when the skewer comes out clean, the bread is ready.
Do you have a passion for nutrition & natural healing?. Learn more about the Food Matters Nutrition Certification  Program here.
ENROLLMENT & BONUSES CLOSE IN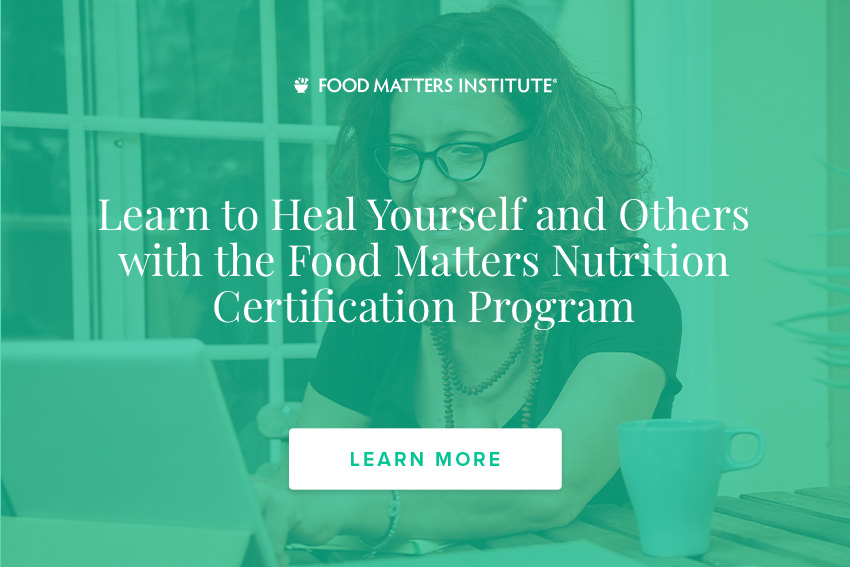 ---