Homemade Healthy Turmeric Ginger Lemonade
ADD TO MY RECIPES
We all need a daily dose of lemon water in our lives, but these healing roots make it all the more nourishing for the body.
Getting to the bottom of gut health doesn't have to be hard work. There are easy, nourishing foods that I love to use (and mentioned in my recent masterclass with James here) to bring the gut back into balance. The gut is responsible for so, so, so much in the body, and it's really important that we nourish it as such.
This healthy homemade lemonade recipe makes it so easy to do exactly that.
Ingredients:
4 cups water
1 teaspoon organic turmeric powder (or a 3-inch strip fresh turmeric root, peeled)
1 teaspoon organic ginger powder (or a 4-inch strip fresh ginger root, peeled)
1/4 teaspoon black pepper
honey or dark-liquid stevia, to taste
lemon slices, or the juice of a full lemon (to taste)
Method:
Put water into a small pot and bring to a boil on the stove. Make sure that the water has come to a full boil.
Add turmeric and ginger to the boiling water and reduce to simmer for 8 to 10 minutes. This will extract the beneficial compounds from the turmeric and ginger.
Remove the pot from the stove. Strain the tea into a cup through a fine-mesh strainer to filter out the particles of turmeric and ginger.
Add sweetener and lemon to taste.
Do you have a passion for nutrition & natural healing?. Learn more about the Food Matters Nutrition Certification  Program here.
ENROLLMENT & BONUSES CLOSE IN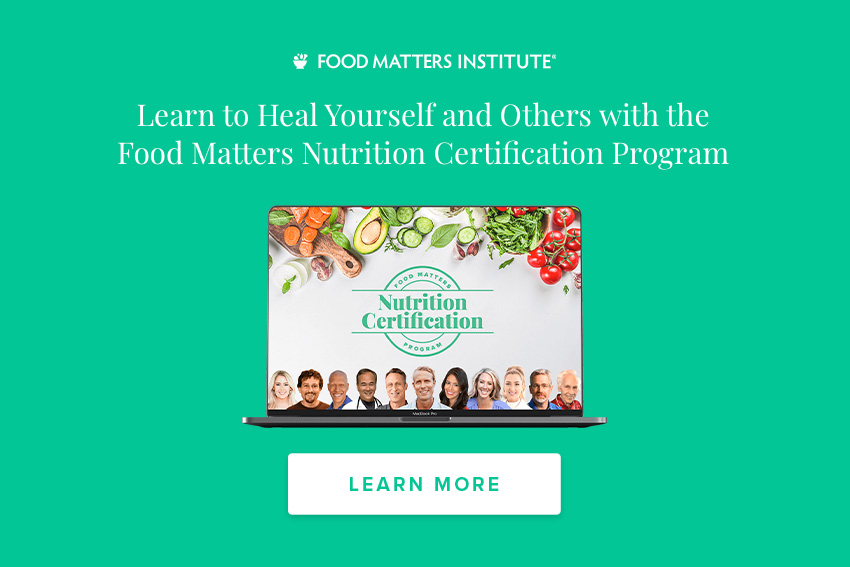 ---