Three Healthy and Festive 4th of July Desserts, Plus a BONUS Breakfast
ADD TO MY RECIPES
There's truly nothing like celebrating Independence Day! A day full of all things red, white, and blue, delicious food, and fireworks.
While we all love a fun holiday picnic, we don't love the feeling we get after indulging a little too much.
That's why we have put together three healthy recipes that you can take along to your 4th of July day celebrations. These recipes use real whole foods so that you can still enjoy celebrating without feeling sluggish the next day.
Plus, we have included a BONUS breakfast recipe from The Food Matters Cookbook!
Red, White & Blue Berry Patriotic Tart
For the base:
1 cup almonds
6-8 pitted dates
2 tbsp cacao
1/4 tsp vanilla
2 tbsp coconut oil
For the filling:
1 cup cashews (soaked overnight)
1/4 cup pure maple syrup
1 tsp vanilla
1/4 cup coconut oil
1/2 cup coconut or almond milk
For the topping:
Fresh or frozen blueberries, raspberries or red currants
Method:
Prepare base in the food processor until sticky mixture forms.
Press into tart pan, lined with plastic wrap.
Prepare cream filling by processing everything EXCEPT coconut oil until smooth and creamy. Slowly add in coconut oil and pulse in processor for 5 seconds.
Divide filling evenly between tart pans and top with your blue, white and red design.
Pop in the freezer to set.
Blueberry Muffins
Ingredients:
2 1/2 cups almond meal
1 tbsp coconut flour
1/4 tsp salt
1/2 tsp baking soda
1 tsp vanilla
1 tsp cinnamon
2 tbsp honey
1/4 cup melted coconut oil
2 eggs
1 cup fresh or frozen blueberries
Method:
1.Preheat oven to 350.

2.Line a 12 count muffin tin.

3. In a mixing bowl, combine dry ingredients (almond flour, coconut flour, salt, cinnamon and baking soda) and stir.

4. Pour in coconut oil, eggs, honey and vanilla; mix well. Fold in blueberries.

5. Distribute into muffin tin. Bake for 20-25 minutes. Allow to cool and enjoy!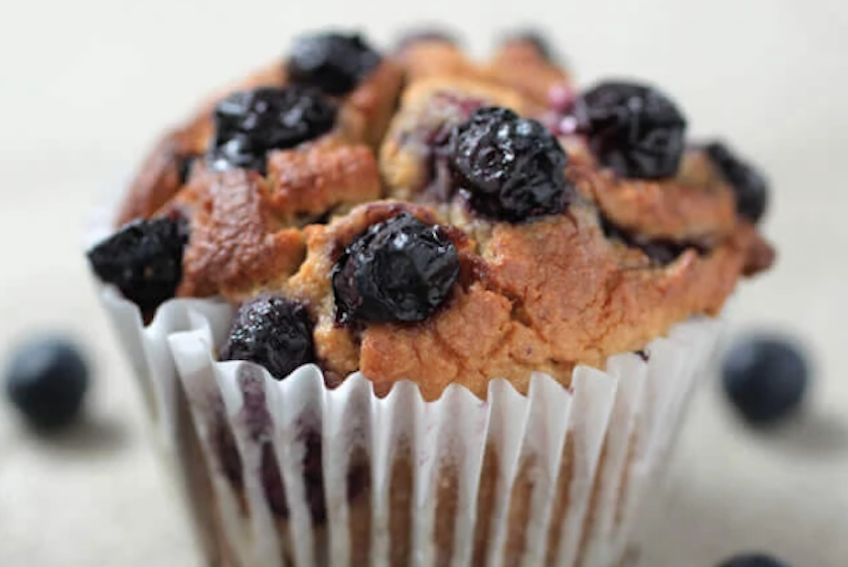 Berry Parfait
Ingredients:
1/2 cup raspberries or strawberries
1/2 cup blueberries
1 cup organic yoghurt or coconut yoghurt
Method:
1. Using two glass jars or bowls, layer the berries and yoghurt by adding berries to the bottom.

2. Add 1/4 cup of yogurt, more berries and top with another 1/4 cup of yoghurt.

3. Top with a few more berries. Optional: Layer optional ingredients to the parfait such as shredded coconut, cacao nibs or crunchy granola.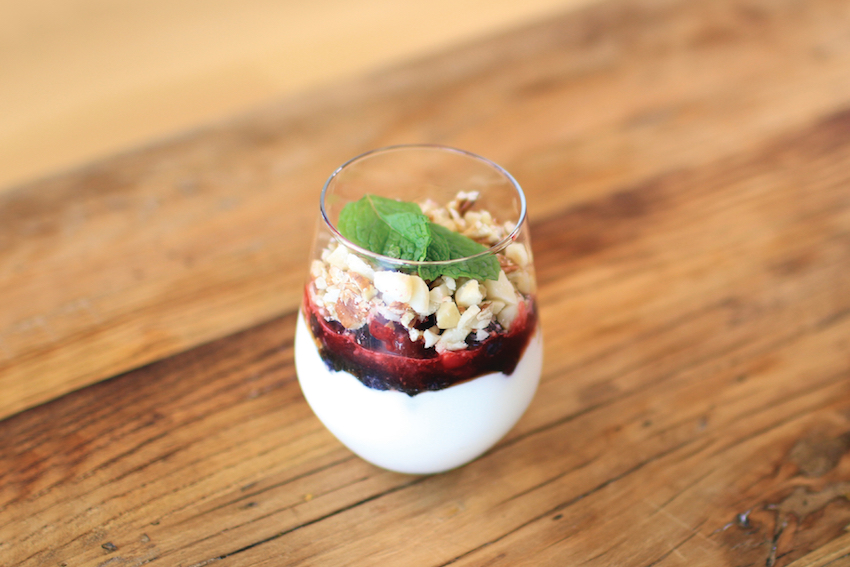 Food Matters 2- Ingredient Pancakes
Ingredients:
2 organic free-range eggs
1 banana, peeled, chopped roughly
1 tablespoon coconut oil
1/2 cup of fresh or frozen mixed berries
1 tablespoon coconut yogurt
1 tablespoon nut butter
1 tablespoon hemp seeds
Method:
1. Whisk the eggs in a bowl. Add the banana and mash together to form a batter.

2. Heat 1 tablespoon coconut oil in a frying pan and pour in 2 to 3 tablespoons of thebatter to create a thin pancake. Let the pancake cook for 1 to 2 minutes or until bubbles form, then flip and cook for another 1 to 2 minutes. Repeat until all the batter is gone.

3.In the same frying pan, add themixed berries with 1/4 cup water and mash until a jam- like consistency is acheived.

4. Serve the pancakes topped with the berries, a dollop of coconut yogurt, nut butter, and hemp seeds.
If you love this pancake recipe, you will love The Food Matters Cookbook! It's a collection of all of our favorite recipes, compiled together to create the ultimate health food cookbook. You can purchase your copy HERE.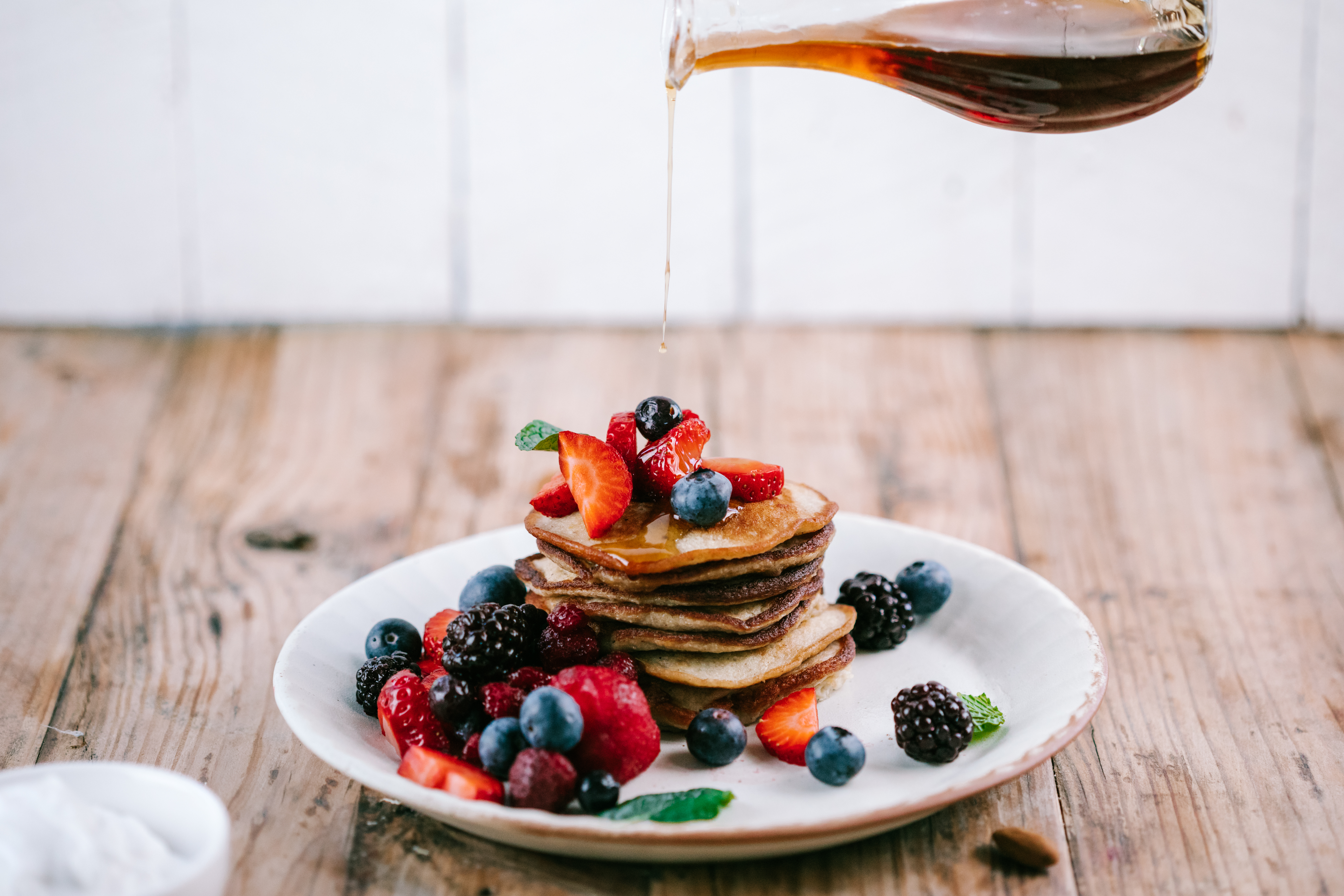 ---
If you haven't already, join our free global challenge at www.GetOffTheGluten.com to receive daily recipes & health tips, access to our private group for support and inspiration, plus before and after testing to track your progress in key areas of your life such as weight, sleep, bloating, skin-conditions, mental health and more!
JOIN THE GROUP CHALLENGE STARTS IN: