5 Simple Ways to Find Joy
When we are happy and at peace, the universe seems to flow more fluidly. But right now it seems as of the vibrational energy of the world is changing rapidly. What began as a seemingly-distant fear has grown into a rapid and all-consuming panic. Our communities have been taken over with near-constant overwhelm and stress, and it's getting hard not to let it take over every fiber of our being. It's important to acknowledge our emotions and act, just as it's important to step into the most gentle, joyous version of ourselves. Both for our own peace of mind, and doing our part for positive global energy. There a few simple ways I relieve anxiety and find joy in my daily life, I know they will do the same for you.
1. Get Comfy & Start Meditating
Meditation helps us to calm the mind; we know this. The simple practice of meditation, combining breathwork with an observation of the mind and it's thought patterns have also been known to invite healing to our lives. What I know, from my own experience, is a meditation upon waking and throughout moments of stress and discomfort in my day, invites perspective. It encourages me to think about life from a positive, reflective frame of mind. It provides me with a sense of calm, humility, and genuine joy. It's worth waking up 10-minutes early for. New to meditation? Try some of our favorites on Food Matters.
2. Practice Expressing Daily Gratitude
With all the hardship and tension facing us each day, it becomes easy to lose sight of the little things that really matter. Spending a few moments each morning acknowledging all that we are grateful for can change the tone of our whole being. Expressing gratitude for the people, places, energies, and ideas that we love in our life is a humbling experience that reminds us how lucky we are every moment of every day. If you're lost for where to begin, take a look at the room around you and the people in it. Laurentine has also come up with an encircling guide of 44 Ways to Practice Gratitude.
3. Revitalize With An Energizing Yoga Flow
There's no better way to shift the energy that no longer serves you than a beautiful, nourishing flow. The ancient practice embodies more than just movement. Breath, meditation, and observances are a few more of the eight limbs of yoga that help to bring joy into your daily life. I love to start my day with an uplifting round of sun salutations that invite the presence and a rush of energy and wind down in the evenings with a yummy yin that leaves me in a happy little bubble. The best thing about yoga, in all its diversity, is there is a practice for every yogi. Try some of our favorite short flows for all practices and skillsets.
4. Cook A Beautiful Meal
Kick-off your shoes, put on some mellow jazz music, pour yourself a glass of your favorite drink, and embrace the cookbooks. Make the most of this opportunity to be entirely present with your food as you create a nourishing meal to share, or keep all to yourself. Allowing ourselves the time and space to put wholehearted energy into a dish gives you a chance to tune out from the chaos of the world, and replenish your body with all the essentials it needs. Pick out your favorite recipe, or have a browse of some of our tried-and-true delights on the website.
5. Run A Bath & Soak With A Good Book
Epsom salts, essential oils, and a scented candle are the recipe for relaxation. Top it off with a book you can't put down and you've got a feel-good ritual for any time of the day. Take the opportunity to read a book where you can learn something new, or lose yourself entirely in the parallel universe of the plotline. If you don't have any books on your must-read list, let alone a stockpile of half-begun books on your bedside table, explore a few of our favorites here.
It's okay to acknowledge our stress, anxieties, and fears in these uncertain times. The ever-present sense of powerlessness surrounding this pandemic is quickly consuming us all. It's more important now than ever to take the time for ourselves and equip ourselves with the tools to overcome this overwhelm.
This is why we are hosting a free online screening of TRANSCENDENCE - Live Life Beyond the Ordinary. This five-episode docu-series will transcend the bounds of all you currently know. We especially think Episode 2 is fitting for this anxiety-inducing time - Overcoming Fear & Stress. Join us for this free screening here.
What are some of your cherished ways to bring joy into your life? Let us know in the comments below…
Take the stress out of cooking with 21-days of guided meal plans, shopping lists, and nutrition support. You'll find all of this, and more, in our signature Clean Eating Program.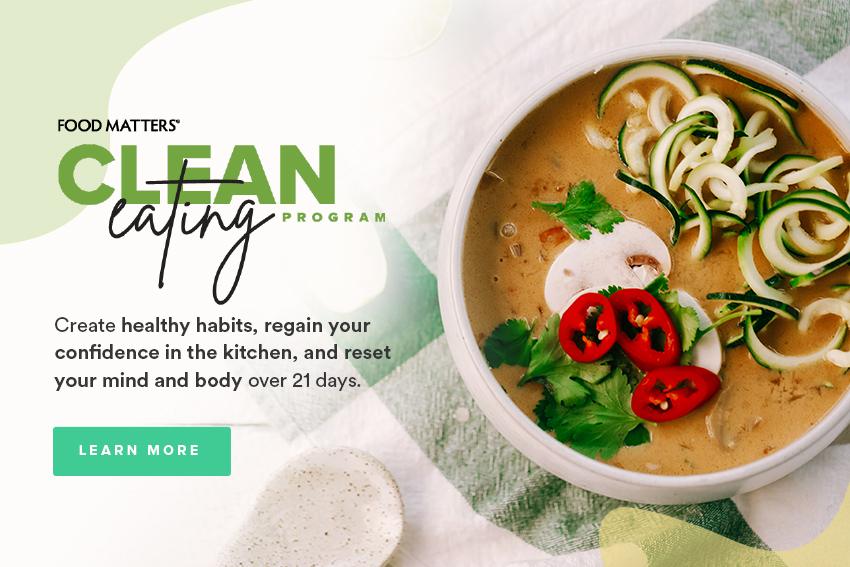 ---