Rebalancing Digestion Naturally Using Herbs & Spices with Chara Caruthers
Listen on the
food matters podcast
WATCH THE VIDEO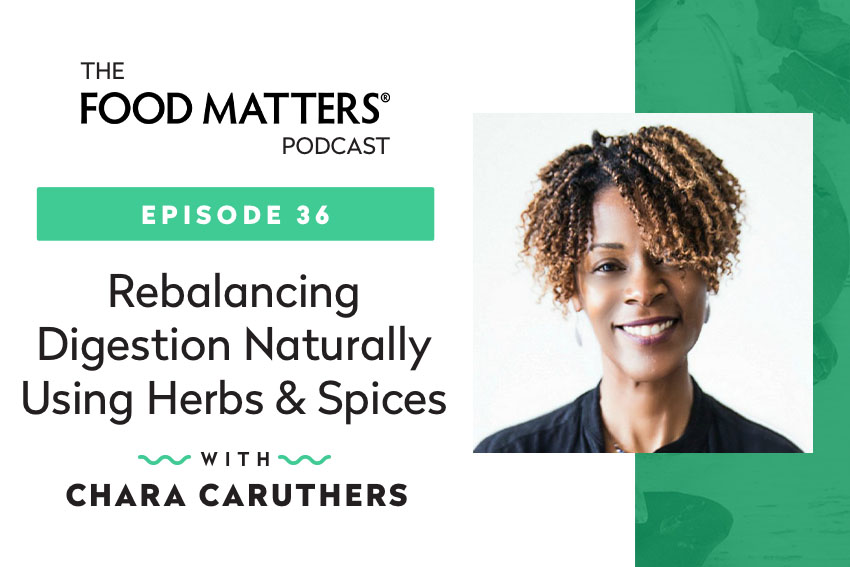 Do you know what's going on in your body? And I mean, deeply understand?
It's probably difficult without a microscope, but there's an ancient healing modality that offers insights into the inner workings of our bodies and offers natural, holistic solutions to heal. It's called Ayurveda, and it's an ancient system of medicine that's been recently gaining widespread attention. It aims to preserve health and wellness by keeping the mind, body, and spirit in balance and preventing disease rather than simply treating it.
Chara Caruthers is a leader in this field of healthcare. Chara Caruthers is a passionate advocate of the power of living your bliss. She's a senior yoga teacher, yoga therapist, and Ayurvedic consultant with a clear and powerful message... Know Yourself, Love Yourself. And she's so excited to share it with you.
In this week's episode with Chara you'll discover:
The origin and foundations of Ayurveda and why it is more relevant now than ever.
The healing power of herbs and spices, plus the top herbs to include in your diet.
The importance of good digestion and rebalancing your doshas.
How Ayurveda ties in with the yogic philosophy for holistic health.
And much, much more.
This week's conversation with Chara is illuminating and inspiring as she gives you the tools to take your health back into your own hands. It's valuable for each and every one of us, from those living with chronic conditions to those just needing a sprinkle of empowerment.
Episode resources:
If you enjoyed this podcast, please share it with your friends and family on social media or leave a comment. We'd love to hear from you, and hear about your experience with adding herbs and spices into your cooking.
---