5 Health Benefits of Quinoa (Plus 5 Recipes)
Quinoa is one wholefood you're guaranteed to find in almost every healthy kitchen. Pronounced keen-wah (we know, it gets pretty tricky), this simple staple is naturally gluten-free and packed with amazing nutrients. While most people think it's a grain, quinoa is botanically a seed, and when it's prepared right it is so easy for the body to digest.
That's why I wanted to share these 5health benefits of quinoa, plus a few Food Matters approved recipes so you can start making it today.
1. Quinoa is Naturally Gluten-Free
As you now already know, quinoa is naturally gluten-free! And this makes it your new best friend. Because of quinoa's size and texture, it makes a really good replacement for cous cous (which many people don't actually realize is made with wheat). The best part about this simple switch is quinoa also brings a bounty of other benefits to the table.
If you're not using quinoa as a whole grain, its flour also makes an awesome gluten-free alternative in healthy muffins,
2. Supports Digestive Health
Quinoa is a great source of fiber, which is an essential ingredient for healthy digestion. Fiber helps to bulk out and move wastes through your digestive tract, and a healthy intake can prevent or treat constipation, and may lower your risk of intestinal cancers in turn. It also helps you feel full longer, so it may help with weight loss.
You can learn more about the different kinds of fiber, and what they do for your body, here.
3. Contributes To Heart Health
Not only is maintaining a healthy weight is important for heart health, but that feel-good fiber plays another role. The fiber found in quinoa can also help with cholesterol and blood sugar levels, lowering your risk of diabetes and heart disease. To add to that, quinoa is rich in antioxidants, which can prevent damage to your heart and other organs. A diet high in antioxidants has been linked with a decreased risk of heart disease.
4. Complete Source of Plant-Based Protein
Quinoa is a rich source of plant-based protein, packing an incredible 8 grams into one cooked cup. What makes this even more remarkable is that by definition, quinoa is a "complete" source of plant-based protein, as it offers all 9 essential amino acids that the body can't produce itself. Getting enough of these amino acids can often be a challenge for plant-based diets, as you will need to work on protein combining to get the right balance.
However, some experts argue that quinoa should not be considered a complete protein because it contains low amounts of certain amino acids, like lysine. For this reason, experts have suggested that quinoa be considered a "nearly complete" protein. Either way, quinoa is a good source of protein — and incorporating quinoa into your diet can help you meet your daily protein needs.
5. High In Essential Vitamins & Minerals
Vitamins and minerals are often the unforgotten heroes of a diet; people typically look for the macronutrients like proteins, carbs, and fats, and forget the importance of vitamins and minerals for essential daily function. Because of this, many people don't get enough of certain important nutrients.
For example, studies show that many children and adults don't consume enough vitamins and minerals, including folate, potassium, iron, and magnesium. Quinoa is high in several vitamins and minerals that are low in many people's diets, and especially these common deficiencies (as well as iron).
Okay, so now you've been convinced of how amazing quinoa is, how about those recipes? Here are 5 ways to revolutionize your quinoa cooking:
Give them all a try and let us know your favorites in the comments below!
Take the stress out of cooking with 21-days of guided meal plans, shopping lists, and nutrition support. You'll find all of this, and more, in our signature Clean Eating Program.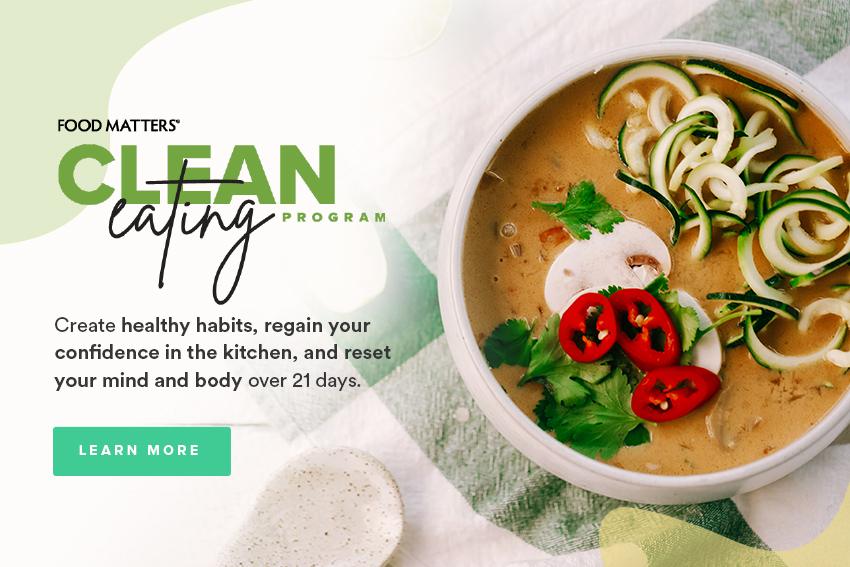 ---