10 Quick and Easy Ways to Eat Your Greens!
We know they're good for us, but some days it can be harder than others to get our greens in! We've come up with 10 easy ways for you to add more greens to your day so you can benefit from all of their cleansing, alkalizing properties even when life gets crazy!


1. Green Smoothie
It's quick, it's fuss-free and even easier when you create your own smoothie packs and place them in the freezer ahead of time. Simply add your greens, a little fruit, some coconut water or milk and a teaspoon or two of your favorite superfoods into a container or reusable, ziplock bag and freeze. Add to your blender with a little extra water or milk when it's smoothie time! Here's how to make the perfect green smoothie!


2. Green Juice
Juicing is one of the quickest ways to nourish your body with it's easy to absorb nutrients energizing your body in minutes! Plus it's portable! If you don't have time to make them, you could buy one from a juice bar, or simply add your favorite greens powder to water and you're good to go! Try our Perfect Green Juice!

3. Green Bliss Balls
These delicious treats are packed full of nutrients and contain hidden greens powder that nobody will even notice! They are great to have on hand in the fridge, making the perfect little energy booster!

4. Steamed or Sauteed Greens
Many leafy greens contain fat-soluble vitamins, so to best absorb these, we need to eat our greens with a little fat! Lightly sauteeing your greens in some oil, or steaming them for a few minutes and drizzling with extra virgin olive oil, walnut oil or serving with avocado will help to make sure you're getting the most out of your greens! Try this delicious Sweet Potato and Kale Hash for a tasty meal idea!


5. Salads
A super simple way to get more greens into your diet is to enjoy a salad. But to prevent boredom from eating the same salads day in, day out, switch things up! Why not try this Lemony Millet with Chickpeas, Corn and Spinach?


6. Lettuce Cups/Wraps
Want an easy way to make tacos, burritos, or rice paper rolls? Use leafy greens instead! Collard greens, silverbeet, cos lettuce, swiss chard and even cabbage all make great cups or wraps and help boost your nutrient intake of these alkalizing foods! Looking for dinner inspiration? Make these Lentil Lettuce Cups!


7. Greens Powders
By far the quickest way to bump up your daily intake of greens is by using a high-quality greens powder. Superfoods such as spirulina, chlorella, wheatgrass and barley grass are nutrient-rich powerhouses, allowing you to get a high dose of goodness, in a short amount of time! Find out more here


8. Dip It!
Creating a green dip is a convenient way to use up greens that are looking a little old and wilted. Try this Super Greens Dip with avocado, spinach and coriander. It's full of vitamins, minerals and healthy fats. Use cucumber, green bell peppers and other green veggies to get even more greens into your snack time!


9. Dairy-Free Basil Pesto
Pesto is fantastic to have on hand. It's full of flavor and can make the world of difference to a simple meal. We dare say it's one of the tastiest ways to get your greens! We've got a dairy-free version that is easy to whip up at a moment's notice and will fill your kitchen with the pungent aromas of basil and garlic. Make this delicious basil pesto!


10. Tuscan Kaleslaw
It still holds it's placed as one of the most nutrient-rich leafy greens available, and yet when eaten raw, it can be a little hard to swallow. How to make it work in a salad? Slice it up thinly and massage this amazing slaw dressing into it just like this Tuscan Kaleslaw!



Take the stress out of cooking with 21-days of guided meal plans, shopping lists, and nutrition support. You'll find all of this, and more, in our signature Clean Eating Program.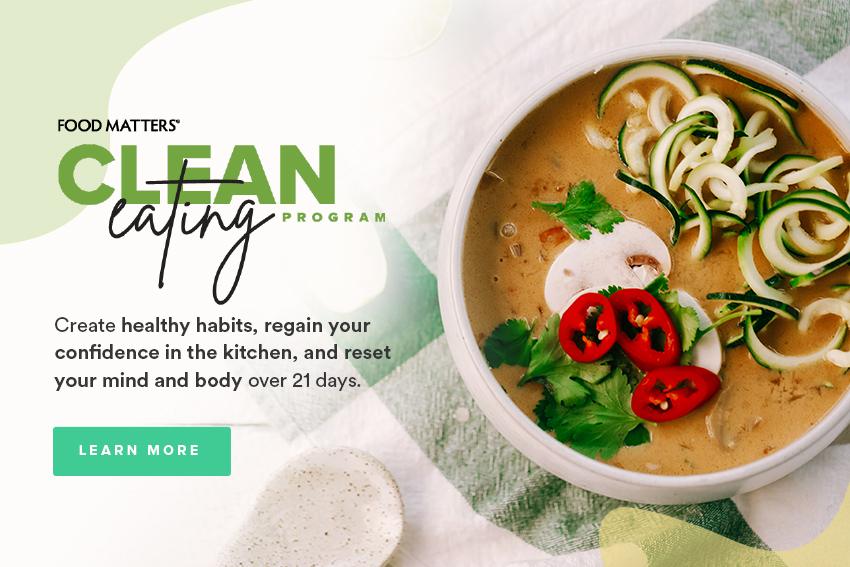 ---