Sweet Potato and Kale Hash: The Anti-Inflammatory, Nutrient-Filled Breakfast You've Been Missing
ADD TO MY RECIPES
Wanting some breakfast inspiration? This is a recipe for a simple recipe that is a bit different to your normal breakfast. Guaranteed to fill you up and energize you while giving you a nice boost of nutrients!

Kale.... Sweet potato... Two of our most favorite ingredients!

Why do we love sweet potato? It's naturally anti-inflammatory, a complex carbohydrate to fuel your body and dense in nourishing nutrients including vitamin E & vitamin A.

Kale on the other hand, certainly doesn't need any introduction. It tops the nutrient density scale, boosting it's profile of vitamin K, vitamin C, vitamin A, iron, folate, magnesium, calcium... Need I go on?

Combining these two ingredients together in one recipe makes the perfect powerhouse breakfast!

Serves 2
Ingredients
1 1/2 tbsp coconut oil
1 sweet potato, diced
1 tsp paprika
1 bunch kale, washed, leaves removed, and roughly chopped
1 clove garlic, minced
2 eggs
Salt and pepper
Method
Preheat oven to 375˚. Toss the diced sweet potato with the paprika and 1 tbsp of coconut oil on a rimmed baking sheet lined with parchment. Bake for approximately 20 minutes or until soft and slightly crisp.

Remove from oven and transfer sweet potatoes to a bowl. In a dutch oven or skillet over medium high heat, melt 1/2 tbsp of coconut oil. Add the garlic and sauté for 30 seconds, add the kale and sauté until just starting to wilt, 1-2 minutes. Add the sweet potatoes to the pan and toss to combine. Using a wooden spoon, make two wells in the pan. Crack each egg into the well. Cover pan with a lid for 1-2 minutes, allowing the whites to set. Once the eggs are cooked to your liking, turn off heat, finish with a pinch of salt and pepper and serve.
Do you have a passion for nutrition & natural healing?. Learn more about the Food Matters Nutrition Certification  Program here.
ENROLLMENT & BONUSES CLOSE IN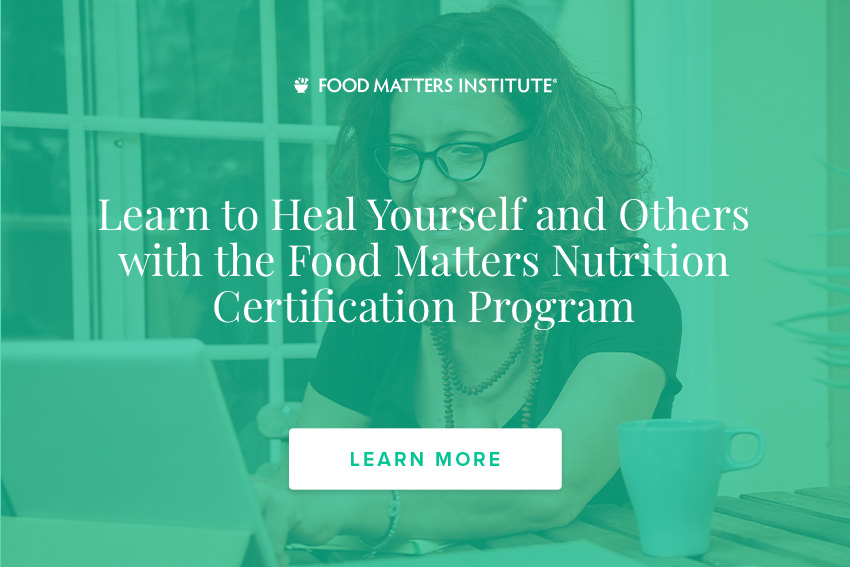 ---