10 Free Yoga & Meditation Classes You Can Do at Home
The prospect of isolation is a daunting one if we're not already immersed in the entirety of it. Know that we appreciate you for doing your part in flattening the curve. Emotions are running high, but how can we accept this stress, anxiety, and overwhelm and guide it towards a positive outlook? We're experiencing something the world has never seen before. Over the weekend in Australia, thousands of people were served the tough blow that they would not have jobs to return to on Monday, with no certainty of the future ahead.
This is awful, and there's no way of denying that. But now we can question the best ways to channel light and positivity into our lives. We can do this in the best ways we know how; a gentle practice to share with ourselves. Yoga and meditation practices that revitalize energy flows and trigger healing are crucial at times like these. Everything we have learned, practiced, and developed has been in preparation for this moment. So here are a handful of free flows and meditations for every emotion and challenge you may be facing today.
These classes are all from our FMTV channel on Gaia, the world's largest transformational network. If you're looking to use your time at home wisely over the next few weeks you can try a 7 day free trial of Gaia here and start your journey to a better you. Together we've got this!
With everything going on in the universe, it's hard to find a little positivity in your day. Laurentine's guided meditation for happiness invites a little cheer. This short and simple practice has a profound effect on our mood, so if you've woken up feeling less-than, invite a little smile.

We know that stress has a profound impact on our digestive system, and prolonged exposure can be devastating. With more time at home to work on ourselves, supporting this vital body pathway is made easy with this gentle 10-minute flow. Designed to cleanse and release stress and toxins from the body, a series of twists and sun salutations will leave you feeling revitalized and anew.
Koya Webb's journey is one of resilience, overcoming challenges, and being at peace with the present. Her healing meditation leaves a feeling of oneness in oneself. By giving the body the space and tools it needs to heal, we embark on a journey deeper towards harmony and relaxation.

When our core is strong, the rest of our mind, body, and spirit follows suit. Our core strength is often at the center of all we do, so ensuring we have a strong and stable stomach will set the foundation for a grounded yoga flow. This 10-minute class supports the spine, moves the muscles, and leaves us with a fulfilled feeling of a good workout from the comfort of our yoga mats.

With the ever-connectedness of the world and an abundance of information that we're constantly consuming (for good reason), it's becoming increasingly difficult to calm and quiet our busy minds. Regain that control over your mind and rewire your neural pathways with Emily Spurling's short-but-sweet meditation. Develop a way of understanding what thoughts we should keep, and all that we should let go of.

This intense period in time has brought about a lot of emotion. Some good, a lot of negative, and many arising that we can't quite make sense of. Yogis know that emotion is stored in the hips. By moving through a gentle series of openers, we not only release tension in this space of our somatic body but invite stored emotions to come forth. Join Koya Webb for a deliciously gentle flow that leaves you feeling limber and liberated.

With all the sham and drudgery of this current world, it's difficult to focus on those things that we have. Family, shelter, love, health, guidance… These are all the very things that keep us thriving. Amid this crisis, appreciation for all can lift our spirits, mindset, and overall health. Tom Cronin's short, 8-minute meditation is a beautiful way to adopt a daily gratitude practice.

Given the opportunity, we can spend some of our time at home nurturing the very parts of our body that need tending to the most. For many, joint weakness is a challenge in the day-to-day world. Most prone to sprains and strains, these often neglected areas gain strength and stability throughout this simple series.

Despite spending more time at home, between looking after children trying to develop a new work routine, finding a spare moment in the day for ourselves might be harder than we think. Even the most simple practice can still offer those benefits we know and love, so wake up a little earlier tomorrow and join us on the mat.

Koya Webb's meditation is a small gesture to bring in an abundance of self-love into these gloomy times. If you're finding summoning the energy to practice yoga or any exercise challenging today, this meditation is the perfect way to invite presence and connection, and nourish you, soul, with a big bear-hug.

Get access to the entire Food Matters Film Library. Start watching here.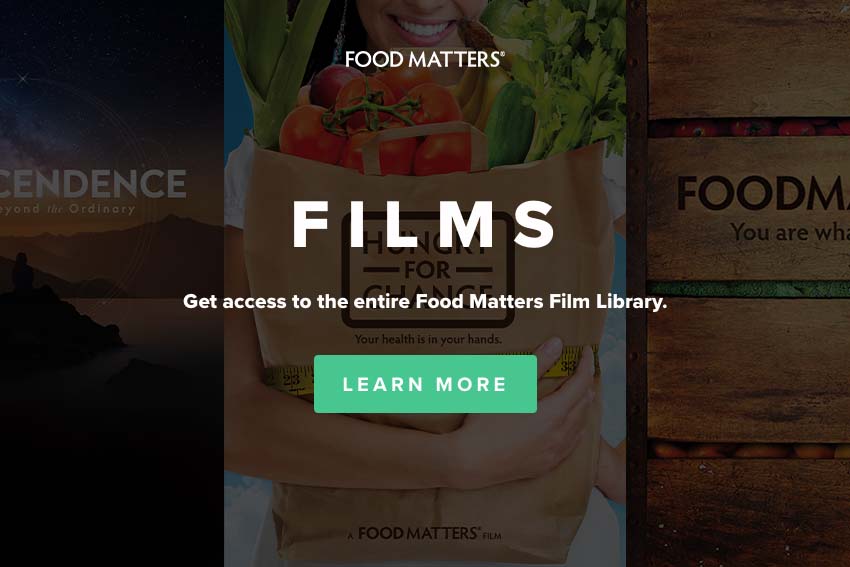 ---