Gluten-Free Grains and How to Cook Them
Gluten is quickly becoming a naughty word in nutrition. With the jury still out on whether or not it is actually healthy for our bodies, it doesn't hurt to add a sprinkle of gluten-free grains to your diet to accommodate your celiac friends.
When it comes to absorbing gluten, some digestive tracts have the capacity to where others do not. In science-speak, three specific gluten peptides are used to break down the proteins - that's right, gluten is actually a protein! However, once broken down, these proteins don't fulfill any of the body's essential amino acids. In some instances, the proteins can trigger a misguided immune response and attack the villi of our small intestine, which leads to greater digestive concerns as it becomes more difficult for the body to absorb nutrients. This is where we may get the too-tight, uncomfortable cramping after a large bowl of pasta.
Regardless, there are many gluten-free grains with an impressive nutritional profile that never hurt to include in your diet. Here are a few of my personal favorites.
Quinoa
A mainstay of the wellness diet, quinoa hasn't shown any signs of going anywhere. Surprisingly, this superfood is actually a seed but is often used on our plate where grains might be found. It contains 14.1g of protein for every 100g and has twice the amount of dietary fiber as white rice. It is also rich in iron, protein, and magnesium. As a food, quinoa is extremely versatile. You can have it herbed, spiced, and as a side dish, or try it as a staple in a Mexican Quinoa Bowl, snacked on in these Quinoa, Mushroom, and Spinach Fritattas, or even for breakfast in this soul-warming Coconut, Turmeric, and Quinoa Porridge.
Oats
Despite not traditionally being gluten-free, increasing demand has put options on our shelves. Oats are another fiber-rich food that contains powerful antioxidants and has been known to lower bad cholesterol and improve blood sugar control. Oats are a kitchen staple in some of our favorite recipes, despite getting a bad rap after some unpleasant oatmeal experiences. Overnight Oats are ideal and nutritious for those get-up-and-go mornings, our mouthwatering Banana and Oat Cookies are a crowd-pleaser, and you can even try your hand at making your own Oat Milk.
Millet
Like other gluten-free grains, millet is a praised source of protein and dietary fiber. The ancient staple is rich in Vitamins B3, B6, and B9, making especially nutritious for those pregnant or breastfeeding. Millet, in its mild flavor but the delicious texture, is a great staple for almost any dish. These Sweet Pea Millet Cakes are an easy, family-friendly recipe, but this Eggplant and Tomato Curry is a more adventurous take on the grain. Or, wow friends at your next potluck with this Lemony Millet Salad with Chickpeas, Corn and Spinach.
Buckwheat
Not technically a grain, but a seed that packs the same punch, buckwheat is a nutrient-rich, gluten-free solution to almost any problem. Can't eat oats in your granola? Toast some buckwheat. Sick of quinoa in your salads? Toss through some buckwheat. Need a flour? Buckwheat's always there. Aside from being ridiculously versatile and stupidly affordable, the groats are rich in both micro and macronutrients, as well as antioxidants and good polyphenols. The humble seed has been linked with lowering cholesterol and good heart health, easing digestion, and helping prevent diabetes. Complimenting flavors both sweet and savory, we love the grain in this Beetroot, Buckwheat, and Walnut Salad just as much as we do crusting these Baked Plums with Almonds and Buckwheat. To try buckwheat at it's best, serve up a slice of this Turmeric Spiced Banana Cake.
Amaranth
My favorite way to have amaranth? Puffed up and in chocolate. It makes for a delightful pop and crunch that reminds me of my childhood. But for food, so fun, it's also incredibly good for you. This superfood is the most protein-rich of our gluten-free grains; one cup has a whopping 28.1g! It is easily digested, provides the essential lysine, works as an appetite suppressant, and is believed to help with hair loss and greying. Puffed amaranth is available at most health food stores, and is delicious on desserts like this Instant Chia Pudding. I also love it as a replacement for legumes and beans for those struggling with IBS.
Teff
Teff's homeland, Ethiopia, is well-known for producing the world's greatest long-distance runners, and when you look at the grain's nutritional profile - it makes sense. This gluten-free grain is rich in protein, magnesium, zinc, and calcium. It breaks down easily in the digestive system and is known for the anti-inflammatory and detoxifying qualities it contains. Teff is a great source of Vitamin C and is cooked in a similar time and manner to quinoa. Dark red teff has the highest nutritional value and iron content, but any teff you can get your hands on will work wonders on your body. I love a Hearty Winter Porridge made with teff, but it goes just as delightfully in an Ethiopian-Style Stew. I've even devoured a sliced of Banana Teff Bread in the past.
Rice
Ahhhhhh, rice. One of the oldest-known, widely-used, culturally-diverse, and budget-friendly grains we can get on our plate. Jasmine, basmati, sushi, or arborio... Brown, white, or wild… There are more kinds of rice than we can count on two hands, but this makes it one of the most versatile grains known to humankind. Not only does it make an excellent accompaniment to a fragrant curry, but rice flour is also often used as a gluten-free supplement for both it's affordability and ability to hold a loaf of bread together. Rice is also a fantastic source of dietary fiber, and brown rice is praised for being a low glycemic index carb. The grain goes beautifully in a Passata Soup, just as it adds substance to this Aduziki and Edamame Sushi Salad. If you want to get creative with the flour, try Lee Holmes' nourishing ayurvedic Green Pea Curry with Brown Rice Crepes.
What are your favorite grains to cook with? Let us know below.
---
If you haven't already, join our free global challenge at www.GetOffTheGluten.com to receive daily recipes & health tips, access to our private group for support and inspiration, plus before and after testing to track your progress in key areas of your life such as weight, sleep, bloating, skin-conditions, mental health and more!
JOIN THE GROUP CHALLENGE STARTS IN: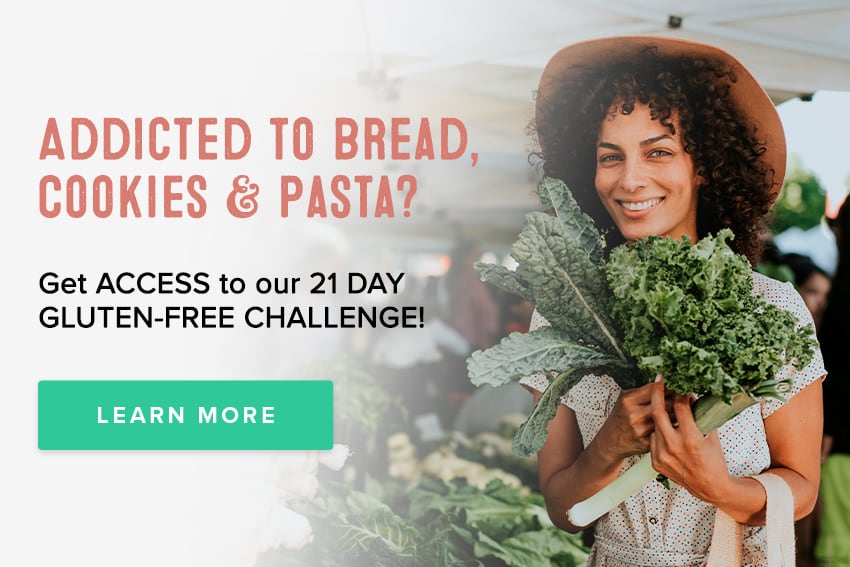 ---