Green Pea Curry With Brown Rice Crêpes
ADD TO MY RECIPES
Life can be a turbulent journey sometimes, with an array of curve-balls and life circumstances ranging through a rollercoaster of joy to grief, excitement, fear, times of rest and times of pressure. No matter what my circumstances are I find that I always come back to food as a ritual that grounds me no matter whatever stage of life I'm in.
Cooking is both an art and a science; the science part brings me a sense of meticulous focus and measurement which draws me into a state of methodical concentration, but paradoxically at the same time, I find that my time in the kitchen cooking up a new recipe brings me a sense of lightness, freedom and therapeutic mindfulness that say an artist experiences when in a flow of creativity.
A new level of grounding myself through food has come to me through the discovery of Ayurveda, and how this traditional Indian understanding of health and holistic living has influenced my understanding of myself and how I can embrace cooking as not only an enjoyable outlet, but one that targets my unique constitution at a big picture level to bring a whole new meaning to the word nourishment.
The Three Dosha's In Ayurveda Represent Our Unique Type And Are Linked To Different Elements. Vata (Air), Pitta (Fire), Kapha (Earth)
These reveal our prakruti or constitution that relates to our individual genetically inherited physical, mental and emotional qualities.
This gorgeous green pea curry is one of my favourite go-to recipes to pacify Vata and Kapha doshas where there is a need for balancing negative emotions; whether it be heavy sadness in the Kapha or anxiety and restlessness in Vata. It is a lovely mindful practice to make this beautiful vegetarian dish, especially when paired with the meditative act of making Indian Dosa's as an accompaniment, a recipe that can also be found in the book.
This balancing vegetarian dish makes a beautiful hot lunch to take to work and its healing mix of spices smells divine.
Ingredients
330 g (111⁄2 oz/11⁄2 cups) green split peas, soaked overnight in filtered water then rinsed well
1 1/2 litres (52 fl oz/6 cups) filtered water
2 tbsp ghee
2 onions, diced
1⁄2 tbsp ginger, grated
3 garlic cloves, chopped
2 green chillies, seeded and chopped
1⁄2 tsp turmeric, ground
1 tbsp cilantro, ground
2 1/2 tsp fennel seeds
1 tomato, diced
1 tsp garam masala
6 curry leaves, plus extra to serve
310 ml (103⁄4 oz/11⁄4 cups) additive-free rice milk (kapha) or coconut milk (vata)
Celtic sea salt, to taste
Method
Put the split peas and water in a medium saucepan and bring to the boil over medium heat. Reduce the heat to low and simmer, covered, for 30 minutes or until cooked. Strain the peas, reserving the liquid, and set aside.
Heat half the ghee in a large frying pan over medium heat. Add the onion, ginger, garlic and chilli, and cook for 5–7 minutes or until the onion is golden. Add the turmeric, coriander and fennel seeds, and cook for 2–3 minutes. Add the tomato and cook for 5 minutes or until softened. Remove from the heat.
Heat the remaining ghee in a large frying pan over medium heat. Add the garam masala and curry leaves, and cook for 1 minute. Pour in 250 ml (9 fl oz/1 cup) of the reserved pea liquid and bring to the boil. Stir in the cooked peas then add the rice or coconut milk and warm through. Season with salt.
Garnish with curry leaves and serve with Indian dosas. Serve with brown rice crepes
BROWN RICE CREPES
MAKES 6–8
Ingredients
160 g (53⁄4 oz/1 cup) brown rice flour
2 tsp baking powder
1⁄4 tsp Celtic sea salt
2 eggs
2 tbsp rice malt syrup
250 ml (9 fl oz/1 cup) rice milk
ghee, for shallow-frying
My funky cool crepes perform the perfect duet, like a soul-shaking Bollywood couple on the eve of their wedding night. Fine crepes act as wraps to hold vegetables, scrambled egg or minced meat tightly; they also work as a grounding base for sweetened breakfasts and jammy desserts.
Method
Combine the flour, baking powder and salt in a small bowl then set aside.
In a large bowl, whisk together the eggs and rice malt syrup, then add the dry ingredients and stir to combine.
Add the milk gradually, whisking until smooth. Set the batter aside for
15 minutes.
Heat a little ghee in a frying pan over medium heat. Pour about 80 ml (21⁄2 fl oz/13 cup) batter into the pan and swirl to spread evenly over the base of the pan. Cook until golden, then flip and cook the other side.
Remove the crepe from the pan and lay on paper towel to drain off any excess oil.
Repeat with the remaining batter.
---
If you haven't already, join our free global challenge at www.GetOffTheGluten.com to receive daily recipes & health tips, access to our private group for support and inspiration, plus before and after testing to track your progress in key areas of your life such as weight, sleep, bloating, skin-conditions, mental health and more!
JOIN THE GROUP CHALLENGE STARTS IN: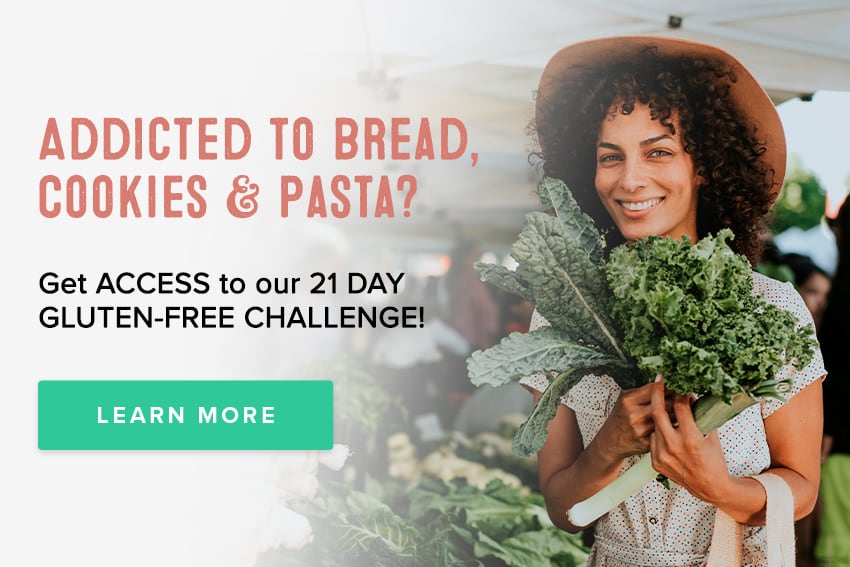 ---