Alkaline Tacos
ADD TO MY RECIPES
This taco "meat" comes pretty close to the real thing, but it's packed with live enzymes and alkalizing boosters. You can whip up this super-tasty taco feast in less than thirty minutes, and you'll get better result with a good processor than with a conventional blender. For a more traditional taco, use non-GMO corn tortillas in place of or wrapped around the romaine. If you go with our romaine, add a bit of shredded lettuce. After devouring a whole batch of the filling, my friend Denise explained; "I want to be buried with this!"
For The Filling
1/2 cup/55g raw walnuts
1/2 cup/70g blanched slivered raw almonds
1/2 cup/45g soaked, drained, and roughly chopped sun-dried tomatoes
2 tablespoons cold-pressed extra-virgin olive oil
1 teaspoon ground cumin
1 teaspoon ground coriander
1/8 teaspoon chilli powder
1/8 teaspoon garlic powder
1/8 teaspoon onion powder
1 1/2 teaspoon Bragg liquid amino's, wheat-free tamari, or soy sauce, plus more to taste
1/8 teaspoon natural salt, plus more to taste
1 tablespoon chopped flat-leaf parsley
Method
To make the filling put the walnuts and almond into your high-speed blender or food processor and pulse until broken up.
Add the sun-dried tomatoes, olive oil, spices, liquid amino's, salt and parsley and pulse until the tomatoes are well incorporated and the mixture is "red and meaty" looking.
Tweak flavours to taste (you may want more liquid amino's and salt) and set aside.
Pico De Gallo
1 Cup/150g diced tomatoes
1 1/2 tablespoons finely chopped cilantro, plus more to taste
1 tablespoon diced red onion, plus more to taste
1 teaspoon cold-pressed extra-virgin olive oil
1 teaspoon freshly squeezed lime juice, plus more to taste
1/4 teaspoon minced garlic, plus more to taste
1/4 teaspoon minced Serrano chile, plus more to taste (optional)
Natural salt
Pinch of freshly grounded black pepper
20 medium and large romaine leaves, or other foldable, not too soft lettuce, washed and dried
1 or 2 avocados, pitted, peeled and sliced, to garnish
Method
To make the pico de gallo, combine the tomatoes, cilantro, onion, olive oil, lime juice, garlic, chile, 1/4 teaspoon of salt and pepper.
Tweak flavours to taste (you may like more cilantro, garlic, chile, lime juice, onion or salt)
To Assemble The Tacos
Scoop about 1 tablespoon (depending on the size of the lettuce leaf) of the taco filling into the groove of the leaf.
Add a spoonful of pico de gallo, a couple of avocado slices and a drizzle of sour cream.
Repeat with the remaining leaves.
---
If you haven't already, join our free global challenge at www.GetOffTheGluten.com to receive daily recipes & health tips, access to our private group for support and inspiration, plus before and after testing to track your progress in key areas of your life such as weight, sleep, bloating, skin-conditions, mental health and more!
JOIN THE GROUP CHALLENGE STARTS IN: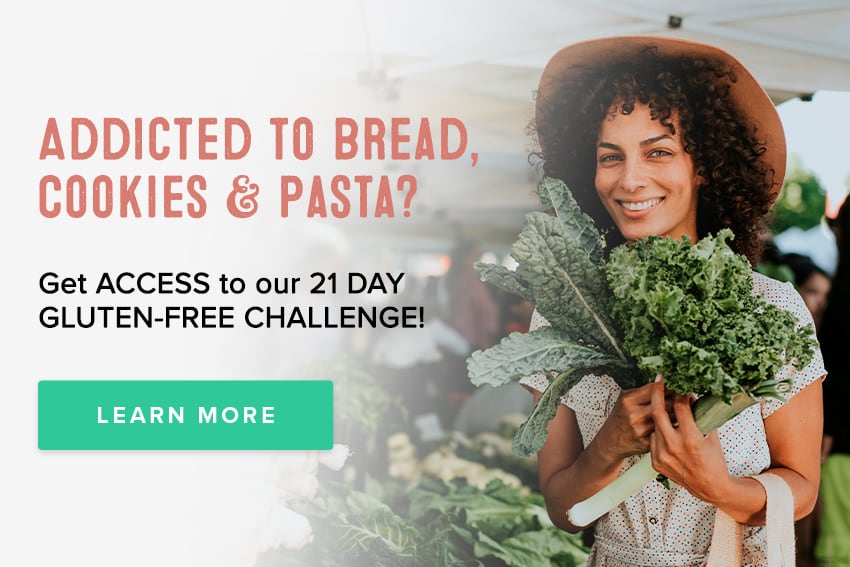 ---