Homemade Bone Broth Pho & Banh Mi Wraps
ADD TO MY RECIPES
Easy to follow, fun to watch, and delightful to sample, these recipes will leave you looking forward to cooking your way to a healthier, happier you. Once you've tried Pho there's no going back.
HOMEMADE BONE BROTH PHO
Prep time: 15 minutes
Total time: 5-24 hours
Serves: 8-10
Ingredients
2 full raw, bone-in, chicken leg quarters; and 2 bone-in chicken breasts (or one whole raw chicken)
3 carrots, cleaned and roughly chopped
1 white or yellow onion, cut in half, skin on is ok
3 cloves garlic, smashed, skin on is ok
1-2 inches ginger, chopped, skin on is ok
1 stalk of lemongrass
4-6 whole cloves
5 whole cardamom pods
1 small cinnamon stick
3 whole star anise
½ tsp whole black peppercorns
1 tsp sea salt
2 tbsp apple cider vinegar
1-2 tsp fish sauce to taste (optional)
To serve: Rice noodles, preferably brown rice noodles, cilantro, jalapeno, bean sprouts, green onions (optional) & chicken meat from the broth, if desired.
Method
Add chicken pieces to a 6 quart slow cooker.
Clean and cut carrots, onion, garlic and ginger. These can all be very roughly cut, as they will be strained from the broth at the end. You can leave the skin on, just make sure they are clean and cut to fit in the slow cooker.
Remove most of the green part of the lemongrass, leaving approximately 4 inches of the thicker, white stalk. Score it vertically with a sharp knife and smash it just enough to loosen it. This will assure that the lemongrass flavor is released into the broth.
Add all vegetables, spices and apple cider vinegar to the pot; reserve the fish sauce, if using, until the end. Cover with purified water, until about minimum ½ inch from the top, and set to high. After about 2-3 hours, remove the chicken meat from the bones, then add the chicken bones and skin back to the crock pot. Store meat in a covered container in the refrigerator. You can use this chicken in your pho or another recipe.
Continue to cook at a low simmer at least 5 hours or up to 24 hours; I like to do this overnight.
Once cooked, add 1 teaspoon fish sauce. This is a traditional and wonderful flavor. It can be omitted, if you prefer.
Carefully strain the broth through a colander over a large heat-safe bowl.
Add the strained broth back to the crock pot.
Add 1 tablespoon salt to the pho broth; season to taste.
In a separate heat-safe bowl, pour boiling water over your rice noodles. Let sit for 5 minutes, until soft. Drain and rinse.
Note: It's best to cook the noodles separately before adding to the broth to prevent them from creating too much starch in the broth.
To serve: Ladle broth into individual bowls. Add rice noodles, cilantro, jalapeno, bean sprouts and chicken, as desired. Sliced green onions are also a great addition.
CHICKEN BANH MI LETTUCE WRAPS
Prep time: 10 minutes
total time: 10 minutes
Serves: 8
Ingredients
8 Romaine lettuce leaves or other lettuce cups
2 cups Quick-Pickled Bahn Mi Veggies
2 cups shredded or diced chicken (from homemade pho recipe or any other recipe)
½ cup veganaise or healthy mayonnaise
¼ teaspoon salt, or more to taste
Fresh cilantro for garnish
Method
Step 1: Make the Quick-Pickled Banh Mi Veggies
Veggies:

1 large carrot, julienned
½  cucumber, sliced very thin on the diagonal (either by hand or on a mandoline)
½ daikon radish, julienned
½ jalapeno, sliced (remove the seeds if you don't like as much spice)
½ bunch green onions, sliced, tops removed

Brine:

½ cup distilled white vinegar
½ cup water
¼ teaspoon sea salt
2 - 1" pieces ginger
1 tbsp coconut sugar

Method:

Simmer brine ingredients over medium heat for 10 minutes.
Prep veggies. The goal is to have very thin, julienned veggies. You can do this by hand, or with the aid of a julienne tool or mandoline.
Add veggies to a heat-safe mixing bowl.
Pour hot brining liquid on top of the veggies.
Refrigerate for 20 minutes for a quick-pickle effect. These veggies can be stored in the same container in the refrigerator up to 3 days.
Step 2: While the quick pickles marinate, make the chicken salad by mixing the chicken, mayo and a few tablespoons of the quick pickle brine in a bowl. Add a dash of sea salt and season to taste.
Step 3: Assemble the Bahn Mi Lettuce Wraps
Arrange the lettuce cups on a plate
Spoon in 2-3 tablespoons of the chicken salad
Arrange the quick pickled veggies on top as desired
Top with fresh cilantro. Enjoy!

Hungry for more recipes just like this one? Discover the best recipes fresh from the Food Matters Kitchen.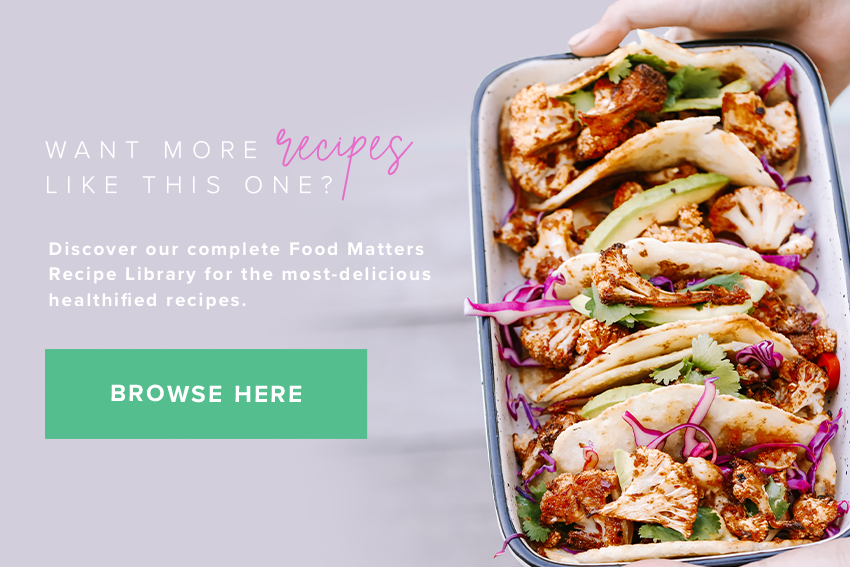 ---