Cashew Flour Fig Pinwheel Cookies
ADD TO MY RECIPES
The star of this cookie of course are the figs. Figs are a good source of potassium which is a mineral that helps to control blood pressure. With 1.4 grams of fiber for just one fig, they are loaded with a nutrient people often don't get enough of.

Fiber is good for digestion, weight management, and offers up a number of other health benefits. The tiny seeds of figs are loaded with nutrients that aid in cleansing the digestive tract.
Ingredients
1 cup fresh

figs,

stems removed and cut into quarters

1/4 cup water

1 tablespoon chia seeds (or 1 egg minus the water)

3 tablespoons water

3/4 cup raw cashews

6 tablespoons coconut flour

1/4 cup coconut sugar

1/4 teaspoon baking soda

1/8 teaspoon salt

1 teaspoon cinnamon

1 teaspoon vanilla powder or extract

1/4 cup coconut oil
What to do
In a small saucepan add the cut figs and water.

Cook over

medium-low

heat until the figs are soft, about 15 minutes. Adding more water as needed if the water boils off.

Once the figs are soft puree the figs with a hand blender (blender or food processor would work too).

Store fig jam in the fridge to cool.

In a small bowl add the chia to 3 tablespoons water and let sit to gel.

In a food processor add the cashews and process into a flour.

Add the coconut flour, sugar, baking soda, salt, cinnamon, vanilla, and chia gel.

Pulse to combined.

With the processor running drizzle in the coconut oil until a dough forms.

Roll the dough out with a rolling pin onto parchment paper into a rectangle about 1/4 inch thick.

Spread 1/2 cup of the fig jam mixture evenly onto the dough.

Using the parchment paper to help you, start on the shorter side of the rectangle, roll the dough with the filling on the inside to the other side of the dough into a log shape.

Use a serrated knife gently cut the dough log into

1/2-inch

cookies.

Place the cookies flat on a lined baking sheet and form into rounds with your hands.

Bake in a

350 degree F

oven for 20-25 minutes until golden brown and firm.

I store these cookies on a plate on my counter, uncovered for up to 5 days. (if you store in a container they may get soggy but still delicious).
Notes *choose organic ingredients when possible


Do you have a passion for nutrition & natural healing?. Learn more about the Food Matters Nutrition Certification  Program here.
ENROLLMENT & BONUSES CLOSE IN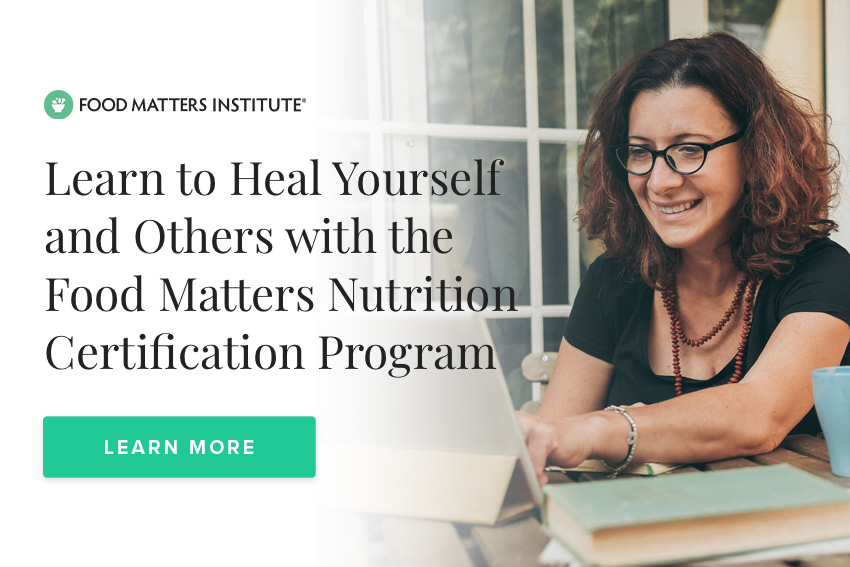 ---