Cauliflower Pizza Steaks (Free Recipe Video)
ADD TO MY RECIPES
Chances are you've heard of the trending cauliflower pizza. The famously grain-free crust is made up of nothing more than ground cauliflower, egg, cheese, and spices. It's exquisitely delicious, but I often find myself with such a strong craving for it that I don't have the time or patience to bake a crust from scratch. Between the chopping, steaming, squeezing, mixing, and baking, who has the extra hour it takes to whip up? My solution: Cauliflower Pizza Steaks!
These babies will satisfy your yearning for pizza (you'll be amazed how pizza-like each "slice" is) while eliminating the whole process of needing to make the dough. Plus, once you master making these pizza steaks, let loose and play around with different toppings and seasonings. They're completely customizable to fit your unique taste preferences!
Getting flexible in the kitchen can spark your inner creativity while saving you precious time and energy. That's why I've created an entire cooking series for you—titled "Nealy's Flexible Kitchen"—that's filled with similarly versatile recipes.
Watch the season trailer and get the full list of recipes here.
Ingredients for Cauliflower Pizza Steaks:
Olive oil, for pan
3 Heads of cauliflower
1 Jar store-bought marinara sauce
1 Bag shredded mozzarella cheese
1 Bag shredded parmesan cheese
Topping ideas: basil, mushrooms, olives, onions
Directions:
Preheat oven to 400ºF.
Slice your cauliflower into ½ inch thick steaks. Make sure to keep the stem of the cauliflower intact so your steaks don't turn into florets. Reserve the rest of the cauliflower that has fallen apart for later. You may only get a few "steaks" from each head of cauliflower. With practice, you can squeeze one or two more.
Drizzle olive oil generously on your pan. You may want to line the pan with parchment paper to make cleanup easier.
Place cauliflower steaks on pan. Drizzle again with olive oil.
Bake cauliflower in oven for about 10 minutes, or until slightly softened and browned on edges.
Remove from oven and top with marinara sauce, cheeses, and your toppings of choice.
Return to oven and bake until bubbly and crispy 10-20 minutes.
*Note: What to do with the rest of your cauliflower florets? Spread them onto a separate baking sheet and repeat the process. The end result is amazingly crispy, cheesy, and saucy baked cauliflower that tastes like pizza too!
Get access to the entire Food Matters Film Library. Start watching here.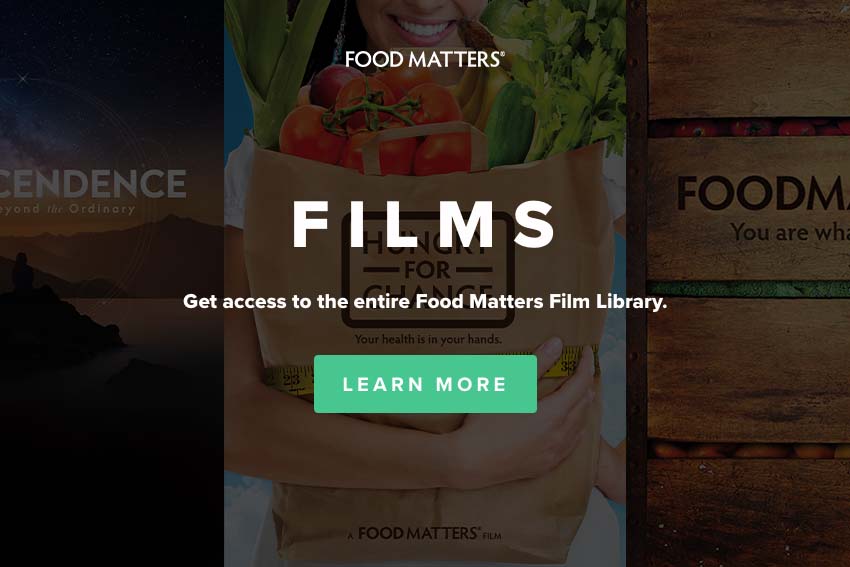 ---