Charred Pumpkin Breakfast Tortillas
ADD TO MY RECIPES
It doesn't get much simpler or more delicious than this dish. You get to create a fantastic gluten-free crispy tortilla from scratch and, while you're doing that, you're also roasting off possibly one of my favorite vegetables, the humble butternut pumpkin. This naturally sweet and delicious vegetable is low-carb, packed with nutrients and just makes you feel good inside.
Ingredients
400 g butternut pumpkin, unpeeled, roughly diced into small chunks
2 tablespoons coconut oil
1⁄2 teaspoon sea salt
2 tablespoons sesame seeds, lightly toasted
Lemon wedges, to serve
CRISPY TORTILLAS
100 g (1 cup) almond meal
125 g (1 cup) arrowroot or tapioca flour
125 ml (1⁄2 cup) coconut milk
125 ml (1⁄2 cup) filtered water, plus extra if needed
1⁄2 teaspoon sea salt
3–4 tablespoons of coconut oil
HERBY AVOCADO DRESSING
1 avocado, smashed
1 large handful of flat-leaf parsley leaves, roughly chopped
125 ml (1⁄2 cup) extra-virgin olive, avocado, macadamia or hemp oil
1 teaspoon apple cider vinegar
Zest and juice of 1 lemon
1⁄2 teaspoon sea salt
Method
Preheat the oven to 390°F (200°C) and line a baking tray with baking paper.
Coat your pumpkin well with the coconut oil, season with the salt and spread evenly over your prepared baking tray, giving each chunk space to get crispy without too much overlapping. Bake for about 30 minutes, or until golden brown around the edges and soft in the middle.
While your pumpkin is cooking, get on with the tortillas. Combine the almond meal, arrowroot or tapioca flour, coconut milk, water and salt in a bowl and mix well to form a smooth thin batter. (The more watery the batter, the thinner and crispier your tortillas will be, so add a splash or two more if you like.) Melt 1 tablespoon of the coconut oil in a small non-stick frying pan over medium heat. Ladle a quarter of the batter into the pan, tilting and swirling it to coat the base in an even layer, and cook for 2–3 minutes, then carefully turn the tortilla over with a spatula and cook for a further 2 minutes, or until golden and cooked through. Lift the tortilla from the pan and set aside, wrapped in a clean tea towel to keep warm. Repeat with the remaining mixture, greasing the pan with a little more coconut oil in between tortillas to make sure they don't stick to the pan.
For the herby avocado dressing, put all the ingredients in a food processor and pulse until smooth and creamy.
Divide the tortillas among plates, spoon over the roasted pumpkin, drizzle with the dressing and sprinkle over the toasted sesame seeds. Serve with the lemon wedges and tuck in.
Do you have a passion for nutrition & natural healing?. Learn more about the Food Matters Nutrition Certification  Program here.
ENROLLMENT & BONUSES CLOSE IN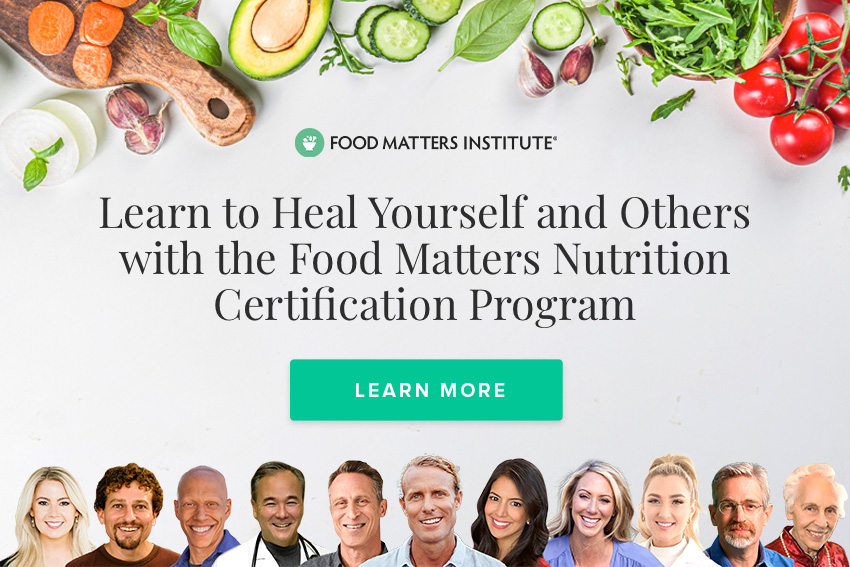 ---