Choy Sum, Soba And Tempeh Salad (Recipe)
ADD TO MY RECIPES
We called this a salad but it's really a full-blown meal! Filled with nourishing ingredients, yet so easy to whip up, this makes the perfect dinner for those mid-week nights when you don't feel like getting too crazy in the kitchen.
Ingredients
250g packet soba noodles
1/3 cup tamari or soy sauce
1/4 cup sesame oil
1 1/2 tablespoons rice malt syrup
juice of 2 limes
sea salt and freshly ground black pepper, to taste
2 tablespoons coconut oil
2 cloves garlic, minced
2 spring onions, finely sliced
1 bunch Chinese Broccoli, roughly chopped (or pak choy or choy sum)
1 packet tempeh, sliced into cubes
1 x 2cm knob ginger, finely grated
1 long red chilli, finely diced (or 2 teaspoons chilli flakes)
What to do
Heat a large pot of salted water to boiling on high add the soba noodles and cook according to the packet directions. Once noodles are cooked drain and transfer noodles to a bowl.
Combine the tamari/soy, sesame oil, rice malt syrup and lime juice in a small bowl. Pour half over noodles. Season with salt and pepper, to taste.
Heat coconut oil in a large fry pan. Add tempeh and cook on both sides for 5-6 minutes or until golden and crispy. Add the Chinese broccoli, garlic, ginger, spring onions and chilli. Cook until the Chinese broccoli is wilted and cooked through. Toss the tempeh and greens through the soba noodles and drizzle with remaining sauce. Serve.
Do you have a passion for nutrition & natural healing?. Learn more about the Food Matters Nutrition Certification  Program here.
ENROLLMENT & BONUSES CLOSE IN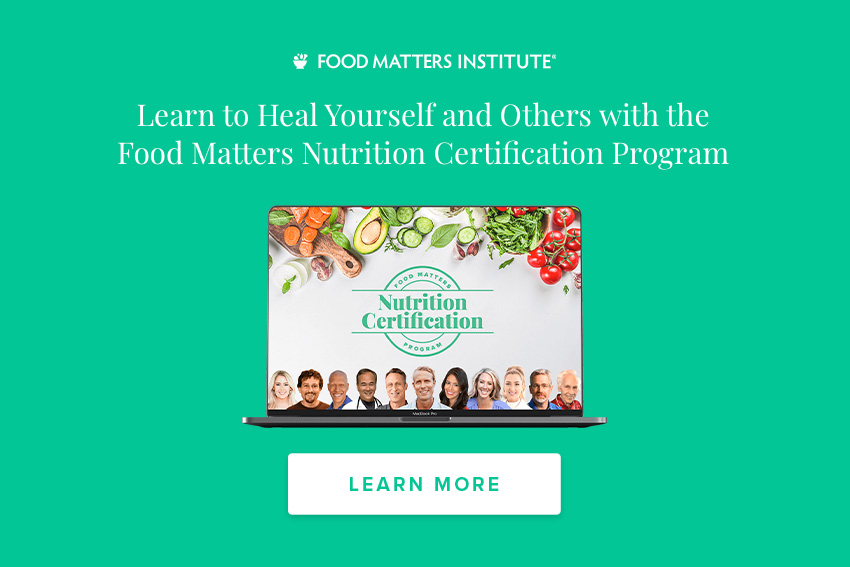 ---