Falafel With Tahini Garlic Sauce (Recipe)
ADD TO MY RECIPES
Looking for a falafel recipe that doesn't contain gluten or require being fried? This is a simple and healthy alternative to the traditional falafel recipe. It's gluten-free, vegan and extra tasty when you add the tahini garlic sauce!

This recipe yields 8, 3-inch patties.
TAHINI GARLIC SAUCE
3 tablespoons tahini

3 tablespoons lemon juice

2 tablespoons olive oil

1 teaspoon pure maple syrup, or honey

2 garlic cloves, smashed

1/4 teaspoon salt
FALAFEL
3 med. cloves garlic

1/2 cup chopped yellow onion

1 1/4 cup chickpeas

1/3 cup lightly packed parsley leaves

2 tablespoons tahini

1 1/2 tablespoons lemon juice

1 1/4 teaspoon cumin

1/4 teaspoon coriander

1/2 – 3/4 teaspoon salt

1/4 teaspoon pepper

3/4 cup cooked + cooled millet, how to cook millet

3 tablespoons pepitas, or sunflower seeds

1/4 cup partially ground gluten-free rolled oats, or GF oat flour

oil for cooking
Method
Place tahini, lemon juice, olive oil, maple syrup, smashed garlic, and salt in a small jar.  Seal the jar and shake until fully combined.  Set aside for flavors to develop and sauce to thicken.  Adjust salt/sweetness if needed.  Remove garlic before serving.

Place peeled garlic cloves in a large food processor and turn on until minced.  Add in the onion, 3/4 cup chickpeas, parsley, tahini, lemon juice, cumin, coriander, salt, and pepper.  Turn on and let process until it reaches a similar consistency to egg salad. +/-10 seconds.  Scrape the bowl and pulse a few more times if needed.  You don't want it fully pureed.

Add in 1/2 cup chickpeas, cooled millet, and pepitas.  Pulse until combined with the rest of the mixture.  About 10 pulses.  This step helps give the falafel texture.  Do not over-process.  Place mixture in a bowl and stir in the ground oats.  The mixture should be soft but not wet and should easily form patties and hold together very well.

Heat a 10-inch pan over medium with about 1 tablespoon of cooking oil.  Form about 8, 3-inch patties and place 3-4 in the pan once hot.  Cook for about 5-7 minutes until golden brown then flip and cook another 5-7 minutes until golden brown.  Place in a warm oven, add more oil to the pan, and continue with the next batch.

Serve on a bun or wrapped in a collard leaf with tahini sauce, cucumbers, radishes, avocado, etc.

Notes: Grind gluten-free rolled oats in a coffee grinder, blender, food processor etc. until about 1/2 way [or a bit more] to flour.  I like to cook 1/2 cup raw millet, which yields just under 2 cups cooked and gives you some leftover.
Do you have a passion for nutrition & natural healing?. Learn more about the Food Matters Nutrition Certification  Program here.
ENROLLMENT & BONUSES CLOSE IN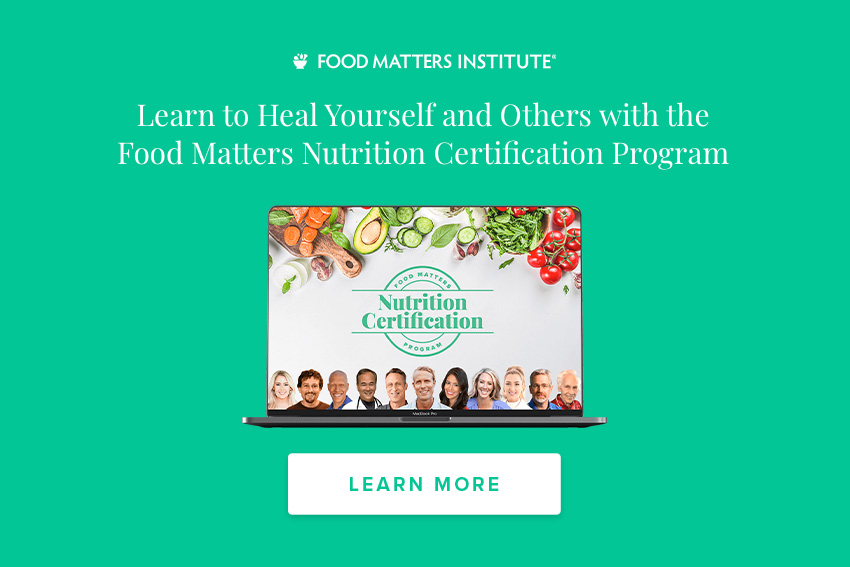 ---