Giant Lamington With Raspberry Kakadu Jam
ADD TO MY RECIPES
Considered a gift of the Dreamtime, the Kakadu plum is Australia's star superfood. They have exceptional nutritional and antiseptic properties, and are a tasty addition to this Giant Lamington.
Prep time: 35 minutes
Cooking time: 40 minutes
Serves: 6–8
Ingredients
6 eggs
115 g (4 oz/ 1/3 cup) honey
80 ml (2½ fl oz/ 1/3 cup) melted coconut oil
1 tsp vanilla bean paste
65 g (2½ oz/ ½ cup) coconut flour
½ tsp baking powder
100 g (3½ oz/ 1 cup) almond meal
35 g (1¼ oz/ ½ cup) shredded coconut
Raspberry Kakadu Jam
170 g (6 oz) raspberries, fresh or frozen and defrosted
50 g (1¾ oz/ ¼ cup) coconut sugar
1 tbsp Kakadu plum (salty plum) powder, or use the zest of 1 orange
45 g (1½ oz/ ¼ cup) chia seeds
2 tbsp coconut water
Cacao Frosting
40 g (1½ oz/ ¼ cup) coconut oil
55 g (2 oz/ ½ cup) cacao powder
60 ml (2 fl oz/ ¼ cup) coconut cream
Method
Preheat the oven to 160°C. Lightly grease a 30 x 12 x 10 cm (12 x 4½ x 4 inch) loaf (bar) tin and line it with baking paper, leaving the sides overhanging.
Use an electric mixer fitted with the whisk attachment to whisk the eggs and honey for 5 minutes or until well combined. Add the coconut oil and vanilla bean paste and whisk for another 2–3 minutes until well combined.
Combine the coconut flour, baking powder and almond meal in a separate bowl. Gently fold into the egg mixture until just combined, then spoon into the prepared tin and bake for 40 minutes or until a skewer comes out clean. Remove from the oven and allow to cool in the tin.
Meanwhile, to make the jam, combine the ingredients in a blender and blend until smooth. Transfer to a small bowl, cover and refrigerate for 15 minutes or until set.
To make cacao frosting, put the coconut oil in a frying pan with 60 ml (2 fl oz/ ¼ cup) of water and cook over low heat until the oil melts. Add the cacao powder and coconut cream and stir for 2 minutes or until combined. Remove from the heat and set aside to cool.
Transfer the cake to a serving plate. Spread with jam and drizzle with the frosting. Scatter with shredded coconut.
Recipes and Images from A Whole New Way to Eat by Vladia Cobrdova (Murdoch Books)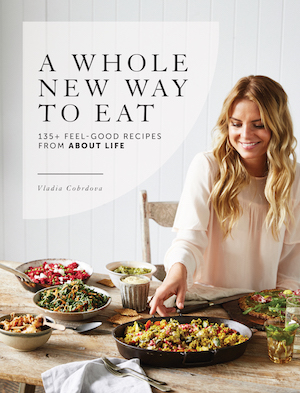 Discover how to eat your medicine to heal your gut, eliminate bloating, skin issues and hair loss as I share seven nutrition principles in this free masterclass. Running for a limited time only.