Pomegranate, Crunchy Walnut & Kale Salad
ADD TO MY RECIPES
There is so much hype around kale lately and I think it's great that people are eating it more. But I think some of you get put off because you don't know how to prepare it.

If you choose to eat it raw, it's important to soften the kale. To essentially massage it so that it's not so chewy and unpleasant. I do this with adding salt to the cut kale in a bowl squeezing and rotating it for a few minutes. This will make the kale much easier to chew and digest. See the photo below to demonstrate what kale looks like before and after it has been massaged. It will halve in size and become softer.

I actually don't use pomegranate very often but I had some in the house where Michael and I are currently living, whilst looking after a cute little dog named Coco. There were a couple left in the fridge and knowing myself, I hate wasting food so I starting thinking what I could use it for. It was the first day that we were here and I had some kale in the fridge and walnuts in the pantry. I love mixing nuts through salad but I'm not normally the type to add fruit in there. I also had the idea to make the walnuts extra crunchy so I candied them in some rice malt syrup. It worked perfectly.

When I had the first taste of the salad, I fell in love. It was simple yet so delicious! It had the perfect balance of flavors with the softness of the massaged kale leaves, sweet bursts of pomegranates and crunchy nutty texture of the walnuts. I love it as a side salad to pretty much anything! Last night I had it with some quinoa, roasted pumpkin and tahini dressing. YUM!!!

Hope you enjoy this recipe and add it to your salad rotation!
Ingredients
3 bunches of flat leaf kale (dinosaur/tuscan kale)

½ tsp himalayan salt

1 pomegranate

¾ cup walnuts, chopped into quarters

¼ cup rice malt syrup

1 tbsp extra virgin olive oil

1 tsp apple cider vinegar
What to do
To prepare the kale, hold the bottom end of the stalk and push the leafy part off the stalk away from you. You will be left with the kale stalks at the end. Don't throw them out, it's perfect for juicing or chopping finely in a stir fry.

Chop the kale into thin strips and combine in a bowl with the salt.

Massage and rotate the kale for around 2-4 minutes until you start producing some juice. You will notice that the leaves are becoming wet and a little soggy.

In a small saucepan, add the walnuts and fry for a couple of minutes until they start to brown a little.

Add in the rice malt syrup and simmer on low heat for around 2-3 minutes.

Once the rice malt syrup has been bubbling for 1-2 minutes, turn out on a baking paper lined tray and spread the walnuts evenly to cool.

Wait for around 5 minutes for them to turn hard and break them up before adding to the kale.

For the pomegranate, use your paring knife to remove the flower from the top.

Cutting at an angle, remove a cone of pith from below the flower without cutting into the seeds. Score the sides and open it up. You should be able to remove all the seeds with ease. Add to the salad. (I didn't do this for this recipe as you can see in the image above. I struggled the hard way haha)

Mix in the olive oil and vinegar and enjoy!
Take the stress out of cooking with 21-days of guided meal plans, shopping lists, and nutrition support. You'll find all of this, and more, in our signature Clean Eating Program.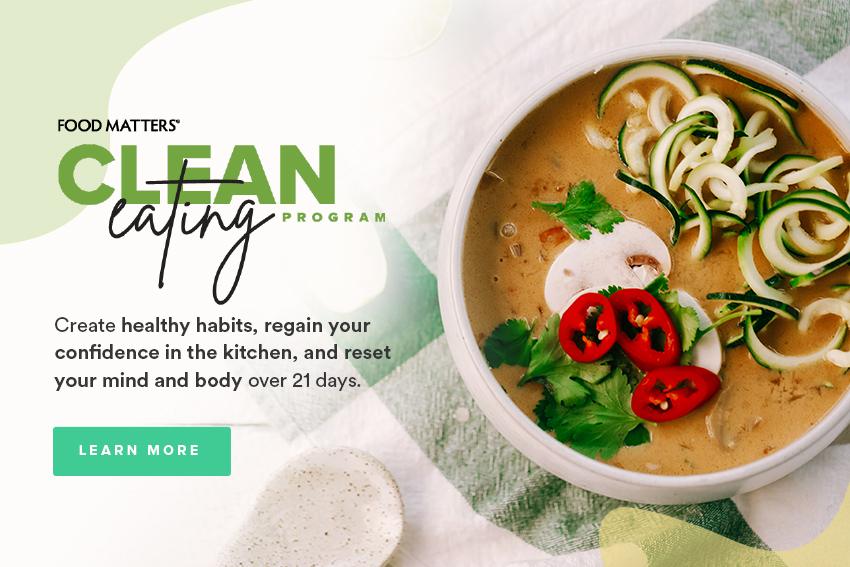 ---