Miso Eggplant and Gluten-Free Noodle Soup
ADD TO MY RECIPES
Japanese food is always inspiring, the ingredients, the flavors, the presentation... There's something in the way that they cook that we could all learn more from.

Miso is one of their most used ingredients, well-known to so many. Miso contains all essential amino acids, making it a complete protein, helps stimulate digestion, restores beneficial gut bacteria, high in vitamin B and high in antioxidants.

I love using toasted sesame oil in my cooking as it adds so much depth and flavour to my meals. It instantly takes me back to a gourmet Japanese restaurant. When buying the sesame oil, try and find a cold pressed and organic brand for best results, I use Carwari at home. For the miso, you can find miso in different forms from powder to paste and brown rice, barley or soy. The darker the paste, the healthier it is. I always try and get the brown rice one and make sure it is organic.
WHAT YOU NEED
4 tbsp toasted sesame oil
1 medium eggplant, cut into cubes
⅓ cup of Tamari
7 mushrooms, sliced
2 tbsp ginger, finely grated
6 cups of water (1.5 litres) boiled
⅓ cup of brown rice miso paste
4 cloves of garlic, finely chopped
1 small carrot, grated
45 grams of wholemeal rice vermicelli
2 handfuls of baby spinach
Small handful of coriander, roughly chopped
Pepper to taste
Toasted sesame seeds to garnish (optional)
What to do
In a frying pan, heat 2 tbsp of the sesame oil on a medium heat for around 30 seconds to a minute. Add the eggplant and make sure that all the pieces are touching the pan. Give it a stir every 30 seconds and cook until it is slightly browned and soft.
Add the tamari sauce and take off heat. Put to the side until you need to add to the soup.
In a medium sized saucepan, add the other 2 tbsp of sesame oil and warm on medium heat. Add the mushrooms and ginger and stir till they brown slightly.
Add the boiled water and miso paste. Making sure that the miso paste is dissolved properly. I find it easiest to dissolve it between two tablespoons while mixing it around in the water. Stir for about 30 seconds to combine it all well.
Add the garlic and carrot and let it simmer for a couple of minutes then toss in the cooked eggplant and all the juices from the pan.
Let this cook for about 3-4 minutes and then add the vermicelli noodles. They normally take about 3 minutes to cook.
Add the spinach and coriander and give it a good stir.
Take off heat and sprinkle some toasted sesame seeds on top. You may also like to add some pepper here if you want, for a bit of heat add even more.
Feel free to substitute the carrot for small cubes of pumpkin or leave it out altogether. You can pretty much use any vegetable in this soup. Capsicum, shallots and other mushrooms would also work really well. If you want some more protein, you can add some tofu.
---
If you haven't already, join our free global challenge at www.GetOffTheGluten.com to receive daily recipes & health tips, access to our private group for support and inspiration, plus before and after testing to track your progress in key areas of your life such as weight, sleep, bloating, skin-conditions, mental health and more!
JOIN THE GROUP CHALLENGE STARTS IN: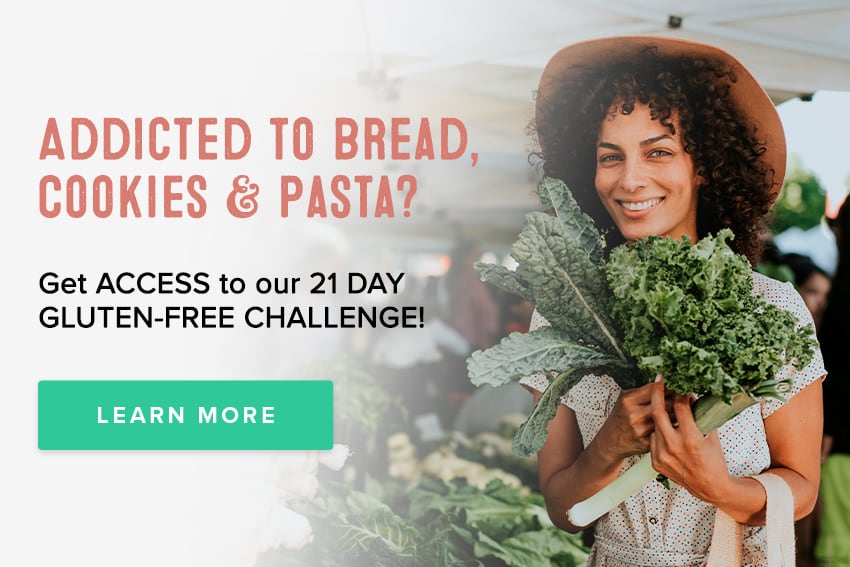 ---