Peanut Butter Oat Cookies
ADD TO MY RECIPES
A healthy take on classic peanut butter cookies. These cookies are fiber and protein packed. They are vegan and gluten-free, which makes them great for those with allergies. They make a great snack or dessert, and are even healthy enough to eat for breakfast!

Dark chocolate has great health benefits. A 100g bar of dark chocolate with 70-85% cocoa contains more than half your iron and magnesium for the day. Dark chocolate is also full of antioxidants, improves brain function, and lower blood pressure!
Ingredients:
1 cup of gluten-free oat flour
1/2 cup of organic natural peanut butter
1/4 cup of organic coconut sugar
1 teaspoon of vanilla extract
1/2 teaspoon baking soda
1 tablespoon extra virgin coconut oil
Organic dark chocolate chips or raw cacao nibs
Instructions:
Blend oats in a blender to create the oat flour.
Add in the sugar, baking soda, and vanilla extract.
Melt the coconut oil and peanut butter, and then add that as well. The mixture becomes very thick, so add a tiny splash of water to help the mixture blend smoothly. You still want the mixture thick, so only add a few drops of water at a time.
Once blended, add desired amount of dark chocolate.
Cool mixture in the fridge for 10 minutes while the oven preheats to 350 degrees.
Form dough into small balls and press with your hand. Line a cookie sheet with parchment paper and place the cookies on.
Cook for 12 minutes, or until golden brown.
Enjoy!
Do you have a passion for nutrition & natural healing?. Learn more about the Food Matters Nutrition Certification  Program here.
ENROLLMENT & BONUSES CLOSE IN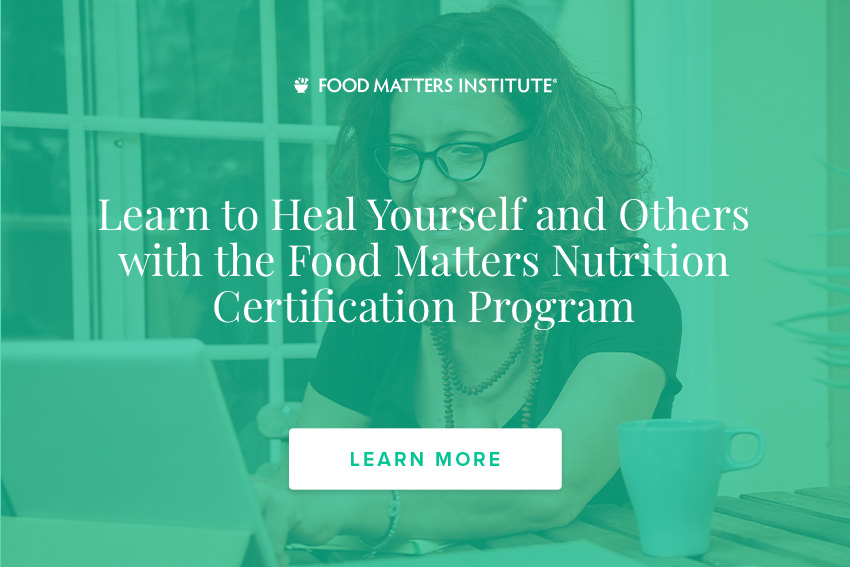 ---