Raw Apple Pie with Almonds, Coconut and Ginger
ADD TO MY RECIPES
This is one of my favourite raw desserts to make- it is easy, quick, delicious and healthy enough to enjoy for dessert or breakfast! If apples aren't in season, feel free to substitute the fruit- peaches or apricots are lovely too.
Ingredients
4 apples
3/4 cup of dates
1 orange
½ teaspoon of cinnamon
½ teaspoon of fresh ginger
¼ cup of desiccated coconut
2 tablespoons of flaked almonds
Flaked almonds and cranberries to garnish
Method
Wash the apples and then slice them on a mandolin so you get a very fine slice. If you don't have a mandolin, simply slice them as fine as you can!
If your dates are hard, soak them for an hour or so in warm water.
When they have softened, rinse the dates and add them to the blender with the juice of the orange and about ¼ teaspoon of the orange zest.
Add the cinnamon and ginger.
Blend until you get a relatively smooth date paste. You can add a little water if need be to keep it moving easily in the blender.
Mix the date paste through the apples and add the coconut and flaked almonds.
When everything is mixed well, transfer the mix to a baking tin or individual ramekins.
Garnish the tops with more flaked almonds and cranberries.
Refrigerate until ready to serve.
This will keep in the fridge covered for 3-4 days.
Do you have a passion for nutrition & natural healing?. Learn more about the Food Matters Nutrition Certification  Program here.
ENROLLMENT & BONUSES CLOSE IN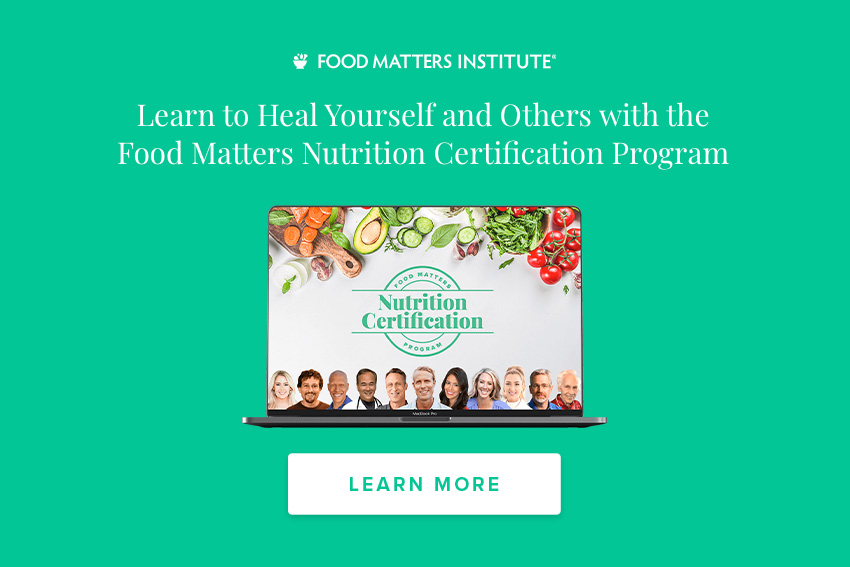 ---