Raw Peanut Butter Cup Cheesecake
ADD TO MY RECIPES
Raw cheesecakes seem to be popping up everywhere. A basic raw cheesecake is made up of cashews, refined sugar-free sweetener, coconut oil, and flavoring being fruit, spices etc.  Then everything is blended together and set in the fridge. No, it doesn't taste like a regular cheesecake, but mimics it. The best thing about them is you only need a small piece to curb your sweet tooth. Which means no need to be afraid of the high nut content. We also love anything peanut butter, so of course we had combine our love of the two to create this delicious treat. The recipe has a chocolate biscuit base, peanut butter filling and chocolate top. It is high in protein thanks to the cashews and peanut butter. So you could justify having it as post-work food.
INGREDIENTS:
Base
2 cups almonds

1/4 cup maple syrup

2 tbsp coconut oil, melted

Filling
2 cups cashews (soaked in water for 4 hours drained and rinsed)

1 cup full fat coconut cream

1 cup maple syrup

1/4 tsp salt

1 tbsp vanilla

3/4 cup almond milk

1/2 cup coconut water (optional)

1 cup peanut butter

1 cup coconut oil, melted

Chocolate Top
1/4 of above filling

1/4 cup raw cacao powder

1/4 cup maple syrup (optional)

1 cup coconut oil, melted
METHOD:
Spray a round springform tin with non-stick spray or coconut oil and line the base with baking paper.

Base
Process the almonds together into a fine crumb.

Add in the maple syrup and coconut oil and process until the mixture sticks together when pressed between fingers.

Press firmly into the bottom of the tin.

Set aside while you make the filling.

Filling
Blend cashews, coconut cream, maple syrup, vanilla, salt and almond milk together until smooth.

If the mixture is not blending well, add coconut water.

Remove 1/4 for the chocolate top and set a side in a small bowl, cover and refrigerate until needed.

Add the peanut butter to the blender and blend.

Stir in the coconut oil until fully incorporated.

Give a quick blend to make sure it is.

Pour into the tin, tapping on the bench to get rid of any air bubbles and smooth with a palate knife.

Refrigerate for 2 hours (minimum) or until the top has set.

Chocolate Top
Place the mixture you set a side in the blender with the cacao powder.

Blend and taste, add maple syrup if desired.

Stir in the coconut oil.

Blend to make sure it is fully incorporated.

Remove the cake from the fridge.

Pour the mixture carefully over the center of the cake and use a palate knife or back of a spoon to carefully spread it all the way around.

Refrigerate for 24 hours.

Serving
Carefully remove from the tin.

Slice into desired pieces.

Keep refrigerated, freeze leftover pieces.
---
If you haven't already, join our free global challenge at www.GetOffTheGluten.com to receive daily recipes & health tips, access to our private group for support and inspiration, plus before and after testing to track your progress in key areas of your life such as weight, sleep, bloating, skin-conditions, mental health and more!
JOIN THE GROUP CHALLENGE STARTS IN: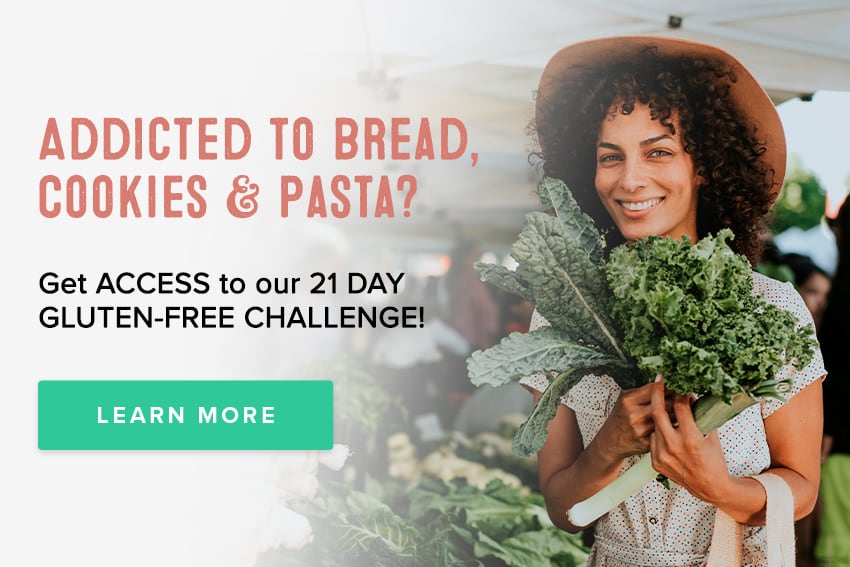 ---