Roasted Tomato & Red Lentil Soup With Spicy Pepitas & Avocado Cream (Recipe)
ADD TO MY RECIPES
A wholesome, comforting soup boasting a combination of nourishing ingredients. Simple to make and can be easily adapted for the whole family.

Serves 6
Ingredients
1kg (2lb) ripe tomatoes

200g (7oz) sweet cherry tomatoes

1 red capsicum (bell pepper)

1 red onion

4 garlic cloves

1-2 tbs olive oil

2 cups vegetable stock

2 cups water

¾ cup red lentils

4 tbs balsamic vinegar

SPICY PEPITAS
1/3 cup pepitas (pumpkin seeds)

1 tsp chilli flakes

1 tsp paprika

¼ tsp fennel seeds

1 tbs olive oil

AVOCADO CREAM
1 large ripe avocado

1-2 tbs lemon juice (to taste)

1-2 tsp olive oil

TO SERVE
Method
Pre-heat the oven to 200°C/390°F

Slice the tomatoes in half, peel and quarter the onion and quarter and deseed the capsicum.

Throw the tomatoes, onions and capsicum in a large baking dish along with the cherry tomatoes and whole unpeeled garlic cloves.

Drizzle over a tablespoon or two of olive oil, balsamic vinegar and season with salt flakes and pepper. Place in the pre-heated oven for 20 minutes until tomatoes are soft and juices running.

Meanwhile you can prepare the spicy pepitas by combining all the ingredients in a small bowl. Heat a small frying pan over a medium/low heat. Add the pepita mixture and roast, tossing in the pan until the seeds begin to pop and the spices are fragrant. Remove from the pan and transfer to absorbent paper until you are ready to serve. Tip: these spicy pumpkin seeds are also great in salads or served over roasted vegetables.

Make the avocado cream by adding the avocado to a small food processor or blender and pulse until smooth with lemon juice to taste and a little drizzle or two of olive oil. Season with salt flakes and pepper and set aside in the fridge until you're ready to serve.

Once the tomatoes, onions and capsicum are roasted remove from the oven. Pick out the whole garlic cloves and allow these to cool enough to handle. Transfer everything else from the baking dish, including all the juices into a large soup pot. Once the garlic is cool enough to handle, squeeze the soft roasted garlic from their skins straight into the same pot.

Add the stock, water and red lentils and bring to a simmer over a medium heat. Simmer, covered, for 25 minutes until lentils are nice and tender.

Using a stick blender or in batches in your blender or food processor, blend the soup until smooth. It should be a lovely thick and creamy soup consistency.

Return to the heat and warm through.

Serve in warm bowls sprinkled with the spicy pepitas, a good dollop of the avocado cream, a drizzle of olive oil and scatter of basil leaves.
Note:
For a kid-friendly version, serve the soup over some spelt pasta and top with organic or vegan cheese and the avocado cream.
What's Your Go-To Soup Recipe?
Do you have a passion for nutrition & natural healing?. Learn more about the Food Matters Nutrition Certification  Program here.
ENROLLMENT & BONUSES CLOSE IN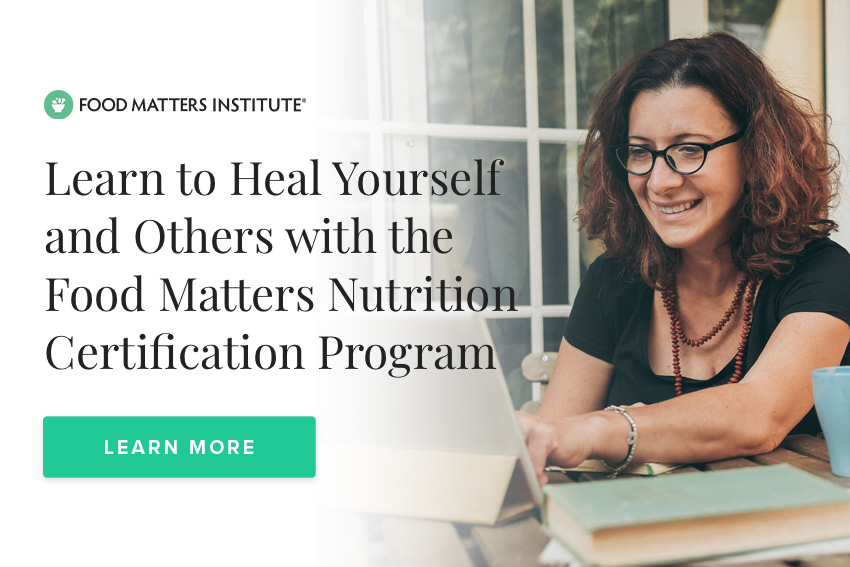 ---