Triple Choc-Fudge Cookies
ADD TO MY RECIPES
There's common confusion between cacao and cocoa. Does letter placement and the fact that one is stocked in a health food shop really mean much? The answer..yes.

Cocoa is processed, heated and often laden with added sugar. Raw cacao goes through far less processing and isn't treated to high temperatures, meaning it retains all of those amazing antioxidants.

Raw cacao is also a fantastic source of magnesium, B-complex vitamins, essential fatty acids and minerals calcium, sulphur, zinc, iron, copper, potassium, and manganese.
Ingredients
½ cup almond meal
¼ cup raw cacao powder
1 tbsp almond butter
2 tbsp coconut oil
¼ cup macadamia nuts, roughly chopped
¼ cup cacao nibs
¼ cup raw honey or maple syrup
1 tsp vanilla extract
1-2 tbsp water as needed (for consistency)
1 tsp baking powder
Pinch Himalayan salt
Method
Preheat oven to 350°F (180°C) Line baking tray with baking paper.
Mix all ingredients except macadamia nuts, cacao nibs and water in a high-speed blender or food processor until well combined. Add water as needed to reach a dough-like consistency.
Transfer to large bowl and stir through macadamias and cacao nibs.
Spoon mixture into balls and flatten with fingers on baking tray. Bake for 15-20 minutes.
Transfer to wire rack to cool.
Do you have a passion for nutrition & natural healing?. Learn more about the Food Matters Nutrition Certification  Program here.
ENROLLMENT & BONUSES CLOSE IN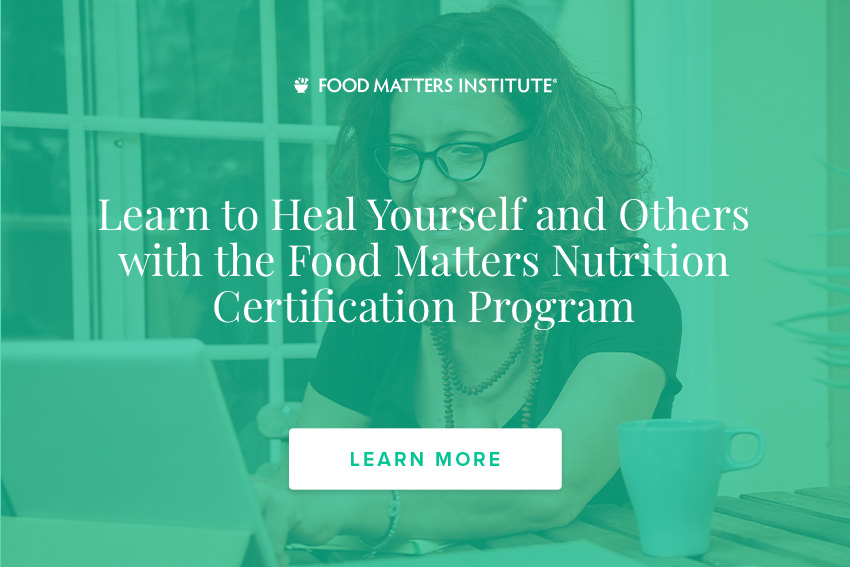 ---