Vegan Coconut Pumpkin Soup
ADD TO MY RECIPES
Warm up your body with this comforting, creamy pumpkin soup! It's full of flavor, and gluten and dairy free.
Ingredients
3kg Kent pumpkin
2 large potatoes
1 large onion
4 cloves garlic
1 tbsp ground cumin
1 tsp ground ginger OR thumb size piece fresh ginger
1 tsp ground chilli (or to your taste)
1 litre vegetable stock, gluten free
500ml boiling water
1 cup coconut milk
TO SERVE
Chopped fresh chilli
Garlic toast
Brown rice
Extra coconut milk
Avocado
What to do
Peel and chop the pumpkin.
Heat a large pot and fry the chopped onion and garlic in a little bit of water. Use oil if you prefer but it's not necessary.
Once the onions are well softened, add the cumin, ginger and chilli and stir.
Add the pumpkin, potato, vegetable stock and the boiling water.
Cover and simmer on a medium heat for about an hour until the vegetables are soft.
Once they are done, I use a stick blender to blend the soup together. Sometimes if I think there might be too much liquid, I take a cup of the stock out and leave it aside to add in when blending so it's to my preferred consistency. Better to have it thicker and add more in than have a thin soup from the start!
Once blended, stir through the coconut milk. Serve with your choice of rice, garlic bread, avocado, some more coconut milk if you wish, salt and pepper.
Do you have a passion for nutrition & natural healing?. Learn more about the Food Matters Nutrition Certification  Program here.
ENROLLMENT & BONUSES CLOSE IN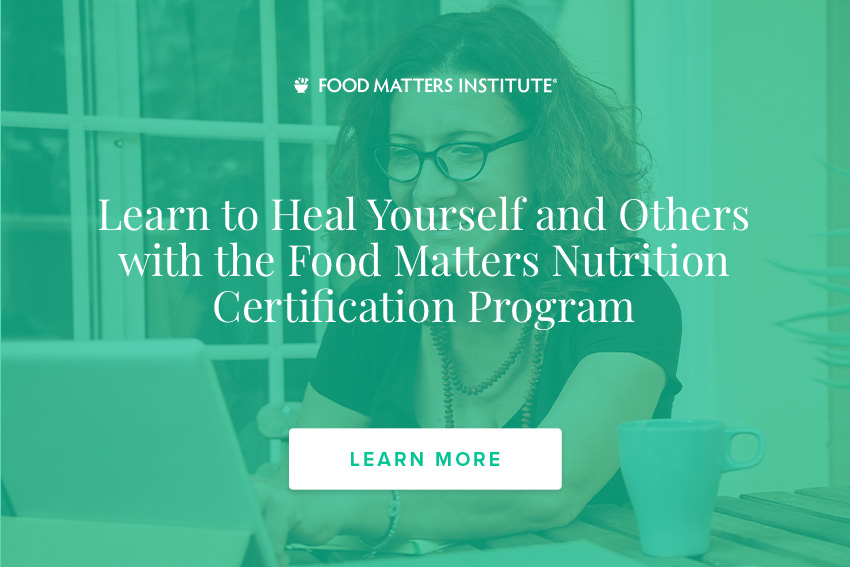 ---