Vegan Spicy Scrambled Tofu
ADD TO MY RECIPES
Organic tofu is an excellent food from a nutritional and health perspective. Abundant with amino acids, iron and calcium, it's the most popular source of protein for vegans and vegetarians.
Ingredients
¼ tsp smoked paprika
¼ tsp ground cumin
¼ tsp ground turmeric
½ tsp garlic powder olive oil, for frying
1 spring onion, finely sliced
150 g extra-firm tofu, drained
5 cherry tomatoes
¼ avocado, diced
Pinch of freshly ground
Black pepper
1 slice of rye bread, toasted
Method
To prepare the seasoning: in a small bowl, mix together the paprika, cumin, turmeric and garlic powder.
Heat a little olive oil in a small, non-stick frying pan over medium heat. Add the spring onion and cook for 1 minute, or until softened.
Using your fingers, break the tofu into small pieces and crumble into the pan. Sprinkle the seasoning over the tofu and mix well.
Add the cherry tomatoes and avocado to the spiced tofu mixture and cook, stirring occasionally, for 5 minutes, or until the tomatoes begin to burst. Add a sprinkle of pepper and stir for another 2 minutes.
Serve the scrambled tofu with the toasted rye and your morning coffee, if you like!
Do you have a passion for nutrition & natural healing?. Learn more about the Food Matters Nutrition Certification  Program here.
ENROLLMENT & BONUSES CLOSE IN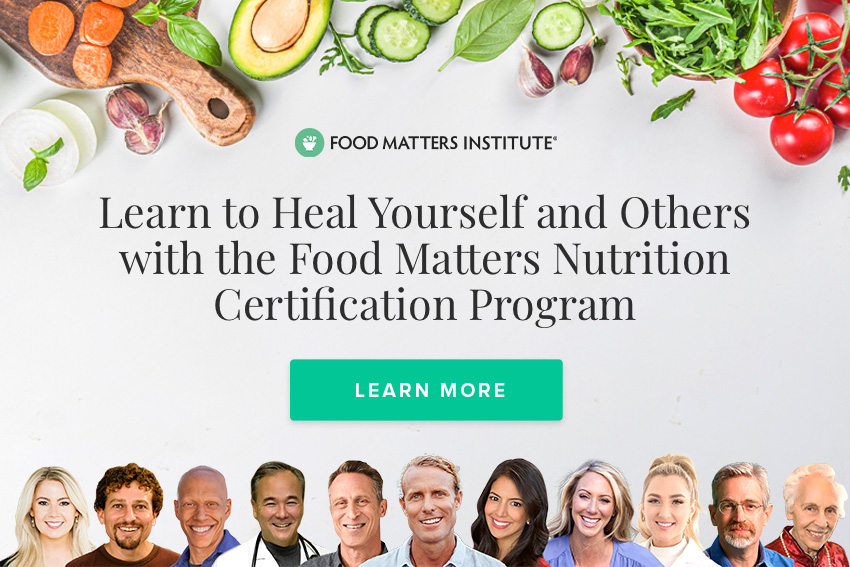 ---