Warm Apple Delight (Recipe)
ADD TO MY RECIPES
Who doesn't love the warming & comforting feeling you get from a warm apple dessert? This simple recipe will have your kitchen smelling divine and your taste-buds dancing all awhile receiving a nice dose of fiber, vitamins and minerals!

Apples are high in fiber, containing both soluble and insoluble fiber which is great for your digestive health! The beauty of soluble fiber is that it has the power to lower cholesterol naturally, keeping you regular and stabilizing blood sugar levels.

With the addition of nuts and seeds in this recipe, these tasty gems will help you get a nice dose of healthy fats, proteins, vitamins and minerals.

Makes enough for two people
Ingredients
6 Apples
2 tablespoons coconut oil
2 tablespoons shredded coconut
Handful activated pepita seeds
Handful activated sunflower seeds
Handful activated hazelnuts
Handful activated walnuts
Handful macadamias
1 teaspoon nutmeg
1 teaspoon cinnamon
PREPARATION
Preheat oven to 120 degrees celsius (248 degrees Fahrenheit)
Cut all the apples into chunks and add to boiling water on the stove and let simmer until soft.
Throw apples, coconut oil, coconut, pepita's, sunflower seeds, hazelnuts,  walnuts,  macadamias, nutmeg and cinnamon into a large mixing bowl and mix well.
Place evenly on a baking tray and bake on 120 degrees for 20 minutes or until nuts are golden and crunchy.
Serve with fresh blueberries.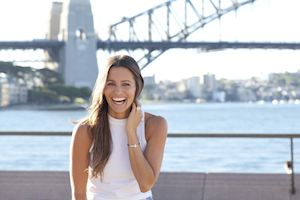 Melissa Ambrosini is an entrepreneur, author, motivational speaker, self love teacher and Mean Girl ass-kicker. She's the straight-talking, fist-pumping, fire-you-up bestie you never had, and she's on a mission to help beautiful women like you create the most vibrant, stunning, powerful version of your life possible and make you irresistible in the eyes of the person who matters most… YOU!

Through her live tours, books, booming online community, game-changing program Get Your Glow On, meditations and keynote talks, Melissa has transformed the lives of thousands across the globe.

Melissa teaches women how to master their inner Mean Girl, smash through limiting beliefs, and karate chop self doubt, so that they can start truly living the life of their dreams. Connect with Melissa on her site , Facebook , Instagram or Twitter .

Take the stress out of cooking with 21-days of guided meal plans, shopping lists, and nutrition support. You'll find all of this, and more, in our signature Clean Eating Program.