4 Fabulous Superfood Appetizers for Your Next Party
ADD TO MY RECIPES
I know just thinking about the next dinner, holiday party, or even having a couple of friends over can be stressful. So, why not make it easier on yourself and keep it simple?  My time-tested and stress-free way to entertain is to stick to the rule of four: One appetizer, one main dish, a salad or vegetable, and a dessert. That's it.  No more, no less. By including an appetizer at your next party you get to impress your friends with the fanciness of a three course dinner without the fuss of creating another complicated side dish.

Here are my favorite superfood based appetizers that I love to serve my family and friends…
Fig & Garlic Spread
This delectable roasted spread packs the superfood power of one of nature's best antibiotics with the sweet earthiness of fresh figs. Don't be alarmed by this sweet and savory combination.  It's a real treat. If figs aren't available substitute any stone fruit such as plums, nectarines, or peaches.  The results will be equally as sumptuous.  This spread goes well with meats, cheeses, or any paleo-style, gluten-free bread you want to serve at your next party.
Ingredients:
2-3 whole heads of garlic
6-8 fresh figs or 3-4 plums, peaches, or nectarines
2 tbsp extra virgin olive oil or avocado oil
1 tbsp good organic honey
1 tsp Herbs de Provence
Method:
Use a small ceramic or glass baking dish and preheat oven to 375 degrees.
Drizzle 2 tablespoons of oil and 1 tablespoon of honey in the bottom of the dish.  Stir to combine.  Sprinkle sea salt & Herbs de Provence on top of honey and oil.
Cut the tops off two whole garlic heads, cut 6-8 figs in half (if using stone fruits use three or as many as your dish will allow).
Place garlic heads and fruits face down in dish. Sprinkle a pinch of Herbs de Provence on top.
Bake for 30-40 mins or until garlic and fruits are caramelized
Serve warm as a spread for meats or fresh baked bread
Enjoy!
Cannellini Dip with Asparagus Spears
This dip is an elegant alternative to pasty, bland, mayonnaise based dips.  It's rich and creamy.   Trust me you'll want to spread this delectable dip on everything from veggies to fish and potatoes.
Cannellini beans also known as white kidney beans are fiber rich and chock full of B-vitamins that protect the nervous system and balance blood sugar levels.  So, if you're feeling a bit nervous about your next dinner, whip up this dip before your guests arrive and enjoy some delicious bites of comforting serenity.
Ingredients:
1 can organic cannellini beans
1 clove of raw garlic (roughly chopped)
1 tsp sea salt
½ tsp red pepper flakes
2 tbsp extra virgin olive oil or avocado oil
1 tbsp lemon juice
1 bunch asparagus or fresh crudité (tomatoes, carrots, zucchini, and sweet red bell peppers)
Method:
Open can of beans, (using a colander) drain, and rinse well.
In a food processor or blender add the garlic, beans, oil, salt, red pepper flakes, and lemon juice.
Blend or process well for up to 2 minutes.  The dip should be velvety smooth.  Add more oil if a thinner consistency is desired.
Transfer to serving bowl and chill until serving.
Bring a pot of water to a boil for the asparagus.
Blanch asparagus until bright green.
Transfer asparagus to a large bowl add ice and cold water.  This will shock the asparagus (stopping the cooking process) and keep the asparagus vibrant and green.
Drain thoroughly once dry, and pat with paper towels, place asparagus in refrigerator until ready to serve.
Enjoy!
Cacao Crème Shots
This appetizer doubles as a decadent dessert and pairs nicely with a cheeky chilled Champagne or sparkling wine.  The benefits of cacao were revered by the ancient Aztecs.  It's full of powerful antioxidants like polyphenols, flavonoids, quercetin, folate, and magnesium that lower blood pressure, keeps your heart pumping strong, and protects your cardiovascular system.  We've done one better by pairing the richness of cacao with heart healthy fats found in ripe avocado.  Now you and your guests can enjoy a delicious treat that's a healthy rich fudgy pudding without any artificial ingredients.
Ingredients:
2 ripe Hass avocados
½ cup unsweetened cocoa or raw cacao powder
½ teaspoon ground cinnamon
½ teaspoon sea salt
1 pinch cayenne pepper
1 teaspoon vanilla extract or vanilla paste
½ cup your choice of natural sweetener (i.e.  honey, date paste, or maple syrup)
¼ cup as needed of almond or cashew milk
Method:
Cut avocados in half, remove seeds, and scoop out flesh, place in food processor
Add cacao, cinnamon, salt, cayenne, vanilla, sweetener
Pulse until creamy and blended, add almond milk if needed until pudding like consistency
Spoon into 6 shot glasses and chill for two hours before serving
Serve chilled and enjoy!
Marinated Mushrooms
Mushrooms are a humble yet potent cancer fighting fungi.  White button mushrooms a supermarket staple are available all-year round and have been proven by research at the Beckman Research Institute of the City of Hope, Duarte, California, to contain beneficial quantities of conjugated linoleic acid (CLA) which induces apoptosis (cancer cell self-destruction) on prostate cancer and boost immunity. This fresh marinated mushroom appetizer is a savory umami filled bite.
Ingredients:
1 pound small white button mushrooms  (wiped clean, all dirt, and debris removed)
1 bunch thinly sliced scallions
½ bunch of finely chopped flat leaf parsley
1 garlic clove thinly sliced
½ tsp red pepper flakes
½ tsp dried oregano
½ tsp dried thyme
1 tsp sea salt
½ cup extra virgin olive oil
1/3 cup white wine vinegar or champagne vinegar
Method:
In a large glass, ceramic, or non-reactive bowl whisk oil, vinegar, dried herbs, salt, and red pepper flakes together.
Cut mushrooms in half, add mushrooms, onion, garlic, and parsley to bowl with marinade.  Stir well to combine.
Let marinade for at least 24 hours, 48 hours is optimal, served chilled or room temperature
Enjoy!

Don't be afraid to try something new for dinner.  These superfood appetizers are easy, fun, and bring out the gourmet chef hidden within.  Remember the wise words of Julia Child, "No matter what happens in the kitchen, never apologize."  If it doesn't turn out perfectly but still tastes great, smile and say, "thank you."
Do you have a passion for nutrition & natural healing?. Learn more about the Food Matters Nutrition Certification  Program here.
ENROLLMENT & BONUSES CLOSE IN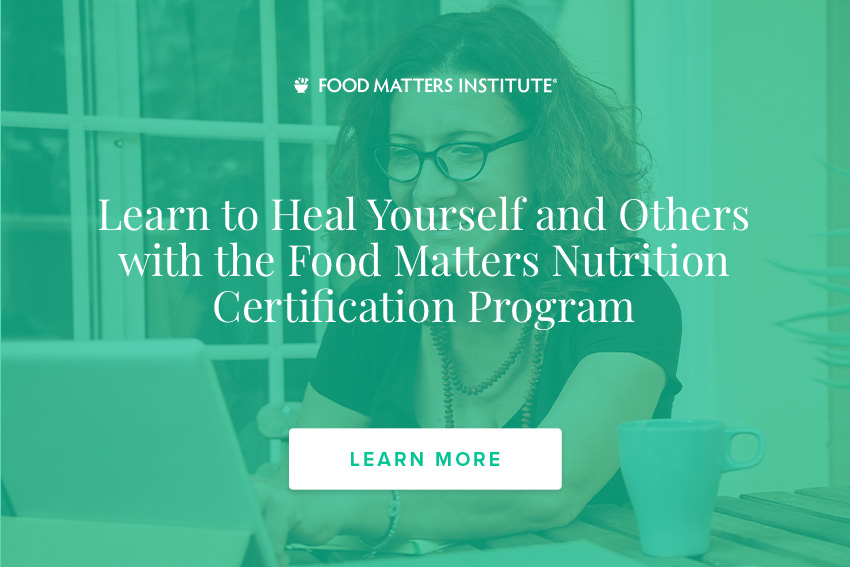 ---