Bite-Sized Reishi Mushroom Energy Treats (Benefits & Recipe)
ADD TO MY RECIPES
ILL STRESS, BOOST MEMORY and help your body heal. Is there anything reishi can't do?
This easy reishi recipe from Free People blogger, Julie O'Boyle is a quick snack that's packed with protein, healthy fat, fiber and our fave superfoods. Pop one into your mouth midday for a pickup at work, or pack it with on a hike or road trip for an instant boost of energy, immunity and general good vibes.
Read everything you could every want to know about reishi, then make a batch of these reishi bites in bulk…
Mushroom foraging was a way of life for my mother and grandmother, a skill that, unfortunately, turned out not to be hereditary when it came down to me. But just because I'm unskilled at finding them in the wild doesn't mean I can't incorporate the goodness of medicinal mushrooms in my diet. Instead of rooting them out amidst the damp leaves and bramble of the forest, I turn to powders and supplements to harness the powers of these adaptogenic powerhouses. A recent favorite? Reishi. Learn more about this magic mushroom and scroll on for an easy, energy-promoting recipe.
What is Reishi?
A staple in Chinese medicine for over 2,000 years, reishi mushrooms (also known as Lingzhi mushrooms) grow worldwide. They are especially partial to Northern hemlock forests, but similar species grow in the Amazon. While there is a wide variety of reishi in the world, the most common resemble a large ear with a cork-like texture. Best known as an adaptogen, reishi works with the body to regulate and balance all systems.
What Are The Benefits?
As one of the most powerful adaptogens, reishi can help the body regulate itself and return to balance. Reishi is anti-allergenic. It also strengthens the immune system and improves blood vessel function. This helps to lower and improve blood pressure. It also prevents abnormalities that could lead to some forms of cancer. The beta-glucans present in reishi help protect against tumors and stimulate the immune system. This could be the reason why it so effectively protects against Staphylococci, Streptococci, and Bacillus pneumoniae bacterias.
Reishi helps improve memory and cognitive function as it improves nerve growth factor. It also reduces stress and systemic inflammation. It's beneficial for all of us, especially those at risk for cognitive disorders. As an antioxidant, reishi can neutralize free radicals and boost liver cell regeneration. Overall, reishi assists the body in performing its most basic functions, restoring it to its happiest state and boosting.
How Do I Use It?
Reishi mushroom powder is created from dried mushrooms, which makes it easy to blend into hot or cold drinks and recipes. Its taste and texture mixes easily with coffee and tea. Reishi also works with chocolate-based desserts, especially raw treats such as the one below. The taste of reishi also lends itself well to broths and soups too. Simply add a teaspoon to water and enjoy.
Healing Reishi Energy Bites
Makes about nine 1-inch bites
INGREDIENTS:
1/2 cup raw cashews
1/2 cup unsweetened shredded coconut
1 tbsp tocotrienols
1 tbsp raw cacao powder
1 tbsp goji berries
1 tsp Reishi powder
1 tsp coconut oil
1 tsp maca powder
1 tbsp dark chocolate, melted
DIRECTIONS:
Place all ingredients except melted chocolate in a food processor and process until mixture sticks together when pinched (about a minute), scraping down sides as needed.
Turn out mixture onto a parchment-lined plate or baking sheet and roll into 9 or 10 1-inch balls using your hands. Place in the fridge or freezer to set, about 10 minutes.
Once balls are set, remove from fridge and drizzle with chocolate. Allow chocolate to harden before serving. Balls can be stored in an airtight container in the fridge for about two weeks or in the freezer for up to a month.
Do you have a passion for nutrition & natural healing?. Learn more about the Food Matters Nutrition Certification  Program here.
ENROLLMENT & BONUSES CLOSE IN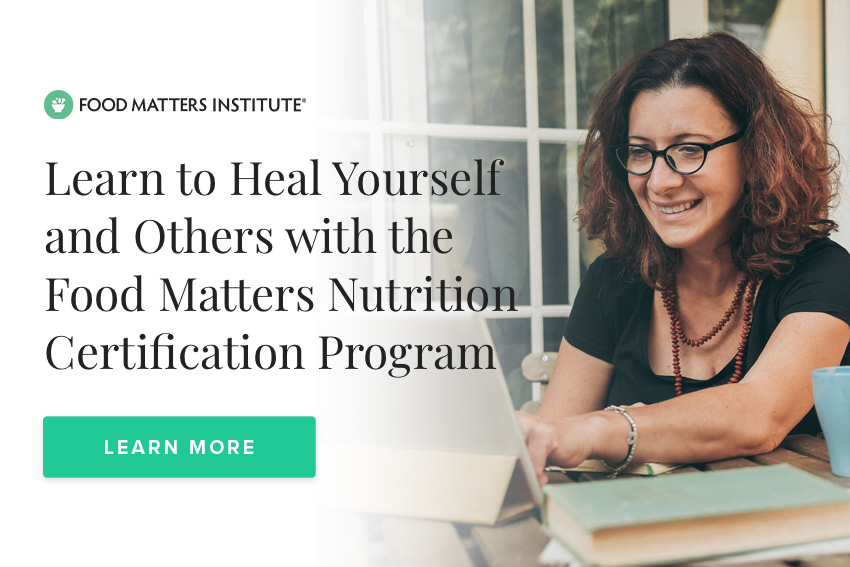 ---