Cauliflower Steaks with Smoky Baba Ghanoush
ADD TO MY RECIPES
Plant-based steaks are not only delicious and filling, they provide the perfect blank canvas for myriad seasonings and dressings. I have a little shortcut to reduce the cauliflower roasting time: microwave the steaks to soften the inside before blasting them in a hot oven for 20 minutes until crisp and golden. Serve with smoky baba ghanoush for creaminess and a sprinkling of toasted almonds, juicy pomegranate seeds, and fresh herbs for added pops of flavor and texture. You won't miss the red meat!
Ingredients
for the cauliflower steaks:
1 large head of cauliflower, stem removed, then cut into four 3 cm-thick steaks
loose florets reserved
3 tablespoons extra-virgin olive oil
pinch of sea salt flakes and freshly ground black pepper
for the baba ghanoush:
2 large eggplants
2 tablespoons extra-virgin olive oil
1 tablespoon tahini
2 garlic cloves, finely grated
juice of 1 lemon
1 teaspoon ground cumin
pinch of sea salt flakes
to serve:
mint leaves
finely chopped flat-leaf parsley leaves
pomegranate seeds
toasted slivered almonds (optional)
Method
Preheat the oven to 200°C (fan-forced) and line a baking tray with baking paper.
To make the baba ghanoush, cook the eggplants directly over an open flame for 10 minutes, turning regularly until the skin is charred and blistered (see Note). Place the eggplants in a bowl, cover with plastic wrap, and allow to cool. When they are cool enough to handle, peel away the skin and place the flesh in a sieve, pressing on it firmly to strain the liquid into the bowl. Discard the liquid and transfer the flesh to a food processor, add the remaining ingredients and blitz until smooth.
Meanwhile, place the cauliflower steaks and loose florets on a plate and cook in the microwave on high for 6 minutes to soften. Transfer the cauliflower to the prepared tray, drizzle with olive oil, and season with salt and pepper. Massage the oil and seasoning all over the cauliflower, then roast for 20 minutes or until golden and crispy.
To serve, spoon the baba ghanoush onto a serving plate, top with the cauliflower, and garnish with fresh herbs, pomegranate seeds, and almonds if using.
NOTE: If you do not have a gas stove, you can cook the eggplants either in a hot frying pan, turning regularly for even cooking, or roast the eggplants in a 200°C (fan-forced) oven for 30–40 minutes until the flesh is soft.
Recipe from Easy Gluten-Free by Helen Tzouganatos, Published by Plum, RRP $39.99, Photography by Jeremy Simons.
---
If you haven't already, join our free global challenge at www.GetOffTheGluten.com to receive daily recipes & health tips, access to our private group for support and inspiration, plus before and after testing to track your progress in key areas of your life such as weight, sleep, bloating, skin-conditions, mental health and more!
JOIN THE GROUP CHALLENGE STARTS IN: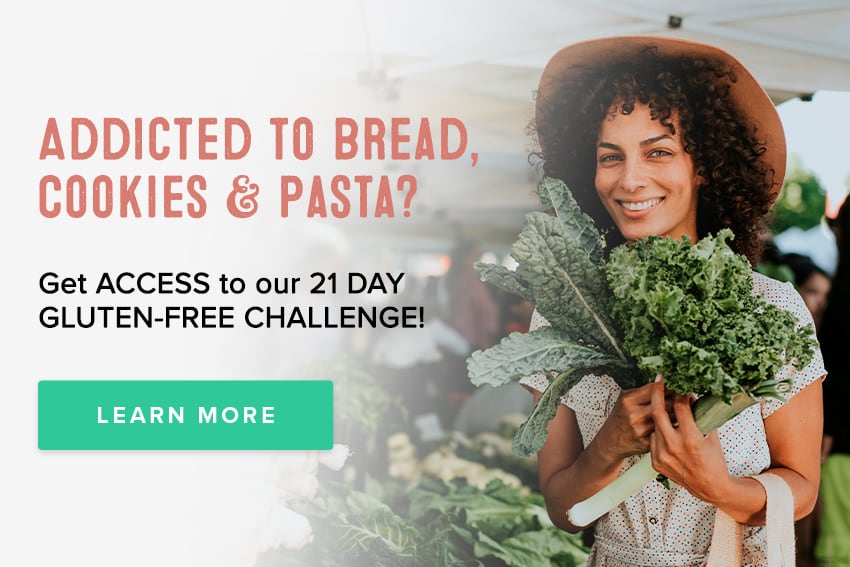 ---