Chamomile, Cinnamon and Pear Porridge
ADD TO MY RECIPES
Come wintertime, I crave warm, yummy, soul-nourishing foods to start my day. I was inspired to create such a dish with my naturopathic twist on food to support the health of my gut and anyone else that has gut issues. I am a firm believer that food is medicine and with my herbal and nutritional knowledge and wisdom, I wanted to share this delicious gluten-free, dairy-free, vegan and vegetarian friendly breakfast to help soothe your digestive woes.
So, why did I choose these ingredients?
Chamomile has a lovely sweet, floral flavour and is a herbal go-to that is proven to help indigestion, colic, cramping and changing bowel motions.
Cinnamon is excellent for balancing blood sugar levels and may assist in a stomach cramps and spasms.
Pear provides a great source of pectin (soluble fibre) that can help keep you full, regulate blood sugar and give you wonderful soft stools.
Quinoa flakes provide a great gluten-free source of dietary fiber and are a wonderful alternative to oats. Dietary fiber is proven to have health-protective effects and disease-reversal benefits for heart disease, hypertension, diabetes, obesity, and certain gastrointestinal diseases.  Avoiding gluten may also be beneficial even if you don't have coeliac disease, as you may have non-celiac gluten sensitivity , which is five times more prevalent.
Chamomile, Cinnamon and Pear Porridge
Serves: 2
Prep Time: 20 min
Cook Time: 5-10 min
Time poor? Adjust the quantities and cook in bulk.  This recipe can last up to 4 days in the fridge so you can quickly reheat in the days to come.
Ingredients
2/3 cup quinoa flakes
1 2/3 cup boiling water
2 heaped tbsp loose chamomile herb or 2 teabags
1/2 tsp cinnamon
1 pear with skin on, diced
Coconut yogurt to serve (optional dairy yogurt)
Nuts and seeds to serve
Method
Boil water and make yourself 1 2/3 cups of chamomile tea. Steep the loose chamomile or tea bags for at least 15 minutes and then strain.
( Tip: for a stronger chamomile flavor use more chamomile and steep for longer.)
In a saucepan add quinoa flakes, 1 1/3 cups of chamomile tea, pear and cinnamon.
Cook on a medium-high heat for 5-10 minutes stirring regularly. Cook until the chamomile tea is absorbed and the pear is warm. You can add the extra 1/3-cup chamomile tea as you need if you like a thinner consistency.
Serve when you have reached your desired consistency and top with your favorite yogurt and nuts and seeds.
Take the stress out of cooking with 21-days of guided meal plans, shopping lists, and nutrition support. You'll find all of this, and more, in our signature Clean Eating Program.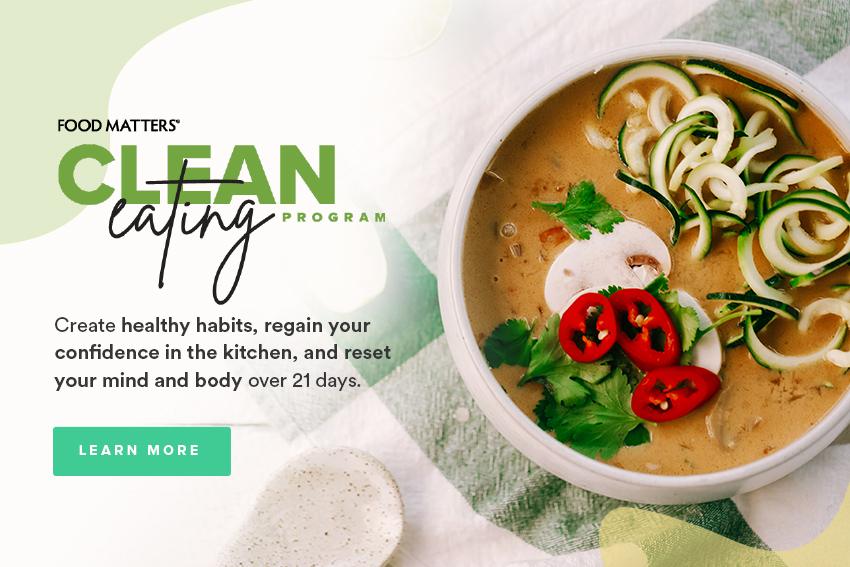 ---