Chopped Salad with Ginger Miso Tempeh
ADD TO MY RECIPES
When eating plant-based you there are some boxes you want to tick to ensure you are receiving as many nutrients as possible. Iron is an especially challenging nutrient to make sure you're getting enough of, and it's one of the most common deficiencies around the world.
Our Chopped Salad with Ginger Miso Tempeh is rich in iron and plant-based protein while delivering widespread nutrients that are essential for health.
Ingredients
Ginger Miso Tempeh
1 tablespoon white miso paste
1-inch ginger, peeled and grated
2 tablespoons maple syrup
1 tablespoon apple cider vinegar
Unrefined sea salt and pepper, to taste
1 x 10 oz (300g) package tempeh, cut into strips
2 tablespoons hulled tahini
1 tablespoon coconut oil
Chopped Salad
8 oz (250g or 1 punnet) cherry tomatoes, halved
2 baby romaine (cos) lettuces, roughly chopped
½ avocado, diced
¼ bunch radishes, diced
1 medium cucumber, diced
½ bunch parsley, chopped
¼ bunch cilantro (coriander)
Method
Prepare the dressing by whisking together the miso paste, ginger, maple syrup, and apple cider vinegar. Season with salt and pepper.
Split the dressing into 2 bowls. In one bowl, add the tempeh strips and set it aside to marinate for 10 minutes (the longer you marinate the better). In the other bowl, add the tahini and whisk together until combined to make a dressing.
After the tempeh has marinated, heat ½ tablespoon coconut oil in a frying pan set over medium heat. Add the tempeh strips and cook until golden.
Combine half of the chopped salad and tempeh in a bowl with a drizzle of the dressing.
Store the remaining tempeh, undressed salad, and dressing in airtight containers in the fridge for lunch tomorrow.
Do you have a passion for nutrition & natural healing?. Learn more about the Food Matters Nutrition Certification  Program here.
ENROLLMENT & BONUSES CLOSE IN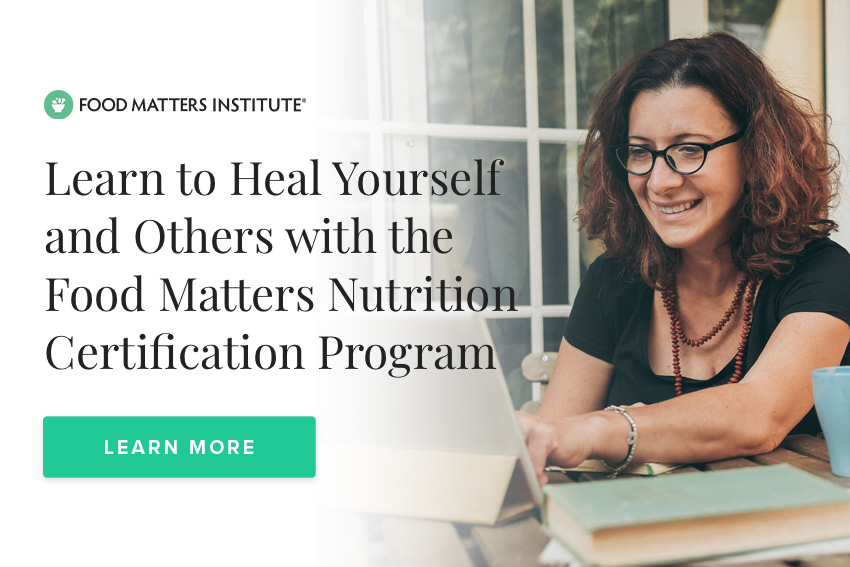 ---