Cleansing Turmeric & Ginger Tea (Recipe)
ADD TO MY RECIPES
When it comes to charismatic healing gurus look no further than turmeric.  It's not just a sunny bright spice to curry up dishes, it's also commonly used in Ayurvedic and Unani medicine. Turmeric originates from the root of the Curcuma longa plant, which is a member of the ginger family and it's one of nature's most powerful healers and a true guru.

I know you will relate to this cleansing tea with its alkalizing and detoxifying properties which provide powerful anti-inflammatory action within your body. Turmeric is a superhero ingredient to help heal and prevent dry skin, slow aging, diminish wrinkles and improve skin's elasticity.

Indian women use turmeric as a facial cleanser and exfoliant. If you are using fresh turmeric, handle with care as it stains easily. If you do happen to turn your favorite garment yellow try squeezing on lemon juice or eucalyptus to remove the stain.
So here's to my number one health guru turmeric. Make it yours too!
Ingredients
250 ml (9 fl oz/1 cup) almond or rice milk
2 tsp ground turmeric
1 tsp finely grated ginger
6 drops stevia liquid
Method
Add the almond milk to small saucepan and heat gently until it reaches room temperature.
Add the turmeric and ginger to a mug.
Pour a small amount of warm milk into the mug and stir to create a liquid paste, ensuring there are no lumps.
Add the remaining milk and sweeten with stevia.
Take the stress out of cooking with 21-days of guided meal plans, shopping lists, and nutrition support. You'll find all of this, and more, in our signature Clean Eating Program.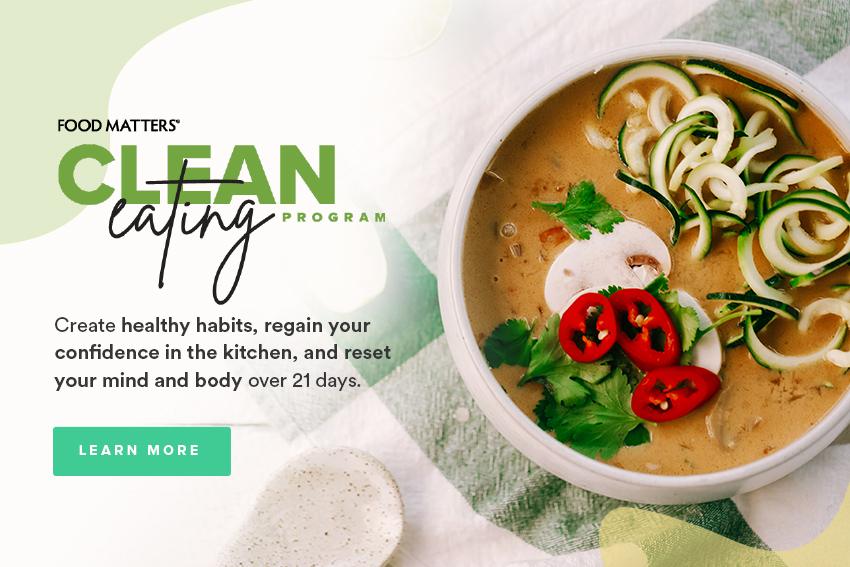 ---