Coconut Banana Bread
ADD TO MY RECIPES
A healthy diet doesn't mean you need to fall victim to a life of sadness and restriction.
I don't believe that anyone should live a life of extreme limitation – that's not really living! I'm not a believer in hard-core dietary limitation, however I do believe you can achieve detoxification, cleansing, and give your gut a rest from everyday stressors whilst still indulging in pleasure. All it takes is an open mind, some creativity and a hungry stomach that knows how to communicate with you.
This beautiful Coconut and Banana Bread is a recipe from my book Fast Your Way to Wellness and is perfect for breakfast or afternoon tea.  I've created it so that it can be enjoyed on an intermittent fasting day too. You'll love this bread; it's an utterly gorgeous indulgence, with a tropical twist on the classic flavours of everyday banana bread, which is usually made with wheat and white sugar.
Why It's So Good For You
The recipe calls for coconut flour, making it gluten free, without the crummy gluten-free taste (you know what I'm talking about!). Coconut helps up build energy and supports our gut micro-flora, supplying energy building medium chain fatty acids and defence against parasites and pathogens thanks to lauric acid and monolaurin. Studies have also shown the fatty acids in coconut help you to eat less, and this is believed to be the result of the way these fats are metabolized.
Bananas are another key ingredient in this delicious recipe. Bananas are high in potassium, vitamin B6, immune boosting vitamin C, and also contain nutrients that moderate blood sugar levels; helping you to avoid blood sugar plummets during periods of fasting. Bananas are also relatively rich in fibre and resistant starch, which are loved by your gut microbes, keeping all those friendly bacteria happy and healthy. Look after these guys and they will look after you!
I use a few eggs in this recipe, which adds a good hit of protein to keep you fuller for longer. Honestly, I'm not sure I can find another ingredient that quite matches the nutritional generosity and convenience of the mighty egg. These guys are the perfect portion of fats, proteins and nutrients to aid in bodybuilding and all round nourishment. They're an inexpensive, high quality source of protein, which is found mostly in the whites.  Egg whites contain rich sources of selenium, vitamin D, B12, B6 and minerals such as iron, zinc and copper. Egg yolks contain fat-soluble vitamins A, D, E, K and lecithin. If you buy high quality free range eggs that have come from hens who have pecked around happily in green pastures, they'll also contain a nice dose of anti-inflammatory omega 3 fatty acids, so be sure to know you're eggs.
Aside from binding this bread nicely, eggs are intentionally part of the recipe to ensure you are gaining nutrient density and protein to keep you happy and satiated.
Enjoy a slice of this luscious loaf with an open and conscious mind, and every mouthful will bless your taste buds.
Coconut Banana Bread
Makes 8 slices
119 calories per slice (498kJs)
Ingredients
3 ripe, small bananas
3 medium eggs, lightly whisked
90 g (3 1/4 oz/ 1/4 cup) rice malt (brown rice) syrup
A few drops alcohol-free vanilla extract
30 g (1 oz/ 1/4cup) coconut flour
3/4 tsp bicarbonate of soda (baking soda)
1/2 tsp salt
Fruit, to serve (optional)
Method
Preheat the oven to 180°C (350°F) and grease a 21 x 9 cm (8 1/4 x 3 1/2 in) loaf (bar) tin.
Peel and mash the bananas in a medium bowl. Add the eggs, rice malt syrup and vanilla, then mix well. Add the flour, bicarbonate of soda and salt, then mix well. Pour the mixture into the prepared tin.
Bake for 50 minutes, or until a skewer inserted in the center of the bread comes out clean. Completely cool in the tin on a wire rack, then slice and serve with fruit (if using).
---
If you haven't already, join our free global challenge at www.GetOffTheGluten.com to receive daily recipes & health tips, access to our private group for support and inspiration, plus before and after testing to track your progress in key areas of your life such as weight, sleep, bloating, skin-conditions, mental health and more!
JOIN THE GROUP CHALLENGE STARTS IN: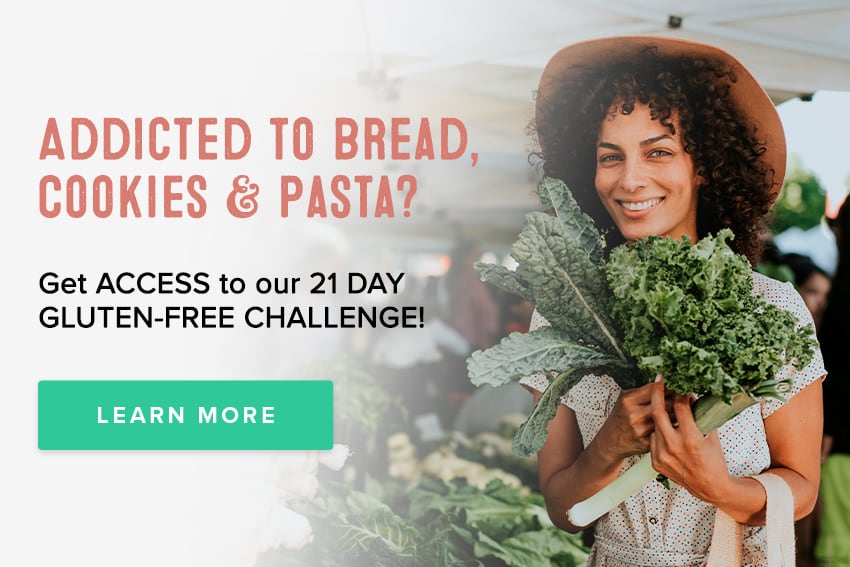 ---