Coconut Yogurt With Pomegranate & Nuts
ADD TO MY RECIPES

Here is my not so secret (anymore) recipe for a super silky and delicious coconut yogurt. Took me a bit of practice to get this recipe right, but with lots of experimentation I got to a recipe that is well worth cracking into some coconut shells.

What I really love with this recipe is how simple it is. It consists of coconut ingredients only; so no stabilizers, no gelatin, no agar, no starches or tapioca.

You can get creative with this recipe. Once you have this yogurt in your fridge it will be easy to make delicious breakfasts/desserts.

Prep Time : 10 min
Cook Time : 24 hours
Servings : 2 cup
EQUIPMENT
Stainless steel bowl or 1 liter glass jar to ferment
Blender
Measuring spoons and spatula
Sauce pan
Kitchen scale (if you like to be precise, I do)
Ingredients
1.5 cup/280g of coconut flesh (about 3 whole young coconut)
½ cup/125g of coconut water
1 probiotic capsules (I use Lactobacillus acidophilus)
3 tbsp / 45 g of coconut oil
1 tbsp honey (optional)
1 tsp vanilla (optional)
½ cup blueberries (optional)
What to do
Well, first things first, crack into the coconuts. If you are not sure how to do it, use the internet for advice and be brave, you can do it!
Once you have the coconut open, strain the water and scoop out all the flesh, avoiding pieces of the husk.
Measure how much coconut flesh you have in weigh (or cups). You might be lucky and scored some good and fatty ones.
Add the flesh to the blender with the amount of water require.
Open one little capsule of the probiotic and blend that for 3-5 min. Keep your eyes on the blender , you don't want it dancing on top of the counter and potentially falling down (ouch). Also be mindful of the temperature, as the blender does its thing, friction might heat up the coconut inside. A little heat is fine, but you don't want anything warmer than body temperature.
Using a spatula, poor all the goodness into a fermenting vessel. Cover with clean film and poke 2 or 3 small holes into it, a cloth works also.
Let it ferment in a dark and warm spot (hot water cabinet rocks) for a minimum of 24 hours. The more you ferment the sharper your yogurt will be.
You will notice that the volume of the blended coconut has increased a bit, and there will be air bubbles all over it. Sometimes a little colour change might occur, this is all normal as part of the fermentation process.
After fermenting the coconut you need to blend it once again. Melt the coconut oil with honey and vanilla over a bain marie (double boiler).
With the blender turning and blending the fermented coconut flesh, slowly pour the oil in the center of the blender vortex. Just like making mayonnaise.
If you want your coconut to have any berries flavour, now is the time to add then, on the pictures above I have used a strawberries (any berry will be delicious).
Refrigerate and enjoy.

It will last for about 7 days in the fridge if you do not "double dip" it. The fermentation will continue even in the fridge, if the yogurt is becoming too tart to your taste don't throw it away, freeze it in a freeze cubes tray and use it in your smoothies, it will maintain all the probiotic benefits and the freezer will slow the fermentation to a very minimum stopping it from getting tartier than it is.
---
If you haven't already, join our free global challenge at www.GetOffTheGluten.com to receive daily recipes & health tips, access to our private group for support and inspiration, plus before and after testing to track your progress in key areas of your life such as weight, sleep, bloating, skin-conditions, mental health and more!
JOIN THE GROUP CHALLENGE STARTS IN: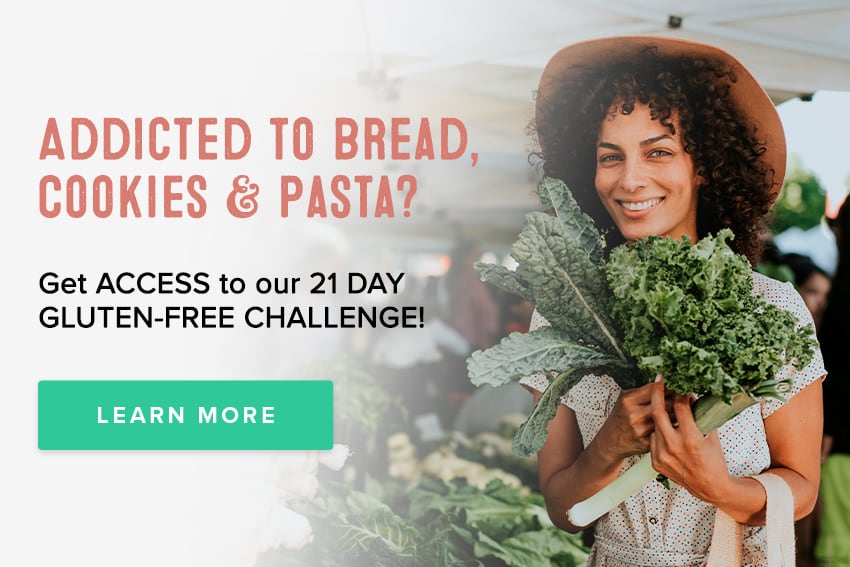 ---