Country Chicken Sweet Potato Pie
ADD TO MY RECIPES
Ingredients
1kg Chicken deboned or 600g chicken drumsticks
2 tsp Salt
2 Tbsp Oil
1 Onion, finely chopped
2 Garlic cloves, finely chopped
1 Carrot, sliced
1 Celery, sliced
1 Leek, sliced
1 cup Chicken Stock
2 Tbsp White wine vinegar
2 tsp Black pepper, ground
3 sprigs Thyme
2 sprigs Rosemary
1 Bay leaf
Parsley
2 Medium Sweet potato, peeled and cubed evenly
1/4 cup Almond Milk
Method
Preheat oven to 180 degrees C.
Line a baking tray with baking paper. Place chicken on top sprinkle with one teaspoon of salt and drizzle with one tablespoon of oil and cook in the oven for 12-15 minutes or until tender.
Remove from oven and discard skin and allow to cool for 5 minutes. Using two forks shred the meat making sure it is still chunky, set aside.
Add the remaining oil to a medium saucepan on high heat. brown the onion and garlic before adding the carrots, celery and leek.
Once browned add the chicken, stir for one minute before deglazing with the stock.
Next add the white wine vinegar, pepper, thyme, rosemary bay leaf and remaining salt.
Turn the heat to low, cover and allow to simmer for 30-40 minutes or until stock has reduced.
Meanwhile in another saucepan add the sweet potato and cover with water. Bring to a boil on high heat, before turning to medium heat and allowing to cook for a further 6-8 minutes or until a knife pierces flesh easily.
Drain sweet potato and allow to dry out for two minutes before putting in a blender with the almond milk and processing till smooth. Remove and set aside.
Preheat the grill to medium/high.
Spoon the chicken mix into an ovenproof dish. Spoon the sweet potato mix on top and spread around evenly to get it smooth. Place under the grill for 5 minutes or until the top changes colour.
Get access to the entire Food Matters Film Library. Start watching here.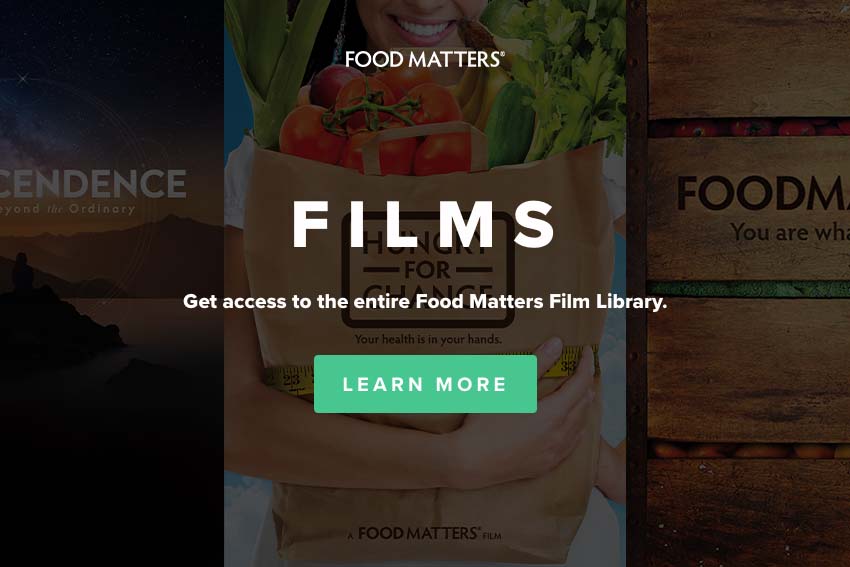 ---