Green Detox Bowls - Two Ways!
ADD TO MY RECIPES
If one of your 2018 goals is to add a little more greenery into your diet, these recipes below are the perfect place to start. Making enormous declarations and setting unrealistic or unmanageable goals for yourself on New Year's day isn't always the best way to leap into January. While these goals may seem enthusiastic, the inability to conquer grand resolutions from the get-go can often lead to us feeling disheartened and throwing in the towel before Australia Day (January 26th) arrives!
So, try setting achievable goals - things you feel passionate about, ideas that make you light up inside and feel positive. Instead of adamantly cutting 'bad' things out of your diet, choose to focus on adding more fresh, healthy food into your daily meals, and you're sure to find that the things that you want to let go of will naturally fall to the wayside. As you fuel your body with real, whole foods and vibrant nutrition, the cravings you may have for sugar, refined foods and processed foods will let go of their hold on you.
Adding more greens into your diet is always a brilliant place to start. The recipes below will make it easy for you to sneak in a few extra greens in a delicious and easy way. Enjoy, and have a green 2018!
MATCHA, KIWI AND AVOCADO SMOOTHIE BOWL
Smoothie bowls are such a great way to enjoy everything you love about a smoothie, with a little extra fun and sustenance. If you find your morning smoothie doesn't sustain you for too long, try topping it with some extra nuts, seeds, dried fruit, fresh fruit, oats or quinoa flakes. You can also try adding a tablespoon of your favorite plant-based protein for a little extra substance.
Ingredients
1 banana (preferably frozen)
½ a ripe avocado
2 leaves of kale, stems removed
¼ tsp orange zest
1 tsp Matcha powder
½ tsp ginger powder
1 kiwi fruit (skin removed)
1 tsp coconut oil
½ cup of your favorite plant-based milk
Chop up your banana, avocado and kale and place them in a blender with the remaining ingredients.
Blend on high until smooth and creamy.
Pour your smoothie into a bowl.
Below are some possible topping options:
1 tsp buckinis (activated buckwheat)
1 tsp pumpkin seeds
1 tsp coconut shreds
1 tsp dried rose petals (optional)
A few slices of blood orange
Or any toppings of your choice
Enjoy with a spoon!
THE SUPER-GREEN BOWL
Creating nourishing, colorful bowls of food like this is a fun way to eat and share food with others. They are incredibly versatile, so feel free to add in any of your favorite vegetables that you may scoop up at the weekly market. Making food creative and enjoyable ensures you remain motivated to eat well and nourish yourself.
Ingredients
1 large (or 2 small) zucchini
1 small head of broccoli - around 8 florets
1 bunch of asparagus
12 Brussels sprouts
2 small yellow squash
3-4 large stalks kale
1 tsp sesame seeds
1 tsp goji berries
Method
Wash the zucchini and chop off the top and bottom. Spiralize the zucchini with a spiralizer . If you don't have a spiralizer, simply use a regular vegetable peeler and peel into long thin strips, much like you would peel a carrot.
Steam the asparagus, Brussels sprouts and squash until tender - check after 5 minutes and then watch closely. Remove the vegetables from the heat as soon as they reach your desired taste. I like to keep them quite crunchy and vibrant.
Remove the stems from the kale and chop the leaves finely. Place the chopped kale in a small bowl and add ½ a teaspoon of lemon juice, olive oil and a dash of salt. With your hand, massage the kale with the lemon, oil and salt until it begins to soften and wilt - this makes it more digestible as well as tastier!
When you're ready, assemble the vegetables in your bowl - the zucchini noodles, broccoli, sprouts, squash, asparagus and kale.
Spoon on a good tablespoon of your green pea hummus and a drizzle of Green Goddess dressing. Sprinkle with sesame seeds and goji berries.
Feel free to add a little extra lemon and salt to your liking.
GREEN GODDESS DRESSING
Having a good salad dressing on hand makes for easy to enjoy quick and delicious lunches and dinners. This dressing is bursting with vibrant ingredients and is the perfect addition to the Green Bowl, or to jazz up any mid-week salad! It will keep 3-4 days in the fridge in an airtight container or glass jar.
Ingredients
1 cup of mixed fresh herbs (basil, parsley, coriander, mint or your choice)
2 tbsp lemon juice
2 tbsp olive oil
1 tsp maple syrup
1 tbsp almond butter
2 tsp nutritional yeast
½ tsp salt
1 tsp tamari
1-inch piece of ginger, chopped
¼ ripe avocado
1 cup filtered water
Method
Simply place all of the ingredients in your blender and blend until smooth and creamy. Pour into a squeeze bottle for easy use, or a glass jar, and store in the fridge until ready to use.
---
If you haven't already, join our free global challenge at www.GetOffTheGluten.com to receive daily recipes & health tips, access to our private group for support and inspiration, plus before and after testing to track your progress in key areas of your life such as weight, sleep, bloating, skin-conditions, mental health and more!
JOIN THE GROUP CHALLENGE STARTS IN: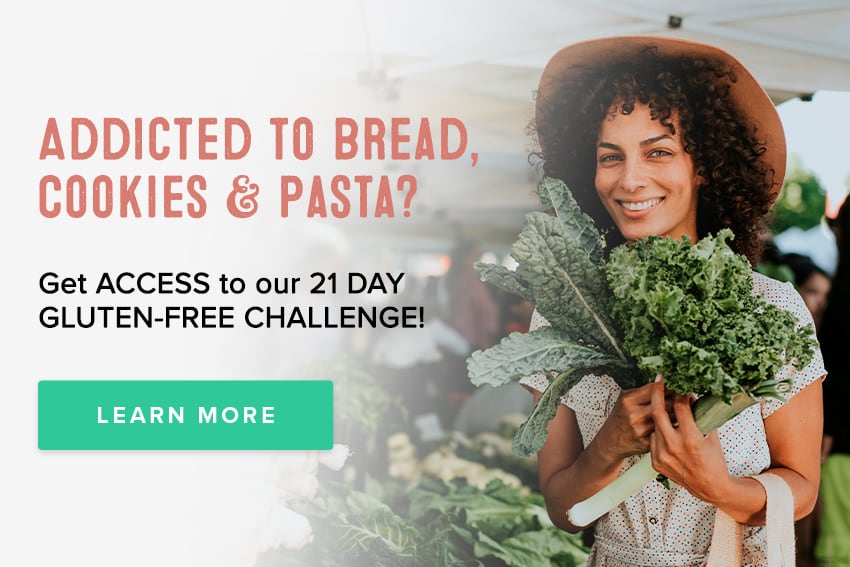 ---