How to Make Vegan Mayonnaise
ADD TO MY RECIPES
I think we can all agree that sauces and condiments can help bring your favorite foods to life! Unfortunately, many store-bought products are packed with additives and hidden nasties.
This recipe is one of the 85+ recipes thousands of people are enjoying in our Food Matters Clean Eating Program.
VEGAN MAYONNAISE RECIPE
Ingredients
1/4 cup aquafaba (the liquid/brine in a can of cooked chickpeas)
1/4 teaspoon ground mustard
1/4 teaspoon sea salt
1 1/2 teaspoons apple cider vinegar
1-3 teaspoons maple syrup
3/4-1 cup extra virgin olive oil
Method
1. In a large jar or large mixing bowl add the aquafaba, ground mustard, sea salt, apple cider vinegar and maple syrup.
2. Using an immersion blender or hand whisk, blend on high until mixed well.
3. Gradually pour in the olive oil while the immersion blender is still mixing. This helps the immersion process.
4. Taste and adjust the flavor, using a pinch of unrefined sea salt and freshly ground black pepper
Take the stress out of cooking with 21-days of guided meal plans, shopping lists, and nutrition support. You'll find all of this, and more, in our signature Clean Eating Program.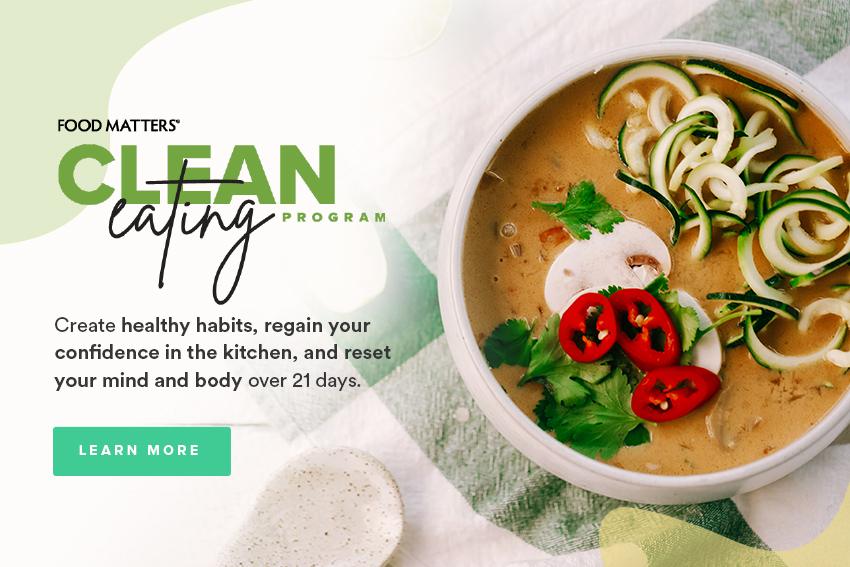 ---